EARN WITH MOSTBET PARTNERS PAKISTAN
Benefits of Mostbet Partners Pakistan
The Official Mostbet Partners Pakistan Affiliate Program
The Mostbet Affiliate Pakistan Program is one of the most lucrative in the worldwide betting industry in terms of earning potential through player acquisition (curacao license and local). There are advantages to working with Mostbet Partners Pakistan, such as tailored conditions for each partner, complete transparency of player action data, and prompt, dependable payouts whenever you need them.
If you have Facebook groups, WhatsApp groups, Instagram followers, YouTube channel subscribers, Twitter followers, or even just a lot of website traffic, you can earn a steady income with the Mostbet Pakistan affiliate network.
Profits of the bookmaker for partners are based on the actions of the Pakistani players who registered via the partner link or the partner promo code. Up to 50% of the profit is yours to reward.
The most recent products on the market are provided by Mostbet Partners Pakistan, together with excellent innovative marketing techniques. For partners and players, a multi-channel support service is offered round-the-clock.
Your advantages as a Mostbet Partners Pakistan include:
– Personal Affiliate Manager
– An individual promo code;
– Personal link, through which you can follow numerous sources;
– Demo player account;
– Assistance with any problem relating to the partners program;
– Banners, landing pages (each with its own unique promotional code);
– Withdraw money any time you want.
Get your commission any moment you want!
Your commission can be withdrawn from the bookmaker's affiliate program account to your account anytime you want: Easypaisa, JazzCash, Astropay, Perfect Money, Pakistan Bank transfer, cryptocurrency, e-wallets.
Important to know, that minimum withdrawal amount is $50. If the partner did not have this amount, funds will be safe until the necessary amount is accrued.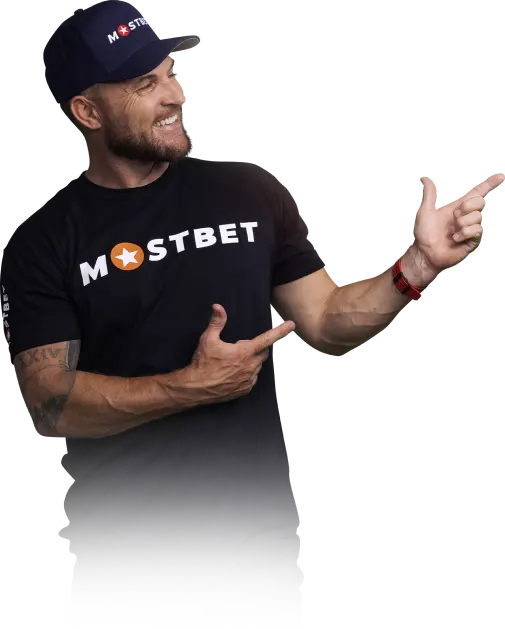 GEOGRAPHY OF MOSTBET PARTNERS
We provide the most competitive terms and have the largest audience.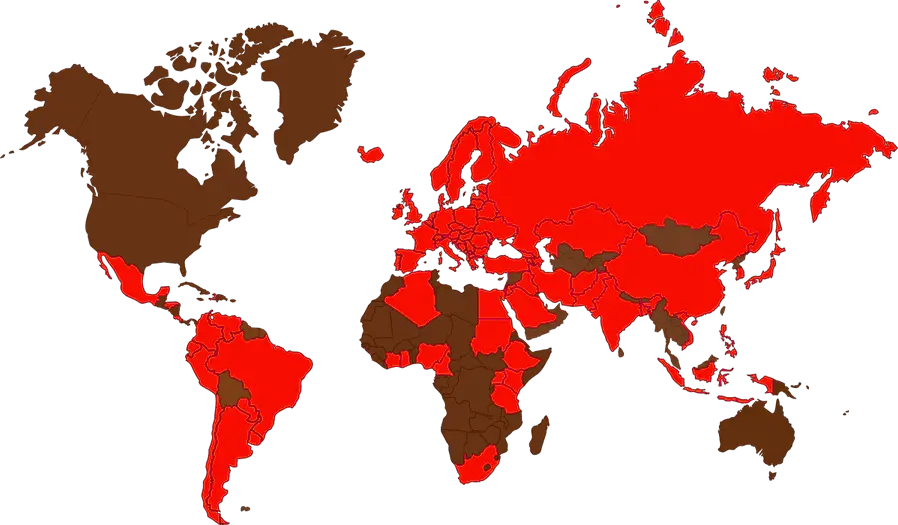 FAQ - main questions about Mostbet Partners Pakistan
1. How to register in Mostbet Partners Pakistan ?
To register in Mostbet Affiliate Pakistan program, just click the button "REGISTRATION" and fill the required fields, your personal e-mail and desired contacts, using which you will be contacted by your personal manager.
2. How will I know that players are assigned to me at Mostbet Affiliate Pakistan program?
To attract new players in Mostbet Partners Pakistan you need to:
Affiliate link, which you can generate in your account "streams" section, just push create button.
Players can use the promo code, that your account personal manager will help you to create, each Mostbet promo code is unique.
Provide you personal application for players, you can find you Mostbet App in section "streams"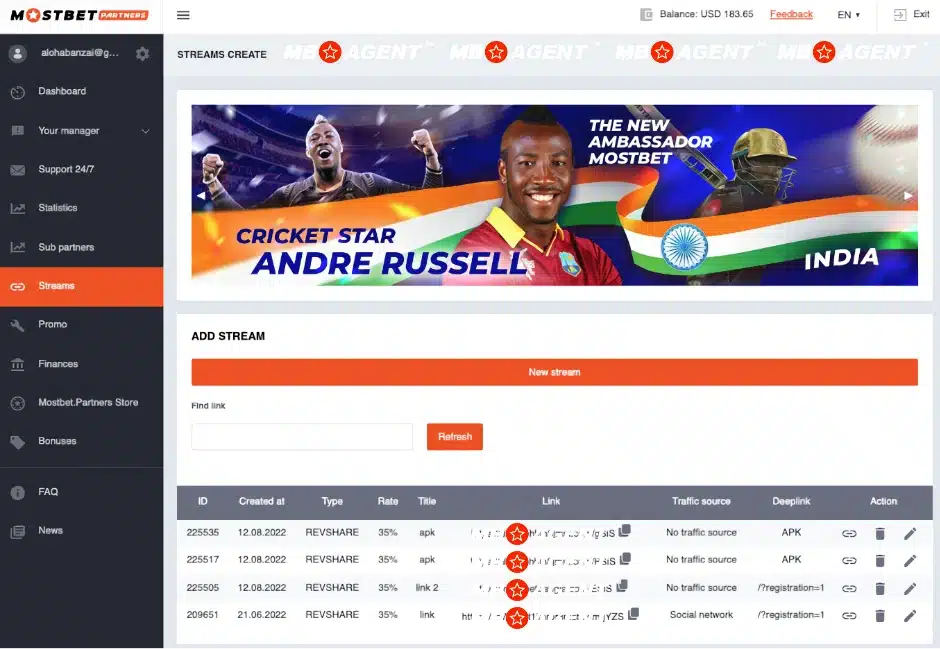 3. How can I get my money from Mostbet affiliates Pakistan program ?
You must add your wallet number and select your Pakistan payment method in order to withdraw your rewards. Then you must inform your manager in writing that you have added a wallet so that he can connect you to an automatic payment system.
You can arrange payment at any moment that is convenient for you; there is no need to wait for a specific day; simply click to purchase and receive the funds in your wallet instantly.We are not the rest of the bookies, we respect our partners and do not make them wait for weeks to withdraw their earnings.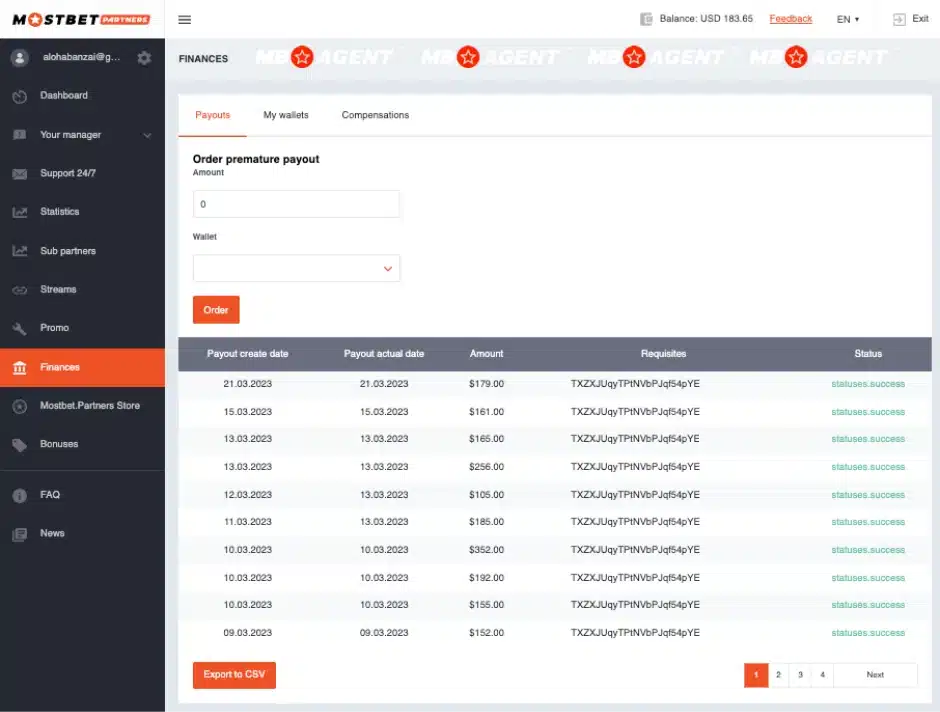 4. Where to see how much I earned and who I attracted Mostbet official Pakistan affiliate program?
On the main page of the Mostbet Partner Pakistan account you can see the total information on the number of active players, the amount of deposits and profit.
In the section "Statistic", you can download the reports by day and by player, which will show in detail all the activities of players, date of registration, date of first deposit, date of repeat deposits, the amount of all deposits, how many bets they made, how many won bets, how many lost bets, income and your commission from Pakistan players.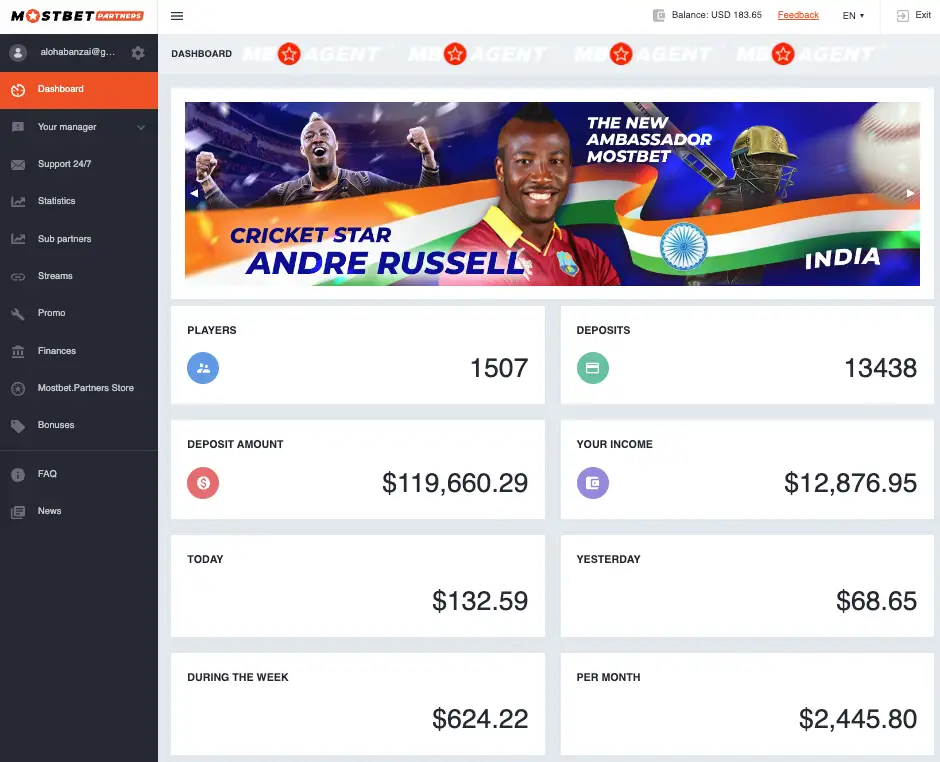 5. How to increase the percentage of earnings (Revshare) at Mostbet Partner Pakistan?
To increase % of Mostbet Partners Pakistan profit remuneration, it is best to contact a manager and discuss the terms of the increase with him, as all terms are individual. On average, you need to bring in 10 FTDs (players who have made their first deposit) per day to increase by 5%. But better talk to your manager, he will tell you how and where it is better to attract players to grow your income and gradually raise your commission, the maximum commission is 50%.
More about
Mostbet partners affiliate program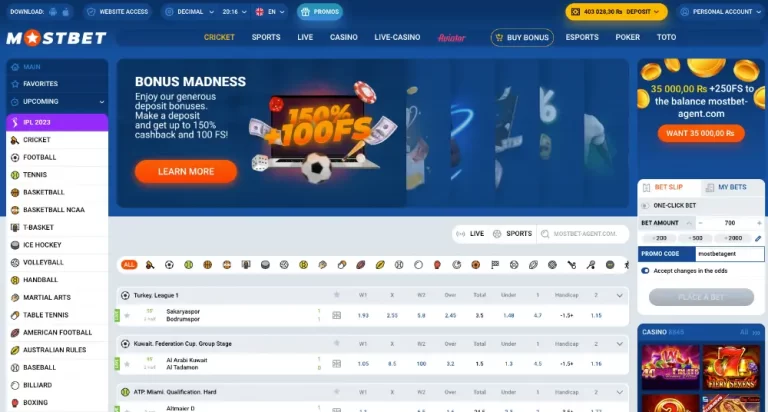 Mostbet Pakistan affiliate program with other companies to provide customers with a variety of services. These services include betting on sports betting and online casino games, horse racing, esports betting. The company is one of the top three gambling companies in the world. The company has been in business since 2009 and has received authorization to work from several government agencies. Millions of people visit the Mostbet Pakistan websites each month.
Partner receives commission from new  and old players which partner attract to his personal account.
Partners receive commissions by Astropay, Perfect Money, bank transfer, cryptocurrency or another local methods.
We work with partners according to different commission structure models, such as revenue share, CPA, and fix. In addition, we give referral bonuses to partners who bring in new ones (start from 3% to 5%).
The Mostbet Pakistan affiliate program offers high RevShare odds, so this is the best place to find affiliate managers with useful information and experience. We have relied on Mostbet Pakistan product, high reward percentage, and training of our affiliates to become the best bookmaker in the world. This bet has good odds and is likely to be successful.
On average, our partners earn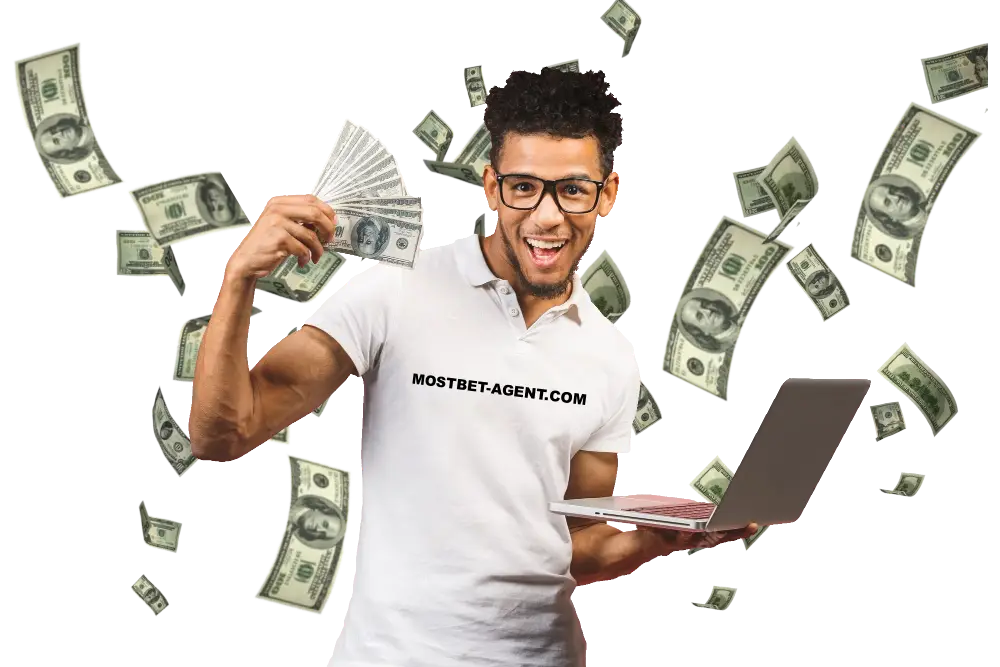 Large Selection Of Events
All cricket leagues are available, major events are always live on the site
Move then over 600 pre-match betting options and 350 live events each week.
Live sports streams more than 230 sporting events and 8000 markets
8,500 games from more than 130 gaming software providers cater to all tastes.
23 popular online casino providers, low initial stakes.
Aviator, Dice and another 340 uniques games
4 providers, 56 games with enchanting dealers.
7 providers, more then 90 awesome games.
7 different parimutuel bet types on different sports markets. massive jackpots
Marnus Labuschagne was added in Australia's 15-man team for the
Read More »
The Bangladesh Cricket Board has revealed today that the 15-man
Read More »
According to a statement released by Manchester United on Friday,
Read More »
If you want to earn not only from players' bets, but also on their deposits and withdrawals, you can become a cashier and receive a percentage of each transaction. More info..