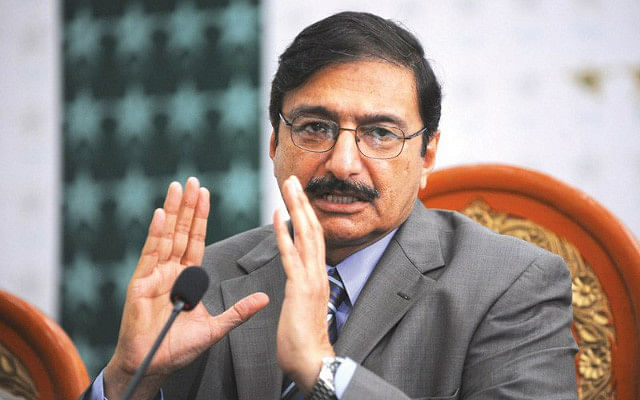 Before the start of the ICC Men's Cricket World Cup 2023, the chairman of the Pakistan Cricket Board, Zaka Ashraf, offered some clarifications on his previous statements against India. He referred to India as a "traditional rival" rather than a "enemy."
In a video that quickly went viral on social media, Ashraf was heard referring to India as "dushman mulk" (which literally translates to "enemy country") while negotiating new contracts for Pakistani players.
Ashraf praised the kind welcome that the Pakistan cricket team was given upon their arrival in Hyderabad in a statement that was sent by the Pakistan Cricket Board (PCB). On September 27, the Pakistan cricket squad landed at Hyderabad International Airport to begin their preparations for the ICC One-Day International World Cup.
"The fantastic reception the Pakistan men's cricket team received in India for the World Cup proves how much love the people of both countries have for each other's players," said the Pakistan cricket team's captain. This affection was made clear by the greeting that was organised for them at the Hyderabad airport," the statement added.
He went on to say that India and Pakistan are not enemies but rather longstanding rivals in cricket, and he insisted that Pakistan has always had a cordial welcome whenever they've gone to India and vice versa. He also added that India and Pakistan have always competed against each other in cricket. While Pakistan will be going for their second One-Day International World Cup championship, India will be aiming for their third victory overall.
When India and Pakistan compete against one another in cricket, they do so as historic rivals rather than as foes. In the past, whenever the Pakistan men's cricket team has been to India, they have been greeted with a warm and friendly greeting. This is similar to the way that Indian teams have been welcomed in Pakistan," the statement read.
When Indian and Pakistani cricket fans saw a video in which Ashraf was heard saying, "We have awarded these contracts to our players with immense love and affection," the video aroused fury among both countries' followers of the sport. This led to the outbreak of a scandal. In the annals of Pakistani history, there has never been a time when players have been given such a huge sum of money. When our players go to compete in other nations, especially the so-called "enemy country," one of my primary goals was to guarantee that their morale stays strong during the journey.