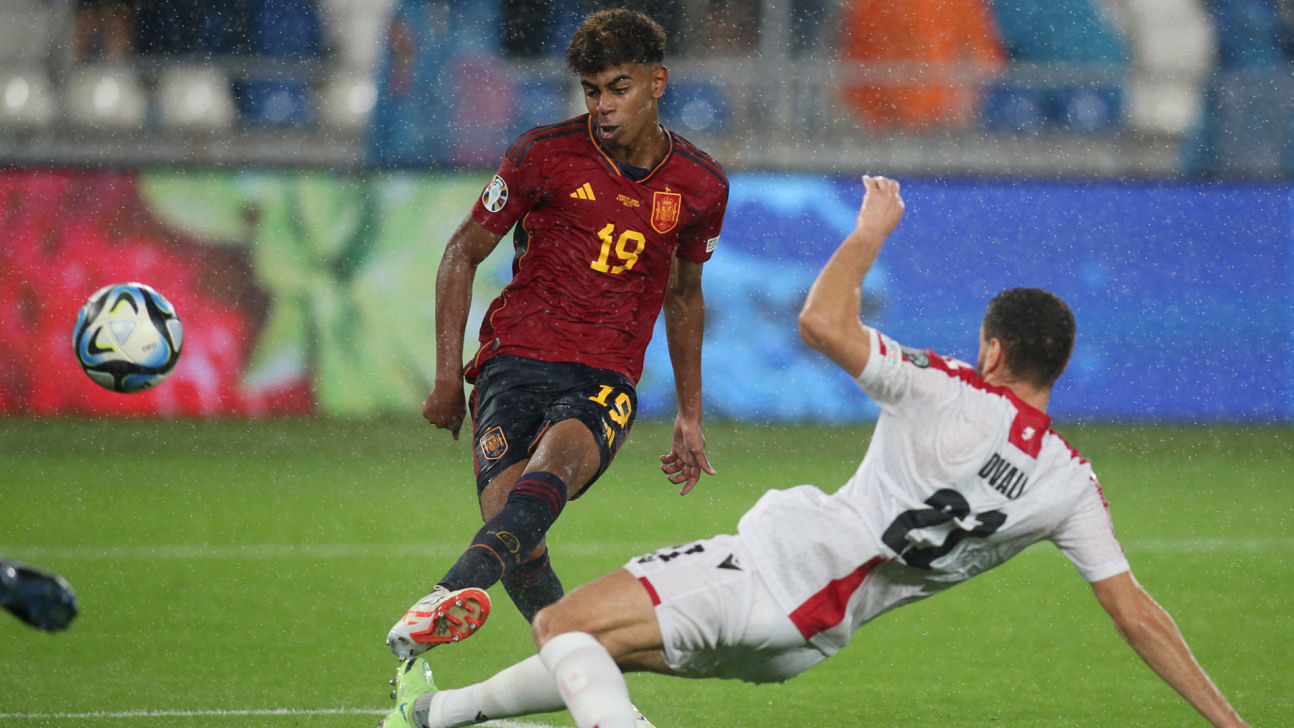 On Friday, La Roja crushed Georgia 7-1 to get their Euro 2024 qualification campaign back on track. Lamine Yamal lifted the gloom that has descended over Spanish football by becoming the youngest ever player and goalscorer for the country.
On a night filled with goals, Scotland defeated Cyprus 3-0, and Croatia put five past Latvia. Portugal, on the other hand, had to work a little bit harder, but Bruno Fernandes scored the lone goal in their 1-0 triumph in Slovakia.
The ongoing scandal involving Spain's federation president Luis Rubiales and his kiss on the lips of women's midfielder Jenni Hermoso in the aftermath of their World Cup victory over England in Sydney last month tainted the buildup to Spain's match and made it difficult for fans to get excited about the game.
On Friday, public prosecutors in Spain made the announcement that they had initiated legal proceedings against Rubiales for sexual assault and coercion.
A loss to Scotland in their second game had left Spain in fourth place in Group A, which did not assist the mood of Spain's team as they competed in the Euro qualifiers.
But they moved up to second position with a decisive victory in Tbilisi, helped along by a hat trick from Alvaro Morata of Atletico Madrid. However, the Atletico Madrid forward's treble is not as impressive as Yamal's outstanding performance in his maiden international match for his country when he was 16 years and 57 days old.
After 43 minutes, the adolescent from Barcelona came off the bench alongside Nico Williams to replace Marco Asensio and Dani Olmo, who had both received knocks. At that point, Spain was up 4-0 and well in control of the match.
After Williams played a cutback to him, Yamal finished off the game-winning goal for Spain in the 74th minute, putting Spain up 7-1.
"I'm obviously happy for my debut and my goal," Yamal said in an interview with the Spanish broadcasting company Teledeporte.
"It's a dream, and I'm living in a dream right now."
The first goal of the game was scored by Morata in the 22nd minute, and it was immediately followed by an own goal scored by Solomon Kvirkvelia.
Morata added the fourth goal following a slick exchange with Ruiz. Olmo scored the third goal with a shot that went past the goalie for Valencia, Giorgi Mamardashvili, in the 38th minute.
Before the break, Spain's coaches made the difficult decision to switch out both of their wingers, and Yamal jumped at the chance to make history.
Giorgi Chakvetadze of Watford scored a goal for Georgia, cutting the Bulldogs' deficit to one before Morata completed his hat trick, Williams, and Yamal finished the thrashing.
On Tuesday, Spain will play Cyprus in Granada. Despite having played two more games than Scotland, Spain is still nine points behind Scotland.
In Larnaca, Scott McTominay, Ryan Porteous, and John McGinn scored for Scotland in the first half an hour, helping the Scots extend their winning streak to five games in a row.
Should Norway and Georgia play to a draw in Oslo on Tuesday, Steve Clarke's squad has a chance to clinch a spot in Germany the following year with three matches still to play.
"We recognize that we're getting there, but we're not quite there yet," McGinn stated.
"We have a responsibility to act responsibly and have a level head. There is no question in anyone's mind that we are thrilled. Tonight is a very important win, making it five wins out of five.
Only our small country's actions may make things worse from where we are, therefore we need to maintain our composure.
Bruno Fernandes and Bernardo Silva of Portugal celebrate with each other after the former scores a goal. Photograph by Reuters.
On behalf of Portugal, Fernandes
Bruno Fernandes scored the game-winning goal for Portugal in their 1-0 victory over Slovakia in Bratislava. This victory gave Portugal their fifth successive victory in qualifying.
The team led by Roberto Martinez has been undefeated in Group J, scoring 15 goals while allowing none. They are currently five points ahead of their opponents, who are in second place after suffering their first loss.
Cristiano Ronaldo, who was making his 201st appearance for Portugal and is now 38 years old, scored against Slovakia in a World Cup qualifier back in 2005, which was one of his record-setting 850 career goals, but he was unable to add to his tally on this particular occasion.
Fernandes gave Portugal the lead in the 43rd minute when he drilled the ball home from a tight angle into the far corner. This was Fernandes' third goal throughout the qualifying campaign.
On Monday, the team that won Euro 2016 will play their second qualifying match at home against Luxembourg. Meanwhile, Slovakia will be playing at home against Liechtenstein.
Liechtenstein fell to Bosnia and Herzegovina by a score of 2-1, while Luxembourg defeated Iceland by a score of 3-1 to achieve a triumph that is not seen very often.
Bruno Petkovic scored twice and provided an assist for Luka Ivanusec to score another goal in the first half of Croatia's match against Latvia to put his team in a commanding position.
Andrej Kramaric and Mario Pasalic scored goals in the second session to secure a 5-0 victory for their team.
Armenia has held Turkey to a 1-1 tie, and Croatia will take against Armenia on Monday. Croatia is currently in second place in Group D, three points behind Turkey.