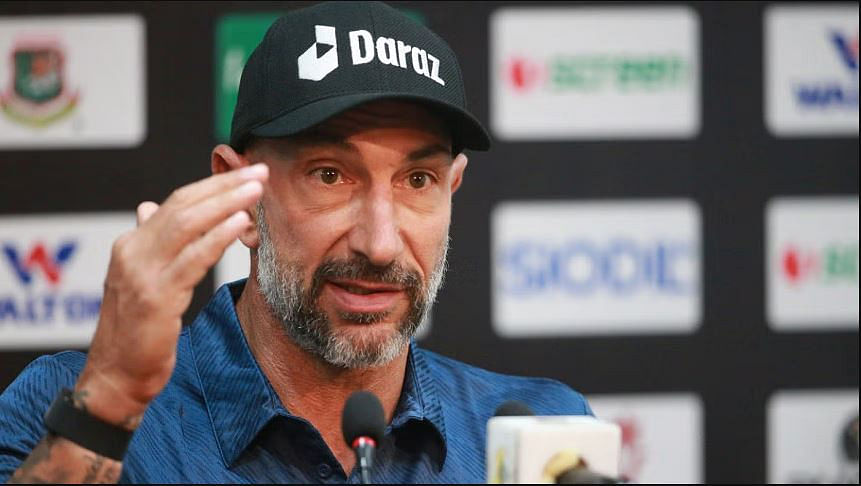 "Over the last six months, our hitting has gotten worse. After the Super Four game against Sri Lanka, captain Shakib Al Hasan said, "It's going down, so we need to fix it quickly." Nic Pothas is an assistant coach for Bangladesh. He is in charge of the hitting side of things and signed a two-year deal with the Tigers. His first job was the match against Ireland in England. As far as Shakib is concerned, Pothas's new job hasn't done anything yet.
Bangladesh's batsmen have become more aggressive in the middle overs, which is a sign that they have changed. But Tigers have often been criticized for not being able to figure out what will happen in a game. This time, with the World Cup just around the corner, head coach Chandika Hathurusingha will miss the first two home games against New Zealand because of a family issue. Before the Tigers go to the World Cup, Pothas would have to make sure they are confident.
"Chandika Hathrusingha will miss the first two ODIs because his wife is getting surgery. He will get there on September 25 and start working with the team on September 26. "Nic Pothas will be our interim coach," Jalal Yunus, who is in charge of cricket affairs, told the reporters on Tuesday.
Since Pothas joined the team, the average score of the top three batters has been just over 26. If you took Najmul Hossain Shanto's good looks out of the picture, it would be a sad one. Many have been tried at the top of the order, and the number seven and eight spots, which are in the middle of the order, average over 14 with seven people playing in that time.
Mushfiqur Rahim, Shakib Al Hasan, and Tawhid Hridoy have all scored runs, but some of the younger players have not lived up to their promise. Shamim Hossain and Afif Hossain have been taken out of the New Zealand match. Since the New Zealand series is a step toward the World Cup, will the team's ability to make decisions get better at the right time? Most of the World Cup team has already been put in a bubble, so the series would be important for finding back-up players and helping seniors like Tamim Iqbal and Mahmudullah Riyad get back in shape.
Given how hard it was for hitters to deal with Maheesh Theekshana's spin in the Asia Cup or how they tried shots that didn't make sense for the game, a lot more work would be needed.
Pothas realized after the Pakistan game that by going after the Pakistan seamers, Bangladesh made it easy for them to do their job.
"Yes, we need to get better at that, but if it were that simple, everyone would do it," he had said.
When players throw away the advantage of winning the toss and hitting first on a flat striking track, the message probably hasn't gotten through.
Pothas was originally meant to be a wicket-keeper expert. In March of this year, he helped train the Bangladesh U-19 team in Abu Dhabi for a one-time job. A month later, though, he became an assistant coach for the national team and was also put in charge of hitting. It's still too early to tell if the South African's new job as temporary boss will be a good one.