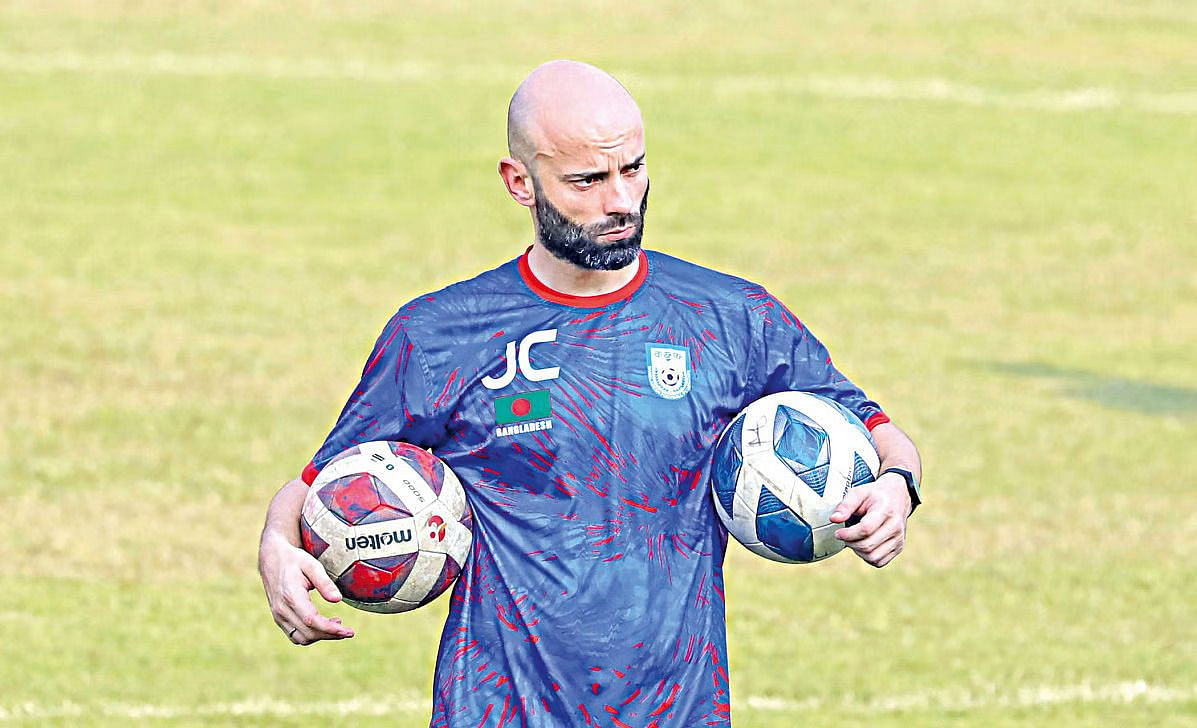 Following Bangladesh's penultimate group encounter, which took place yesterday in China, where they held hosts China to a goalless draw, coach Javier Cabrera expressed his pride in his team but also his disappointment that they were unable to advance to the Round of 16 of the Asian Games. China was the team's opponent.
The charges of Cabrera put on a valiant display against the table-toppers at the Huanglong Sports Centre Stadium despite having lost their first two matches 1-0 against Myanmar and India, both of which they lost due to surrendering unlucky late goals. The table-toppers are currently in first place.
The performance against China fueled the Spaniard's dissatisfaction, as he believed his side deserved more based on their efforts in all three matches. The Spaniard's side lost all three of their matches.
"It's pretty obvious that this is a really excellent performance, and I'm pleased with it. Although I am pleased for the squad and the players, I believe that we might have been able to continue competing in this event. We fought toe-to-toe with the past World Cup participant nation in terms of possession, as well as in terms of attacks and shots, in front of a home crowd of more than 36,000 people. We deserved to be in the Last 16," Cabrera stated after the match, which took place in front of more than 36,000 people in Bangladesh.
The Bangladesh squad entered the Asian Games riding high after making a historic first-ever appearance in the second round in the previous edition of the competition. As a result, there were high expectations placed on Cabrera's squad despite the fact that they were given a difficult draw in which they would compete among China, India, and Myanmar. To make matters even worse for the Spaniard, he was forced to travel to China with a very young squad because a number of experienced players from the initial squad declined to participate. The initial squad's captain Jamal Bhuiyan declined to participate because of his club commitment in Argentina, and Bashundhara Kings did not release their players because of their commitment to the AFC Cup.
Even though they were playing with only two regular starters and a few fringe players on the senior national team, the guys in red and green put on brave displays in all three games, even though the results did not go their way. Cabrera was left to bemoan the squandered opportunities to score that they had in the competition.
"We finish this competition with one point and having conceded two goals, one of which was from a penalty and the other being an own goal," stated Cabrera. "We will not be returning to this competition." "However, we have also thrown away twenty opportunities to earn those points and qualify." We had an opportunity to win today. But there are moments when we don't have enough conviction."
The Spaniard, who has been in charge of the national team for the past few years and has seen its performances dramatically improve in recent times, stated that the primary goal of the campaign, which was to get a collection of young players who could be as excellent as the senior players, was successfully achieved.