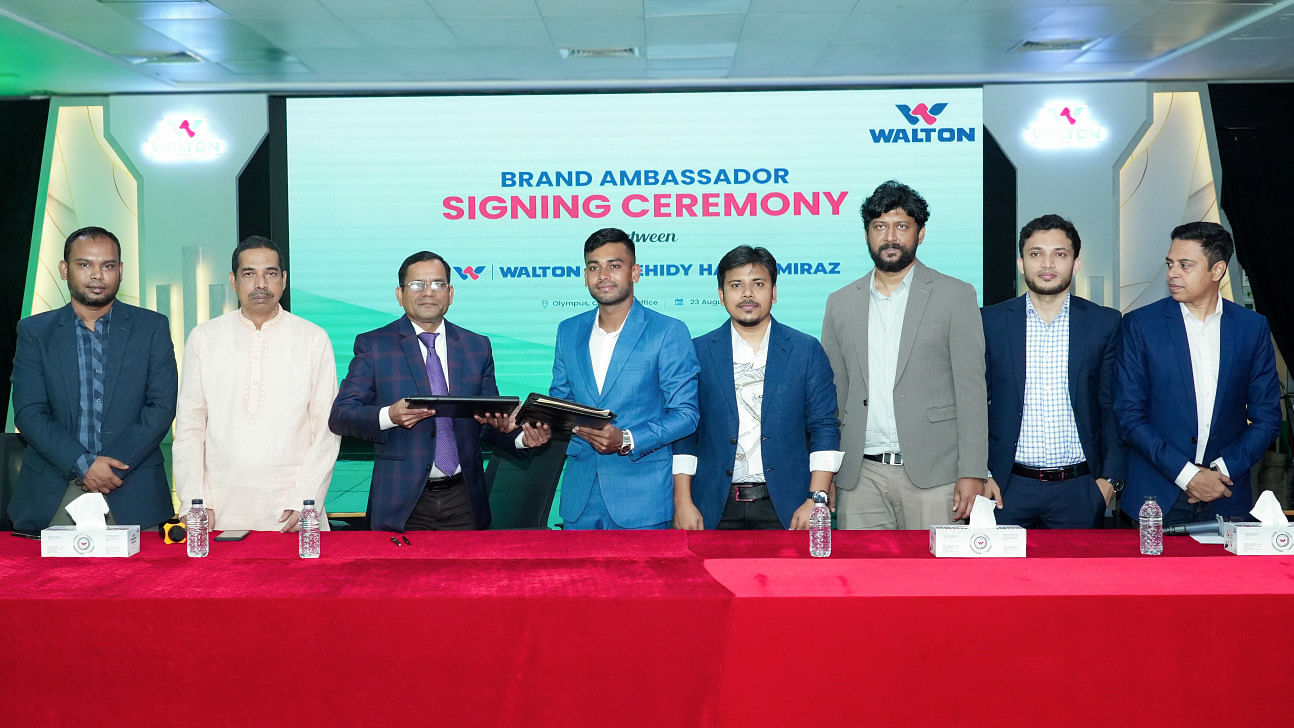 Local electronic powerhouse Walton has extended their partnership with Bangladesh cricket all-rounder Mehedi Hasan Miraz for a third year in a row by re-signing him to their contract.
For the following two years, the young man, who is now 25 years old, will continue to serve as the Brand Ambassador for the firm.
While leading the Bangladesh Under-19 cricket team in 2015, Miraz was named Walton's "Youth Ambassador" and served in that capacity for the next two years.
It's a Walton. The agreement was signed at Walton's Corporate Office in the nation's capital by the Deputy Managing Director of Hi-Tech Industries PLC, Nazrul Islam Sarker, and Miraz.
Senior Executive Directors of Walton Hi-Tech, including SM Zahid Hasan, Md Shahjalal Hossain Limon, Md Mahmudul Islam, and Didarul Alam Khan (Chief Marketing Officer), Senior Deputy Executive Directors of Walton Hi-Tech, including Rabiul Islam Milton, and the Managing Director of Power Play Communication, Niamur Rahman Palash, were present at the signing ceremony for the agreement. Other attendees included Didarul Alam Khan.
While Nazrul Islam Sarker was welcoming the cricket player Miraz, he made the following statement: "Walton has always been a sponsor of cricket and other sports of the country." The Bangladesh national cricket team is helping to promote the country's name and image across the globe. In a similar vein, Walton is working to brand Bangladesh in the international market for technological products. Miraz is one of the most brilliant players on the Bangladesh cricket team and is among the best all-rounders. We are thrilled to have someone with his breadth and depth of expertise serving as Walton's brand ambassador for a third time.
"When it comes to supporting cricket, Walton has always been in the front. They are not just pampering the players but also the many types of sports that they are supporting. When I was still relatively unknown and playing for the Under-19 squad, Walton designated me a young ambassador for the organisation. Following that, Walton chose me to represent the company as its brand ambassador for the third time in a row. This is a really humbling experience for me. I have a lot of pride in being a part of the Walton family. Miraz said while attending the ceremony, "I will do everything in my power to positively represent Walton both domestically and internationally, and to enhance the brand image of the company."