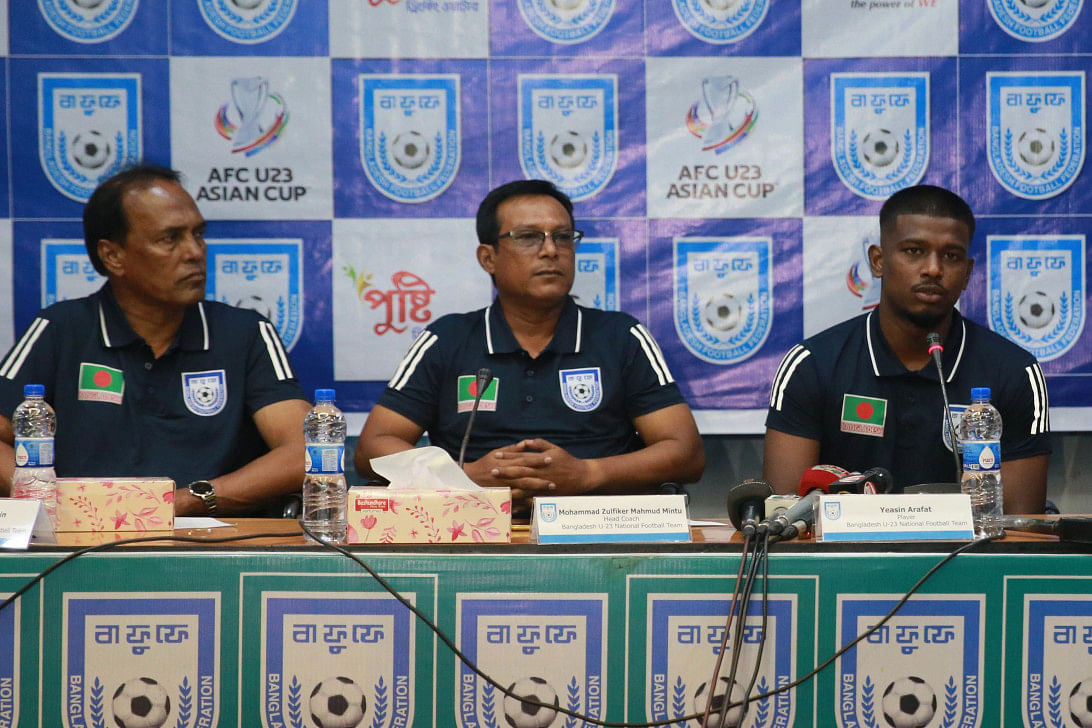 Despite several obstacles, such as a lack of players, Bangladesh's under-23 football squad is focused on making it to the AFC U-23 Asian Cup final phase.
The guys in red and green are competing against teams from Thailand, Malaysia, and the Philippines in Group H. The top four teams from each group, together with the 11 group winners, will join Qatar, the hosts, in the 16-team final round scheduled for 2024.
Follow The Daily Star's Google News channel to stay up to date on all news.
In Chonburi, Thailand, Bangladesh will face Malaysia on September 6 and then Thailand and the Philippines on September 9 and 12, respectively.
Head coach Zulfiker Mahmud Mintu had just three weeks to prepare his team before the competition. Because of the national team's matches against Afghanistan, several important players, including Rimon Hossain, Faisal Ahmed Fahim, Mohammad Ridoy, Sheikh Morsalin, Dipok Roy, Mitul Marma, and Mojibur Rahman Jonny, are not in the squad.
The majority of the players we dealt with were individuals whose post-league fitness was below par. Videos of Malaysia, Thailand, and the Philippines participating in the most recent AFF U-23 Championship were examined by our video analyst. At yesterday's formal press conference held at the BFF House, Mintu said, "We haven't noticed any significant differences with us aside from the comprehension level of their players."
Players need to think they can compete with them since the game is psychologically and mentally taxing. I believe we can achieve positive outcomes and go on to the next level if we can steer clear of dumb blunders. But earning points in the first game against Malaysia is necessary to advance to the next round," said Mintu, who will be leading an age-group national team for the first time after serving as the senior national team's assistant coach in the past.
Bangladesh has only won once in their previous 15 games, meaning they have never advanced to the competition's final stage.