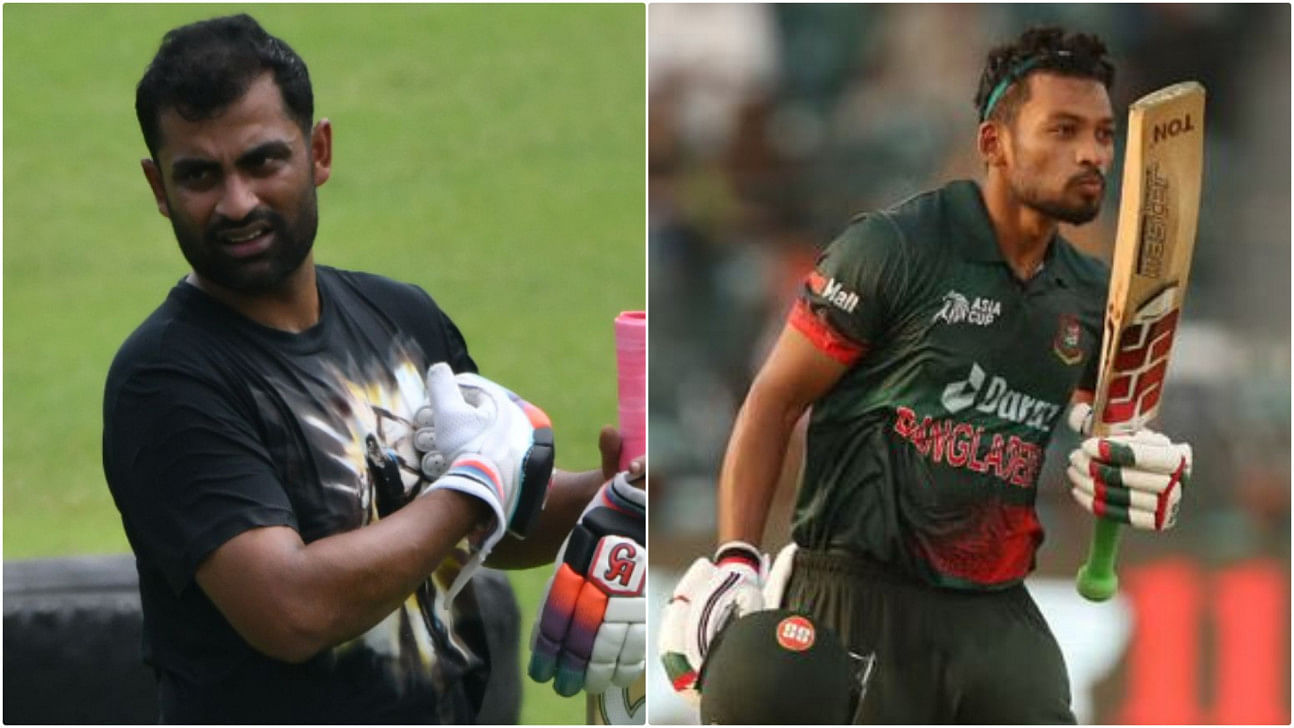 The fact that Bangladesh is currently competing in the Asia Cup has undoubtedly forced the Bangladesh Cricket Board (BCB) and the team management to only hope that their finest players would be available for the World Cup, which will take place in October.
On the batting front, the Tigers' misfiring batting lineup will receive a much-needed balance for the showcase event in India with the return of seasoned opener Tamim Iqbal and in-form Najmul Hossain Shanto. Both players will contribute to the team's batting.
Yesterday, however, the chief physician of the BCB, Debashis Chowdhury, presented some hopeful updates regarding the fitness of the two players listed above.
Tamim stated that he was optimistic about his participation in the next one-day international (ODI) series against New Zealand, which would take place in Bangladesh beginning on September 21.
"At the present time, Tamim is performing exceptionally well. There have been no reports of him experiencing back problems. In addition to practicing his fielding and running skills, he is also facing different types of bowling in the nets. "I have been informed by Debashis that he will now begin batting in the central wickets without nets."
Due to the fact that Tamim and Shanto are not participating in the Asia Cup, the Tigers' top-order does not have any backup plans.
Therefore, for Bangladesh's sake, nothing would be more beneficial than for Tamim to find his mojo in the series against New Zealand. When the former Bangladesh one-day international captain meets up with his old colleagues for the first time since he announced his intention to come out of retirement, it is essential that he feels at ease in the locker room. This is for the benefit of the squad as a whole.
Because of a hamstring injury, Shanto was unable to participate in the Asia Cup, therefore the team management needs to proceed with caution on the batter's participation in the upcoming series against New Zealand. Shanto amassed 193 runs over the course of two innings, and Bangladesh's lack of him was keenly felt during both of their Super Four encounters.
Even Debashis was pleased with how well Shanto's recovery was going, and he expressed his happiness.
"At this time, Shanto's is operating at a sixty percent intensity level. It is quite difficult to provide an exact time frame for his return, but he will be OK in a very short amount of time.
Shanto may be excused from the entirety of the New Zealand series in order to keep him fresh for the World Cup, as indicated by sources within the team management; alternatively, he may participate in just one match in order to get back into the swing of things.
Debashis, on the other hand, warned that if Shanto sustained a second hamstring injury in quick succession, "it will take more time for him to get back to full fitness." This could prove to be Shanto's undoing.
"Listen, he could have been able to compete in the [Asia Cup] event with this injury, but he had to go back to avoid the risk. But things are looking up for him these days."