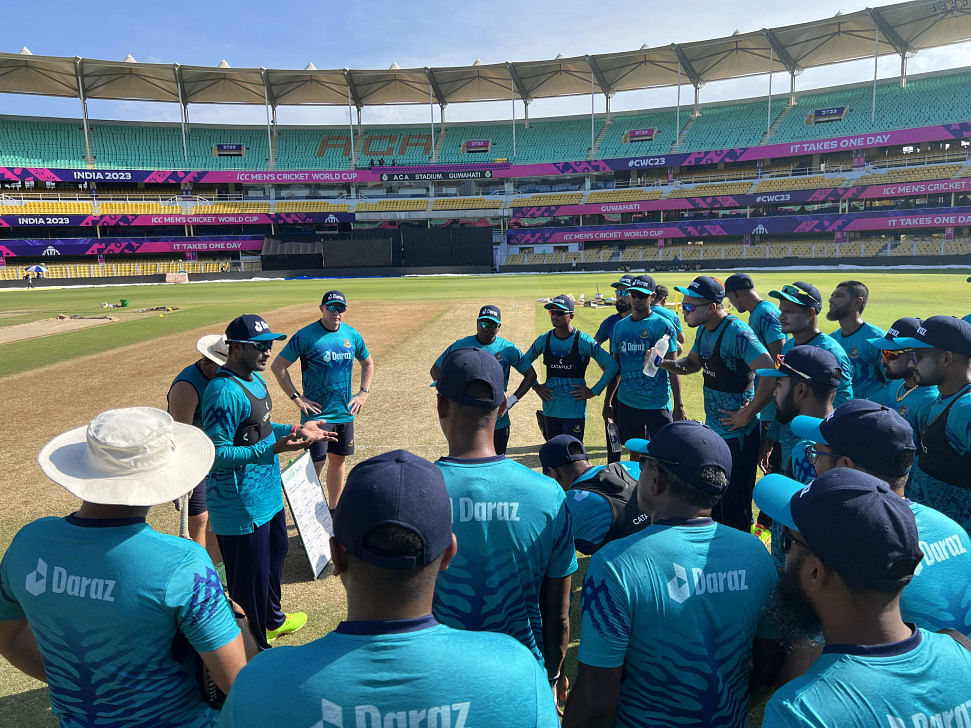 Tomorrow, Bangladesh's first World Cup warm-up match will be against Sri Lanka at the Barsapara Cricket Stadium in Guwahati. The match will take place in Guwahati.
The Tigers arrived in India the day before yesterday and are now training at the Barsapara Cricket Stadium. In the just finished home series against New Zealand, which Bangladesh lost 2-0 to the visitors despite both sides resting important players in preparation for the 2019 World Cup, the squad captained by Shakib Al Hasan will be seeking to regain some form from the top-order, which struggled mightily during the competition.
The topic of discussion will be on how Bangladesh may recover from the tumultuous environment that has pervaded the country over the last few days, with a particular emphasis on the controversy that has arisen as a result of Tamim Iqbal's omission from the World Cup selection. In the middle of the commotion surrounding Tamim's expulsion from the World Cup team, the players will have to find a way to regain their concentration and find their way back to playing cricket.
Batters like Liton Das and Tanzid Tamim will be looking to get back into the run game after their performances in the warm-up matches. The director of the team, Khaled Mahmud, expressed optimism that the warm-up games will assist in the team's preparation for the competition.
"We are aware that our performance against New Zealand was not very good, and that both sides did not play their most important players. But the World Cup is a whole different playing field', Mahmud had stated the day before the squad left for their trip on Wednesday.
We will have time before the commencement of the world cup to compete in two warm-up matches in order to be ready for the competition. I have no doubt that everyone of these 15 cricket players has a dream. It is essential to turn that dream become a reality. Because of this, he had said that not just the cricket players but also everyone else, including the support staff, needed to be on the same thread.
In Bangladesh's second warm-up game, which will take place in Guwahati on October 2 and be against England, the team will then fly to Dharamsala for their first World Cup encounter, which will be against Afghanistan.