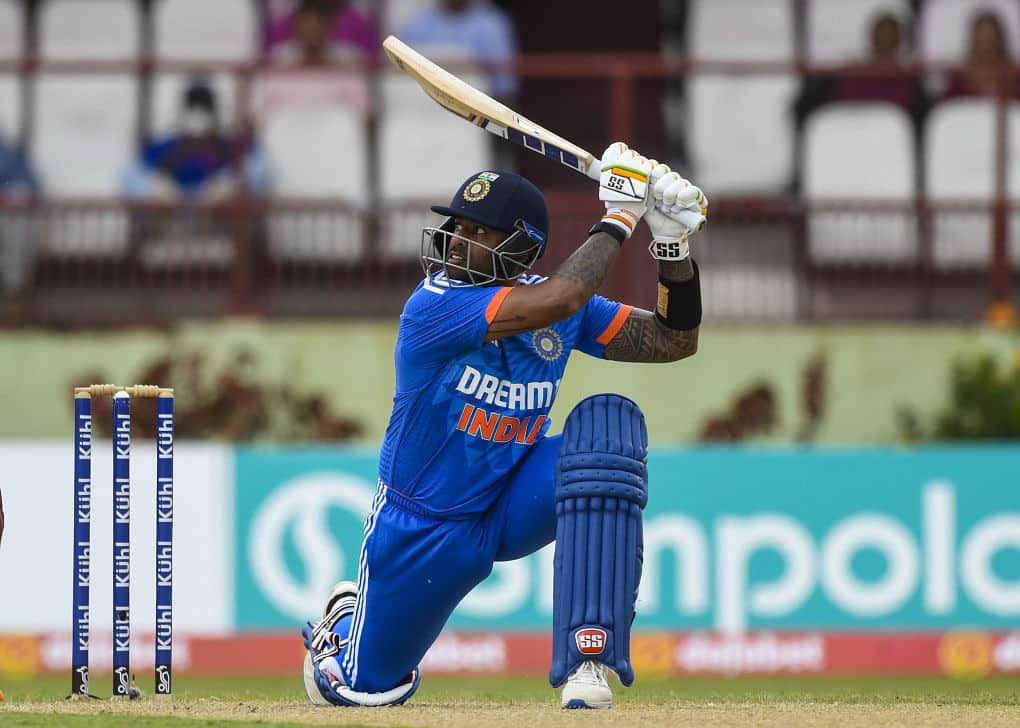 Suryakumar Yadav joined a small group of players with 100 sixes in men's T20I cricket on Tuesday, when India beat the West Indies by seven wickets in Guyana. The win kept India in the series against the West Indies, which is still going on.
Suryakumar hit four sixes during a great innings of 83 in the third T20I match against the West Indies. He became only the third man from India, after Rohit Sharma and Virat Kohli, to hit a century of sixes in the smallest version of the game.
Rohit has hit 182 sixes, which is more than anyone else in the world. Kohli (117) and Suryakumar (101) are trying to catch up to their experienced leader. They are two of 14 men's international cricket players who have hit the "magic" 100-six mark.
Suryakumar was at his best against the West Indies. He and young gun Tilak Varma (49*) worked well together to help India take down the West Indies' small score of 159/5 with more than two overs left and only three wickets lost.
With India's win, the five-match series is now very close. The West Indies are ahead 2-1, and the last two games will be played on Saturday and Sunday in Florida.
After the West Indies won the toss and chose to bat, spin bowlers Kuldeep Yadav (3/28) and Axar Patel (1/24) clamped down on them to bring their score down to a low number.
Suryakumar wasn't bothered by the early loss of openers Shubman Gill (6) and Yashavi Jaiswal (1). Instead, he used the clean hitting that has made him famous in recent years to scare the other team's bowlers.
Suryakumar scored 83 runs, and 64 of them came from hitting boundaries. When he was out in the 13th over, India was in a strong position to cruise home under the watchful eyes of captain Hardik Pandya (20*) and Varma.
Suryakumar was pleased with the left-hander's maturity and thinks the 20-year-old has a bright future in the game. Varma just missed getting his second straight half-century in his third international game.
Suryakumar said of Varma after the game, "I think he's very mature for his age."
"He knows very well what he wants to do when he comes up to bat, and today he was very clear about what he wanted to do. He has a very strong mind."
"That's the most important thing you need when you play at this level in the Indian locker room."