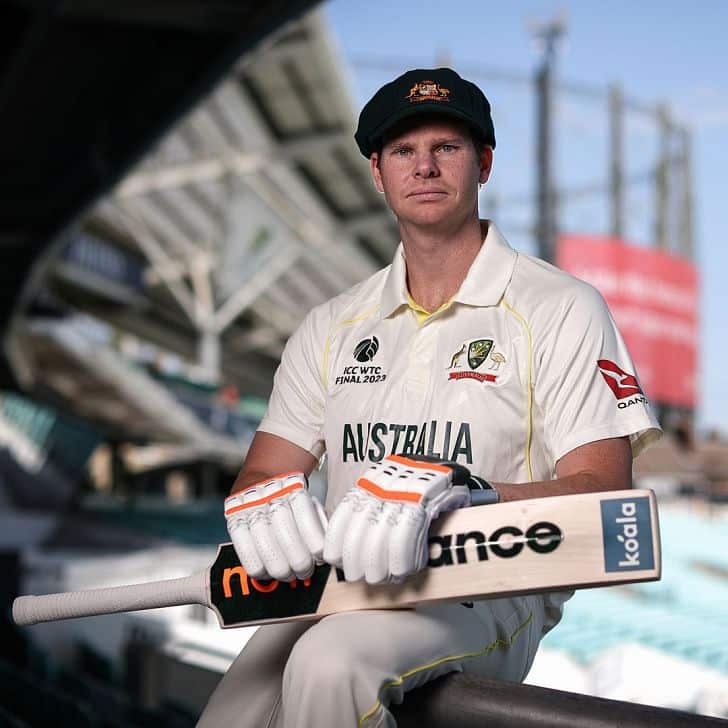 Steve Smith maintains that he has no intention of following in the footsteps of his Australian teammate David Warner and declaring a certain date by which he intends to retire from playing in test matches.
Warner, who has not scored a century in any of his previous 32 innings, stated last week that he plans to end his career as a test cricket player in front of supporters from his native country during the New Year's Test match against Pakistan in Sydney in January.
Smith, who had previously served as the captain of Australia, gave the impression in January that he was considering retiring, but then walked those words back.
Smith said "No" when reporters at the Oval asked him whether he had any better clarity about his future in light of Warner's comments before the final of the World Test Championship (WTC) against India. Warner had made the comments earlier in the day.
However, despite the fact that both Warner and Smith are constants in the Test side, Smith is two years younger than Warner at the age of 34.
The way that Warner performs in the five-match Ashes series in England, which immediately follows the World Cup final, will likely determine whether or not he gets the opportunity to go out the way that he would like to.
"It's nice to have an end date, I suppose, if that's the way you want to go," remarked Smith. "But in the end, the most important thing for any of us is to do our jobs, and for batters, that means scoring runs."
I believe Davey mentioned it as the time when he would like to pick it up in a perfect world. However, all of us need to work toward scoring runs. Now, let's watch and see what develops."
In the format of cricket known as the test match, Smith has amassed an impressive total of 8,792 runs at a high average of 59.80, including 30 hundreds in a total of 96 matches.
However, both the WTC final and the Ashes series are going forward despite the fact that there are concerns that the long-format game's existence may be in jeopardy as a result of the expansion of global franchise Twenty20 cricket. Top players are expected to be given year-round contracts by a number of different leagues.
Smith said that he had some cause for concern. "It is my hope that test cricket will continue to thrive and survive.
"In terms of some of the games that we've seen in recent times, I believe that it's at a good spot at the moment. Some of them have been fairly remarkable.
"As someone who believes in tradition and who adores test cricket, I can only hope that it continues to be at the forefront of all the boards' minds and that it continues to thrive for a goodly amount of time to come."