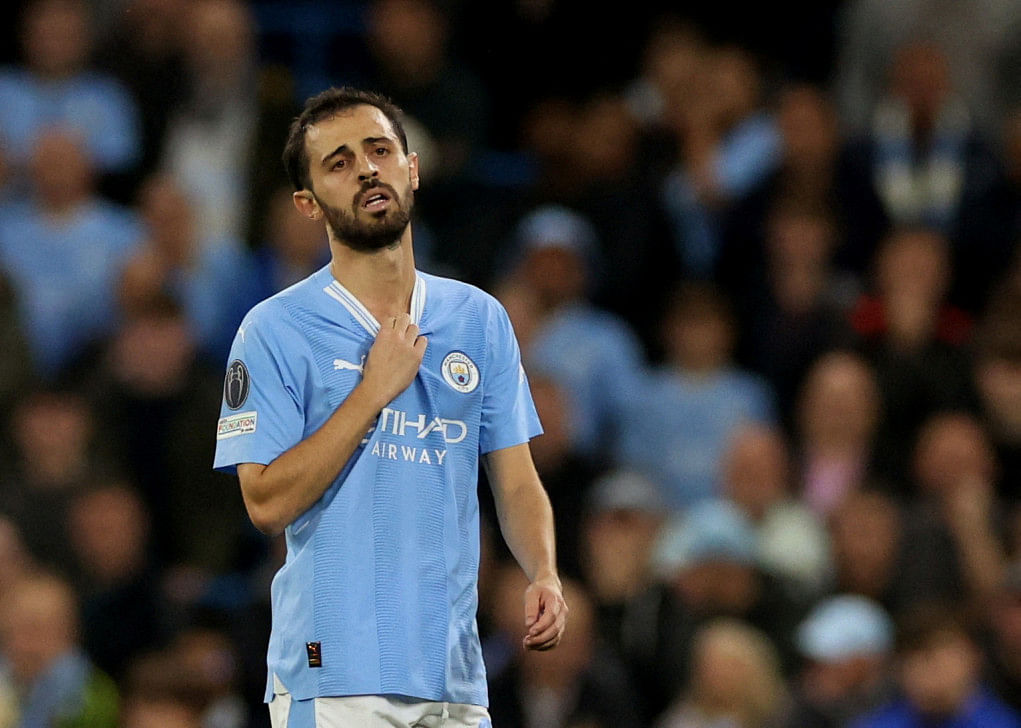 Pep Guardiola, the manager of Manchester City, said on Friday that midfielder Bernardo Silva could miss some upcoming matches due to an injury he sustained in the team's Champions League match against Red Star Belgrade. Bernardo Silva joins a long list of players who are currently sidelined due to injury.
Silva was forced off before halftime of City's 3-1 home win over the Serbian side in their Champions League group opener on Tuesday.
Guardiola said after Silva was substituted that his team was "in trouble" after they already played without Kevin De Bruyne, Mateo Kovacic, John Stones, and Jack Grealish. The team that is currently on top of the table.

"It's a little injury, a week to 10 days he will be out," Guardiola told reporters ahead of Saturday's home game against Nottingham Forest.
They are engaged in quite a few different games at the moment. Fewer games would lead to fewer injuries. We've had a lot of games in a row with not much rest, it's just that. We demand a lot of effort and sometimes they can't sustain it.
"Jack (Grealish) was at Sheffield United with a knock on his knee – it's football. Muscular injuries, however, will cause you to miss a significant number of games.
Guardiola said Grealish (thigh injury) has trained and could play a few minutes while Kovacic (back) is still on the mend.
Julian Alvarez, who is only 23 years old but has already started the season with four goals and two assists in his last five games, was singled out for praise by the Spanish manager, who stated that he was putting his faith in younger players and expecting them to step up.
"He always has good behaviour, when he's playing or not playing, being a world champion or not. It's always the same," Guardiola said.
When he doesn't play, he brings the right amount of disappointment to the table, but he's always ready for his chance. Because of the injuries, he's had some minutes recently, and he provides us with a lot of good things when he plays. That's why he's playing, but he has to continue."