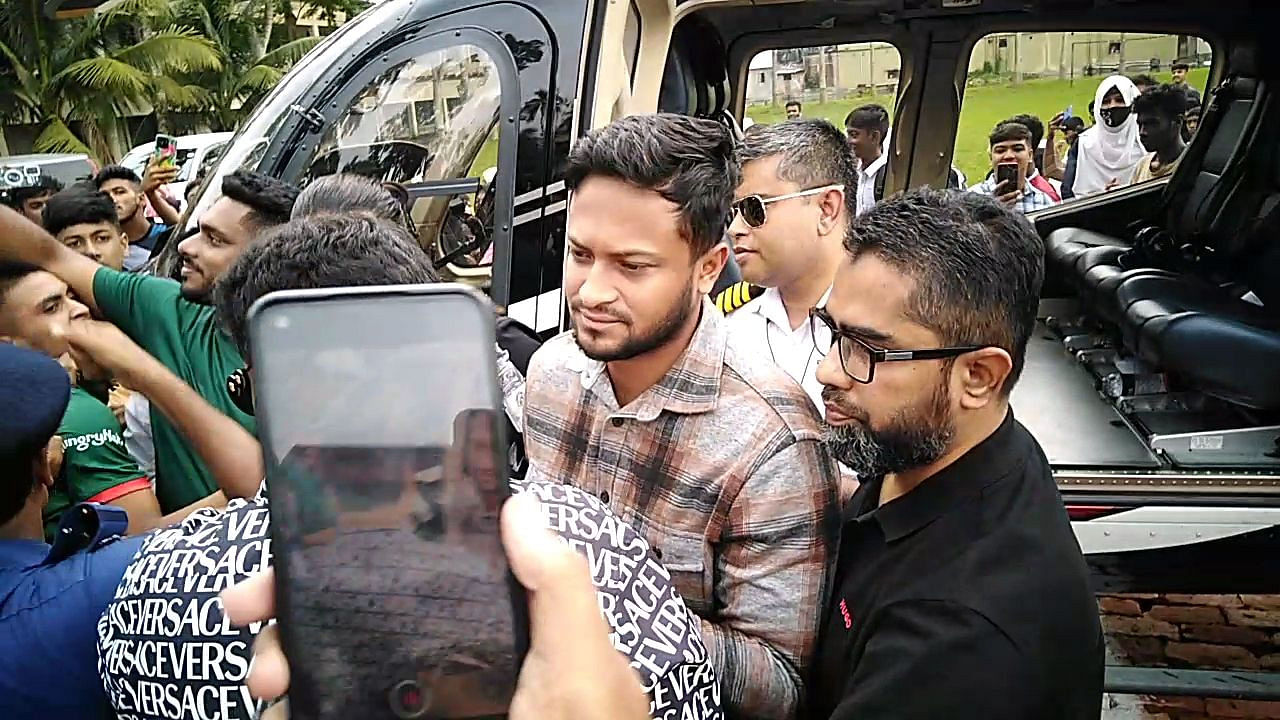 In the upcoming few months, Shakib Al Hasan will need to manage things in a variety of ways.
The 36-year-old, who previously led Bangladesh in the largest cricket competition in 2011, is again in charge of the ODI team soon before the World Cup after Tamim Iqbal resigned as captain.
The Asia Cup and the World Cup are the goals for Shakib, who demonstrates an uncanny ability to manage numerous aspects that go beyond the boundaries of the pitch.
Shakib had returned to the nation on Monday and was en route to Barishal to open a hospital by yesterday morning. Later that evening, he completed another business task in Dhaka.
Shakib reportedly famously remarked, "If I don't work, I would go insane," when it seemed like he had a lot on his plate and was frequently traveling.
In that aspect, he has just pushed the envelope. A sizable audience in Barishal acknowledged Shakib's presence there. When asked what his dream was, Shakib responded, "The World Cup and Asia Cup. We'll see the rest later.
The all-rounder participated in the G20 Canada T20 league in Canada before traveling to Sri Lanka to play in the Lanka Premier League before to the Barishal tour. On Monday, he traveled to Dubai for a business meeting.
Shakib said when asked about his obligations outside of cricket and the vast distance traveled in a matter of days, "As a professional cricketer, we have to manage such things. There isn't much time, therefore it's important to figure out how to handle everything in the limited time that is available. Although it's a little crowded, I like it.
With little time left before major duties, Shakib would have a lot to handle.
Since the head of the Bangladesh Cricket Board said in an interview that he and Tamim did not get along, his relationship with Tamim has been a hot topic. The seasoned opener recently returned to the nets for a batting practice after Tamim's retirement story. Now, with the New Zealand series sandwiched between the two major events, the southpaw would probably make a comeback.
Jalal Yunus, the chairman of cricket operations, recently remarked: "We all want Tamim to revert to his former self. Everyone is encouraging him as he recovers from a serious injury.
In order to equip the dressing room with a single focus, Shakib would also need to provide some of that management talent. Shakib would now be in charge of the U-19 players who experienced World Cup victory in 2020, in addition to the adults. In advance of major events, it is time to unite everyone and form a team.
Shakib had focused only on getting ready for the World Cup in 2019 despite the threat of an impending ICC suspension. He stated yesterday that he did not require that "kick" this time. Just trying to be as physically healthy as I can," he continued.
Although Shakib already performs outstanding fitness work, he must now make sure that the team is motivated by the same objectives. He is no longer the youthful man he was during his first stint as World Cup captain. His outstanding performances during the 2019 season earned him individual recognition, but the team did not make an impact. Only time will reveal what Shakib has in store now that he is in charge.