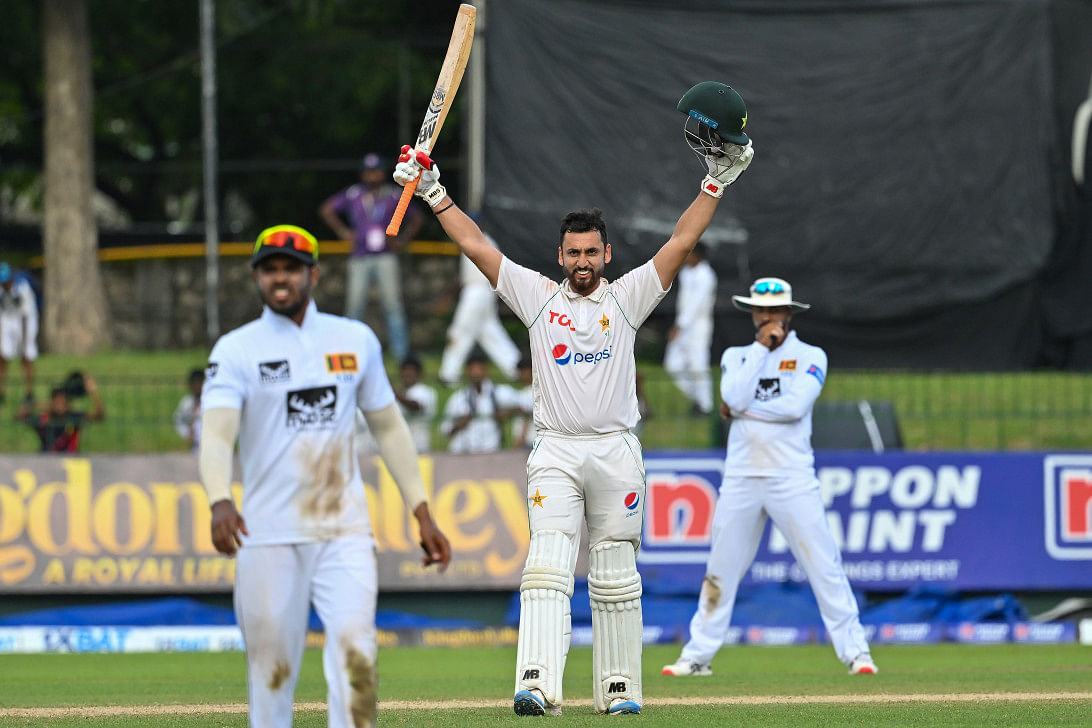 On day three of the second Test match against Sri Lanka, opener Abdullah Shafique scored his first double century, and Agha Salman scored 132 runs without being dismissed.
These two performances placed Pakistan in a commanding position.
At the conclusion of the visitors' first innings at the Sinhalese Sports Club in Colombo, they had scored 563-5, giving them a lead of 397 runs over Sri Lanka.
After Shafique was out of the game with a head injury on 201, Salman and the concussion replacement Mohammad Rizwan were batting together in an undefeated partnership of 95.
Salman got his second Test century with a boundary after playing an aggressive brand of cricket that helped to establish Pakistan's new aggressive approach throughout this series.
In response to Sri Lanka's score of 166, Shafique led the massive reply by putting up three century partnerships, the most notable of which was a sixth-wicket stand with Salman that totaled 124 runs.
After starting the day on 87 and reaching 200 with a single off Asitha Fernando in the last session, Shafique took off his helmet and pointed to his name on the back of his shirt.
However, the left-arm spinner Prabath Jayasuriya soon had him caught out at deep mid-off. Earlier in the day, Prabath Jayasuriya also had the captain Babar Azam caught out for 39.
In the afternoon session, Fernando brought his total number of wickets to three when he ended Saud Shakeel's innings when he was on 57.
The left-handed Shakeel was bowled leg before wicket by the quick bowler who came around the wicket. This brought an end to Shafique and his partnership of 109 runs.
Sarfaraz Ahmed, who keeps wickets and bats, scored 14 runs before leaving the game injured and feeling disoriented. This was most likely caused by a knock that Fernando delivered to his helmet with the first ball he encountered from Fernando.
Rizwan was ultimately chosen to take his place.
In the match against Sri Lanka, Shafique reached the milestone of 150 for the second time with a single off Ramesh Mendis. After that, he surpassed his previous Test high of 160 not out.
After heavy rains on Tuesday shortened play to only 10 overs, Pakistan began their innings with a score of 178-2.
Shafique got off to a slow start, but he quickly struck two consecutive boundaries against Fernando and then scored his hundred with a single.
After adding 11 runs to his overnight total of 28, Azam was bowled leg before wicket, and the judgement was maintained by the third umpire after being reviewed.
This was the sixth time in Test cricket that Jayasuriya has removed Azam, and he did it bowling unaltered from one end in the opening session.
The opening match of the two-match series was won by Pakistan by a score of four wickets.