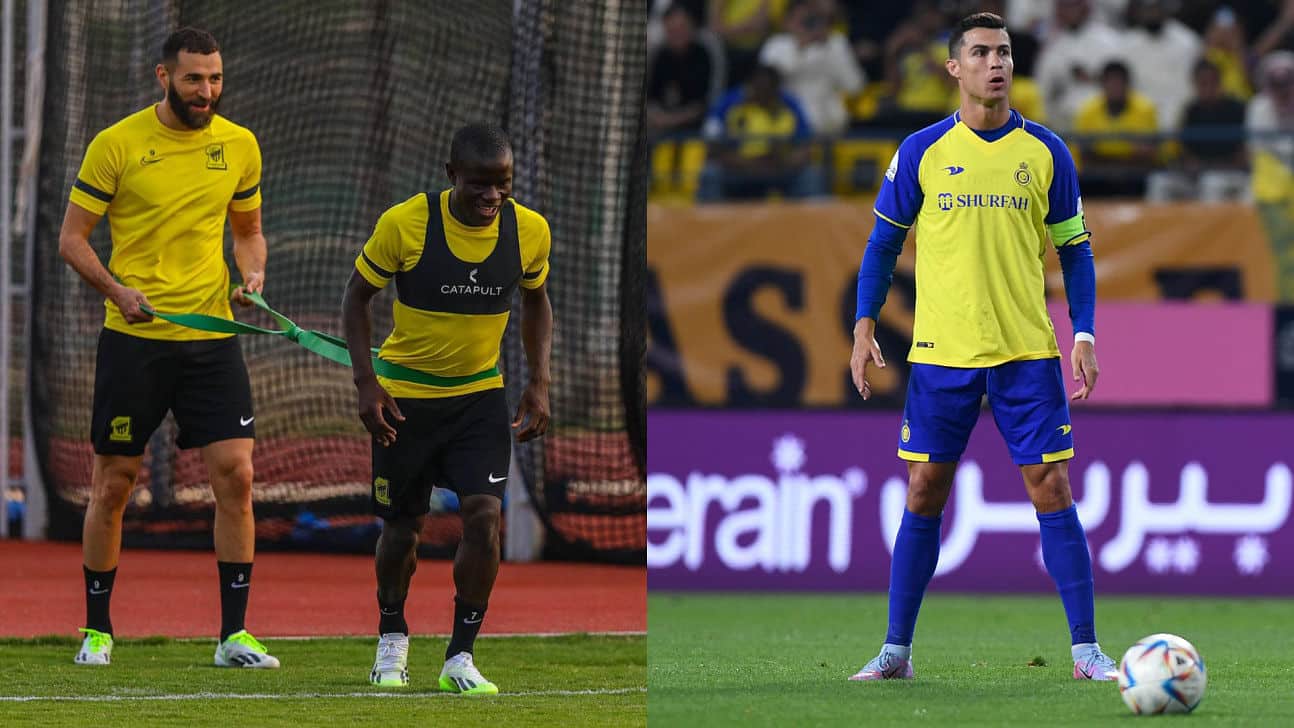 In the past few years, the transfer market has been full of rumors about Kylian Mbappe going to Real Madrid and Neymar going back to Barcelona. The Saudi Pro League, on the other hand, has taken the trade market by storm this summer. This is in addition to the sagas described above.
Late last year, though, one of the biggest names in football, Cristiano Ronaldo, moved from English giant Manchester United to Al Nassr in an unheard-of deal worth $200 million per year. He did this in January 2023, when the transfer market opened.
This shocking move not only put Al Nassr on the map, but it also opened the doors to the money-rich Saudi Pro League. This summer, a lot of big names followed in the path of a player who may have been the most important player of all time.

Karim Benzema, his former partner at Real Madrid and the current Ballon d'Or winner, made a lot of noise when he moved for free from the 14-time Champions League winners to Al Ittihad. Al Ittihad is one of four teams owned by Saudi Arabia's Public Investment Fund, along with Al Hilal, Al Ahli, and Al Nassr.
Sadio Mane joined Ronaldo at Al Nassr after Bayern Munich won the German title. Riyad Mahrez went to Al Ahli after helping Manchester City win a European treble that set a new standard for the time. At the same time, players like N'Golo Kante, Ruben Neves, Edouard Mendy, and Kalidou Koulibaly are among the many who have moved from Europe to Saudi Arabia.
Getting such big names to leave a land that has dominated sports for centuries was sure to get people's attention, and it did. Jurgen Klopp, the manager of Liverpool, thought that the fact that the transfer window in Saudi Arabia closes on September 20, three weeks after it closes in Europe, would hurt the sport. Pep Guardiola, the manager of City, said that the Saudi league has "completely changed the market," and Jurgen Klopp said that the European managers now "need to deal with" it.
Since the Saudi league makes more enemies than friends, it was probably Barcelona president Joan Laporta who said the worst thing about it. One of his summer goals, Marcelo Brozovic, chose Al Nassr over a move to Barcelona. Laporta says that the rush of players to the oil-rich Gulf state has "no sporting reasons," which suggests that the unbeatable and sometimes crazy deals offered by Saudi clubs are the only reason for players to go there.
Even though the Saudi league apparently failed to get seven-time Ballon d'Or winner Lionel Messi and 24-year-old Mbappe, who has already told PSG he wants to move, it might be unfair to say that the league has nothing to offer players from a sports perspective.
Even though Ronaldo left for the Saudi league when he was 37 and the best parts of his career were behind him, it's hard to believe that a professional like him would have done it just for the money, especially since he left Manchester United because they didn't have a good plan and infrastructure for sports, even though he had been their best player the year before.
It is true that most players who went to Saudi Arabia are in their thirties, except for Ronaldo's countryman Neves, who is only 26. But that doesn't mean that players like Kante, Benzema, Mahrez, Mane, Roberto Firmino, Mendy, and Allex Telles are done making claims for their national teams. On the other hand, most of them are mainstays on their national teams, which shows that the Saudi league is not where stars go to quit.
Also, Al Nassr didn't go through with a deal for Chelsea star Hakim Ziyech because he was said to have a knee injury. This shows that the Saudi project isn't just about getting the biggest names in football, but also has a long-term goal in mind, unlike the Chinese Super League, which spent a lot of money to become a footballing power in the last decade but didn't make it happen.
The Saudi league still needs to convince more players in their mid-20s, which is when footballers are ready to make their mark on the world stage, to move to the Middle Eastern country and stay one of the best players in the world.
As things stand, the big spenders in Europe and the makers of footballing talent around the world are now aware of another big player on the market who could steal their assets and goals. And it's likely to stay for a while, working hard to make Ronaldo's prediction that the Saudi Pro League will become "one of the top five leagues in the world" come true.