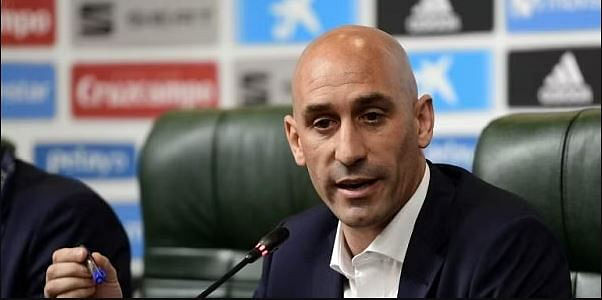 After being suspended from his position as president of the Spanish Football Federation, Luis Rubiales announced on Sunday that he will step down from his role as a result of the crisis that was sparked by his kiss on the lips of a Women's World Cup player.
In an interview on the television show "Piers Morgan Uncensored," Rubiales stated, "I'm going to (resign), yes, because I cannot continue my work."
"(Family and friends) tell me, 'Luis, you need to concentrate on maintaining your dignity and moving on with your life.'" If you don't change your ways, you're going to hurt the people and the sport that you care about.'"
Rubiales, 46, triggered a reaction around the world for forcibly kissing player Jenni Hermoso during the medal ceremony following Spain's World Cup victory in Sydney on August 20. The incident occurred after Spain won the tournament.
This week, Spanish public prosecutors filed a case against the chief, accusing him of sexual assault and coercion. FIFA issued a temporary suspension against the head for a period of ninety days, during which time the lawsuit was filed.
On Tuesday, Hermoso, who is 33 years old, submitted a case to the National Court in which she accused Rubiales of engaging in sexual assault.
Rubiales also announced his resignation from his position as vice president of UEFA, the governing body of football in Europe, in a letter that he handed over to the organization late on Sunday night.
"After the swift suspension carried out by FIFA, plus the rest of the procedures opened against me, it is evident that I will not be able to return to my position," Rubiales stated in the letter. "After all, it is obvious that I will not be able to return to my position."
"Refusing to give up the waiting game and clinging to it will not contribute to anything positive, neither for the federation nor for Spanish football," the player said.
"Among other reasons, because there are authorities who will do everything in their power to prevent my return."