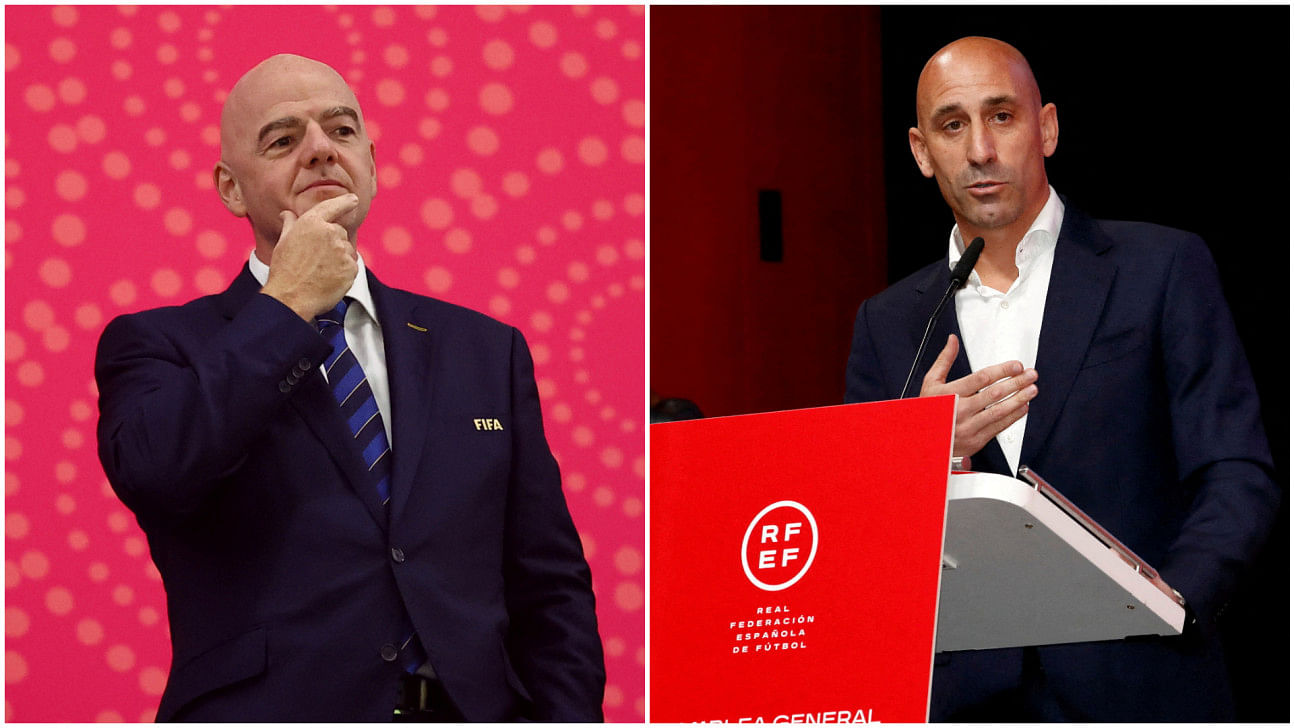 The kiss between Luis Rubiales and Spanish women's football player Jenni Hermoso "should never have happened," FIFA President Gianni Infantino said on Thursday.
Following Spain's victory over England in the Women's World Cup final, Infantino first responded to the event by saying that Spanish federation chief Rubiales' actions had "spoiled" the moment.
"What transpired following the final whistle ruined the well-earned celebrations for these incredible champions," Infantino said on Instagram.

And what transpired over the course of the next several days. This was not supposed to occur."
Four days after the Sydney final, on August 24, FIFA initiated disciplinary procedures against Rubiales. He was thus temporarily barred from all national and international football competitions for ninety days while the inquiry was underway.
"The appropriate measures were promptly taken by FIFA's disciplinary committees once they accepted responsibility. Attending the trophy ceremony after the championship game, Infantino said, "The disciplinary processes will complete their legal course.
"We should keep concentrating on ways to help women and women's football in the future, both on and off the field. upholding moral principles and showing the athletes respect for both their outstanding achievements and as individuals."
Meanwhile, as the controversy engulfs the Spanish football association, controversial coach Jorge Vilda, who led Spain to victory in the Women's World Cup, is expected to be fired.
Almost eighty members of the national team have gone on strike until the federation's leadership (RFEF) is replaced in response to Rubiales's forced kiss on midfielder Hermoso's lips.
After last week's speech in which Rubiales denounced "false feminism" and refused to step down from his post, Vilda subsequently criticized Rubiales for his "inappropriate and unacceptable" actions.
After Rubiales made it known that the coach was in line for a new contract with a significant wage increase, Vilda declined to resign from Spain's coaching staff, in contrast to the bulk of the group.
According to reports from Spain on Thursday, Vilda's regional presidents of the RFEF met on Monday and decided that he must quit. However, if he departs his present position, he is said to desire a different job within the federation.
Pedro Rocha, the acting president of the RFEF, said, "We can't say that (he has been sacked), we haven't met with Vilda, until next week."
"Once we have, we will discuss the pertinent news. But first, it's crucial that we listen and communicate."
Luis de la Fuente, the men's coach for Spain who guided the squad to triumph in the UEFA Nations League in June, was confirmed by Rocha to remain, in spite of criticism from certain quarters when he too praised Rubiales' remarks.
"He is supported by every member of the federation, so yes (he is staying)," Rocha said.
"He is doing incredibly well and is a hard worker."