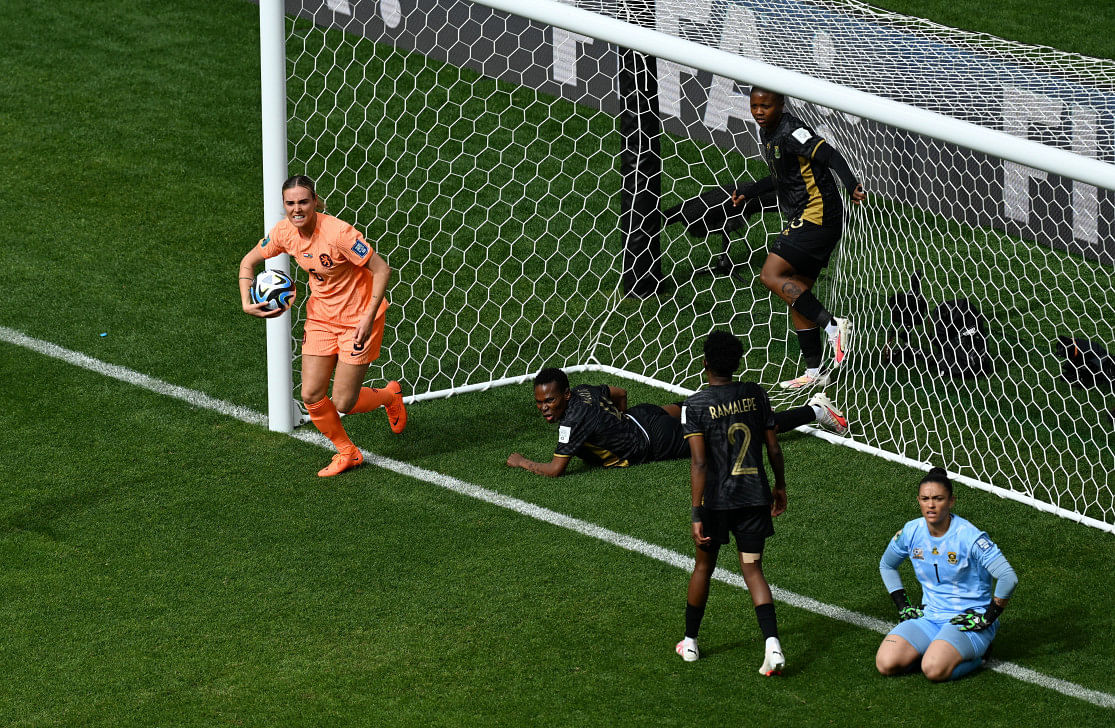 At the Sydney Football Stadium on Sunday, the Netherlands defeated South Africa 2-0 to advance to the quarterfinals of the Women's World Cup. Jill Roord scored her fourth goal of the competition, which helped propel the Netherlands to the next round.
A goal scored by Lineth Beerensteyn in the second half, assisted by a mistake made by the goalkeeper, ensured that the Dutch would play Spain in Wellington on Friday. Roord's header gave her team an early lead, and Lineth Beerensteyn scored the second goal.
The 54th-ranked African champions never gave up the battle in their maiden appearance in the knockout stage of the World Cup. Their lone striker, Thembi Kgatlana, was always a danger on the break for them, and they never gave up the fight.

However, Dutch goalkeeper Daphne van Domselaar was able to handle all that Banyana Banyana threw at her, and the 2019 champions advanced to the round of eight for the second consecutive season.
The United States, who are the defending champions, were supposed to play at primetime in the United States, which is at noon, but instead they had to be rushed off to Melbourne to play Sweden later on Sunday because the Netherlands won Group E after beating Vietnam 6-0 and taking first place.
The Dutch got off to a strong start and grabbed the lead in the ninth minute from a corner kick. Danielle van de Donk headed the ball toward the goal, and defender Lebohang Ramalepe stepped in the way of goalkeeper Kaylin Swart, which allowed Roord to complete the easy opportunity.
The striker for Banyana Banyana, Thembi Kgatlana, had an excellent first touch on a through pass, which gave her room to fire a shot that caused Van Domselaar to make a stop. Banyana Banyana swiftly reacted to the challenge.
Kgatlana served as a persistent reminder to the Dutch to keep them from becoming complacent.
Van Domselaar had to be at her very best to block a piledriver from Kholosa Biyana in stoppage time. She got three shots off in the ten minutes before halftime that put Van Domselaar under pressure.
Lieke Martens, a winger for the Netherlands, had a goal disallowed for offside only 10 minutes into the second half, but the Dutch did manage to increase their advantage in the 68th minute.
Beerensteyn was passed through and fired across Swart, who looked to have everything under control but mishandled her grab and saw the ball leak into the goal despite having the appearance of having everything under control.
South Africa once again rallied after surrendering a goal, but Van Domselaar was once again up to the challenge. Five minutes later, he got down low to deflect Linda Motlhalo's low shot around the post.
Banyana During the stoppage time, Banyana had one more opportunity to get on the scoreboard, and it very certainly would have been via Kgatlana, but there was no way to get by Van Domselaar.