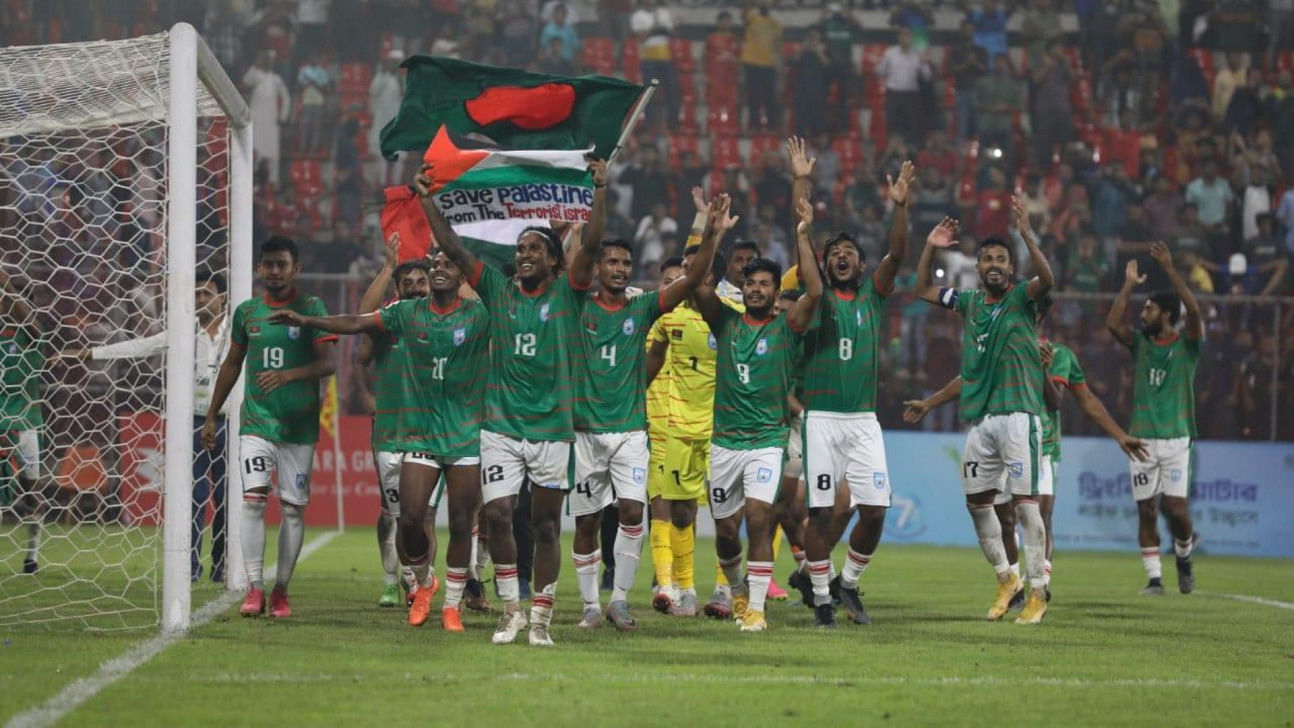 Even fifteen minutes after the final whistle of the second leg match, the men in red and green seemed to continue celebrating forever as Bangladesh defeated Maldives 3-2 on aggregate to earn their berth in the World Cup Qualifiers for the third time in a row. This victory secured Bangladesh's spot in the World Cup Qualifiers.
Rakib Hossain and Faisal Ahmed Fahim, both of whom scored for Bangladesh earlier in the evening, took off their jerseys so that they could hold the Bangladeshi and Palestinian flags, respectively.
The players then went on to celebrate with their coaching staff, and in order to mark the occasion of the triumph – which was referred to as "the final of the year" – they were each thrown into the air individually.

"It was a game that required strategy. Following the match, Rakib made the following observation: "We played according to our plan, and they played according to theirs."
"After taking the lead, we had some opportunities, but I also squandered a few of them." Despite this, we were adamant that we would not anger those in our hometown. We made it a point to give it our best effort in every position.
If you put in a lot of effort, you will succeed in what you set out to do. We have been putting in a tremendous amount of effort together for a very long period. We didn't have any stars on our team, but we worked well together as a unit.
According to the forward who gave Bangladesh the lead in the 11th minute, "We had a belief that we could do something better together, especially after playing out a draw in Male,"
Rakib extended his gratitude to the Bashundhara Kings Arena's partisan locals for packing the venue to capacity.
Eleven of us fought on the ground, and those who supported us from above fought with us from above. We were unable to generate results six months ago, which resulted in low attendance. However, during the SAFF Championship and in matches against Cambodia and Afghanistan, we were able to achieve some solid results, which led to an increase in attendance.
"So, they are coming to watch our games, and we did not want to disappoint the fans, who were unbelievable today with the way that they cheered for us throughout the match," Rakib added. He went on to say that he and his teammates would like to think about World Cup Qualifiers matches after they have fulfilled their commitments to their clubs, but they would only do so after they have completed their club obligations.