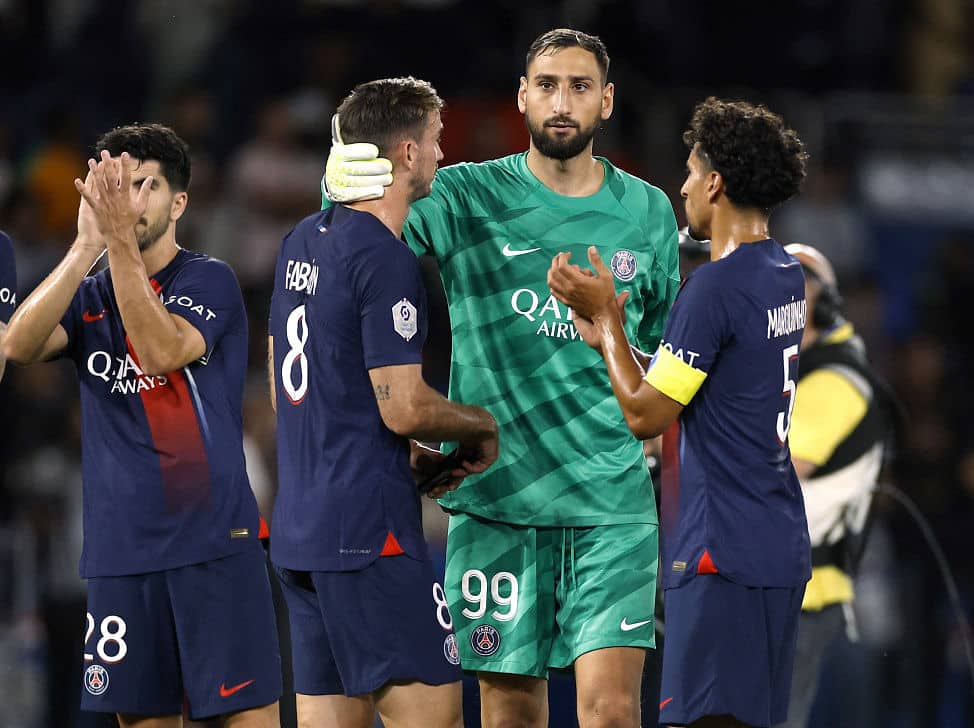 On Saturday, Paris Saint-Germain started defending their title with a 0-0 draw at home against Lorient. Kylian Mbappe watched from the stands because he is still in a contract disagreement with the French champions.
After a summer of change at the Parc des Princes, with new players coming in and Lionel Messi leaving, the Mbappe stand-off is still the biggest story.
The leader of France has refused to sign a contract extension with PSG, which means he can leave for free next year. Real Madrid has been thought to be his top choice for a long time.

PSG wants to sell him now and get a lot of money for a player they bought from Monaco for €180 million ($198 million) in 2017.
On Friday, Mbappe's new boss, Luis Enrique, said he hoped a solution could be found. However, Mbappe has not been allowed to work with the first team, and he was not in the team that played Lorient.
Instead, he sat with fellow 2018 World Cup winner Ousmane Dembele, whose move from Barcelona was finalized earlier that day, as Luis Enrique gave six players their first starts.
Goncalo Ramos, Marco Asensio, and Lee Kang-in started in a new attack with Goncalo Ramos. Milan Skriniar and Lucas Hernandez started in defense, and the strong Manuel Ugarte lined up in middle.
Neymar missed the first game of the season because he had a virus. The club is said to be willing to sell both Neymar and player Marco Verratti if the right offer comes along.
Ramos, who came to PSG on loan from Benfica, almost scored his first goal in the first 10 minutes. Yvon Mvogo did a great job of stopping his rising shot.
Laurent Abergel, the leader of Lorient, hit the outside of the goal from far away after stealing the ball deep in PSG's half. However, neither team had many clear chances.
PSG had the ball but couldn't get past the defense until Fabian Ruiz caught Carlos Soler's pass and forced Mvogo to make another great save.
Then, Ramos missed with a header, and Vitinha and Ugarte both came close in the final minutes, but PSG had to settle for a draw.
When asked about Mbappe again after the game, Luis Enrique wouldn't say anything else.
"I don't have anything to say about it. "I told you what I thought of it yesterday," he said.
Marseille is open for business
At the Velodrome, Vitinha's goal gave Marseille a 2-1 win over Reims after the French team had taken the lead.
Junya Ito, a player from Japan, put Reims ahead early with a goal, but Morocco's Azzedine Ounahi tied it up with a beautiful curling shot from 25 yards.
Before halftime, Ito put the ball in the net again, but video showed that the ball had gone out of play in the lead-up.
Vitinha, who came to Marseille from Braga in January, also had a goal called back, but he scored with just over 15 minutes left to help Marseille bounce back from their Champions League loss the week before.
"It's a step up from Panathinaikos," said Marcelino, the coach of Marseille. In his first game in charge, his team lost 1-0 in Greece.
They need to win on Tuesday to stay in the running for a spot in the group stage of the Champions League.
"It was a very important game because we had just lost. "The big teams need to bounce back quickly after a loss," Marcelino said.
"It gives everyone a sense of pride. This win gives us a lot of confidence and encourages us to keep trying to get better.