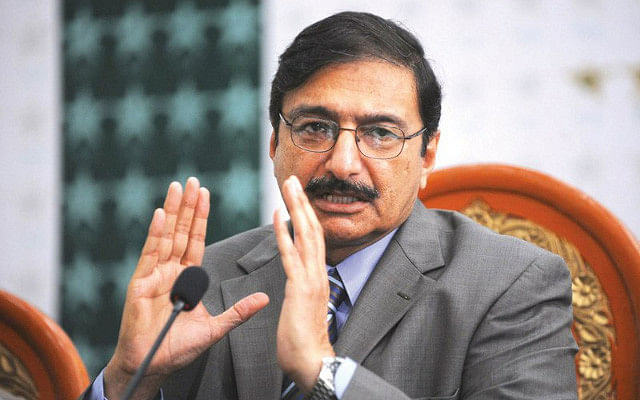 It was reported that Zaka Ashraf, the head of the Pakistan Cricket Board (PCB), was accused of doing things that were against the law by people on his own committee.
The claims were made by Mustafa Ramday and Zulfiqar Malik, who are both part of the current PCB set-up and the Interim Management Committee of the Cricket Board.
When Zaka's term ends on November 5, the PM, as patron of the PCB, will decide whether to keep Zaka or find a new one.
"The [present] PCB chairman is allowed to deal with the day-to-day affairs but under this umbrella [of day-to-day affairs] a good number of appointments have been made in the PCB," Ramday told Pakistan's Dawn paper.
Zulfiqar, from Sialkot, is a member of the PCB Interim Management Committee. He also wrote a message to the Prime Minister, all members of the IMC, and the secretary of the IPC, objecting to what he saw as violation of the constitution and wrongdoings happening in the current PCB structure.
Other charges included not following orders to hold elections to replace the temporary management, letting his son get involved in board business, and abusing his position as PCB Election Commissioner to target political opponents.
Zaka's management broke the rules when they hired Inzamam-ul-Haq, who has since quit, and a number of directors.
"The hiring of Chief Selector (Inzamam ul Haq, who has since quit) for three years at a huge Rs 2.5 million per month, along with the hiring of many Directors, Consultants, officials, Scrutiny and other Committees, and the approval of many projects and budgets, as well as the hiring of lawyers at very high rates and the firing or demoting of key officials, are all examples of long-term decisions that go against the clear mandate of the
"Ignoring the IPC Ministry's instructions… to hold the Chairman election was the worst thing that Zaka Ashraf and this MC did," Zulfiqar wrote on the letter, according to ESPNCricinfo.
"Every choice is made in line with the constitution," the PCB said. All choices have been made to make sure that the PCB can continue its day-to-day work without any problems.