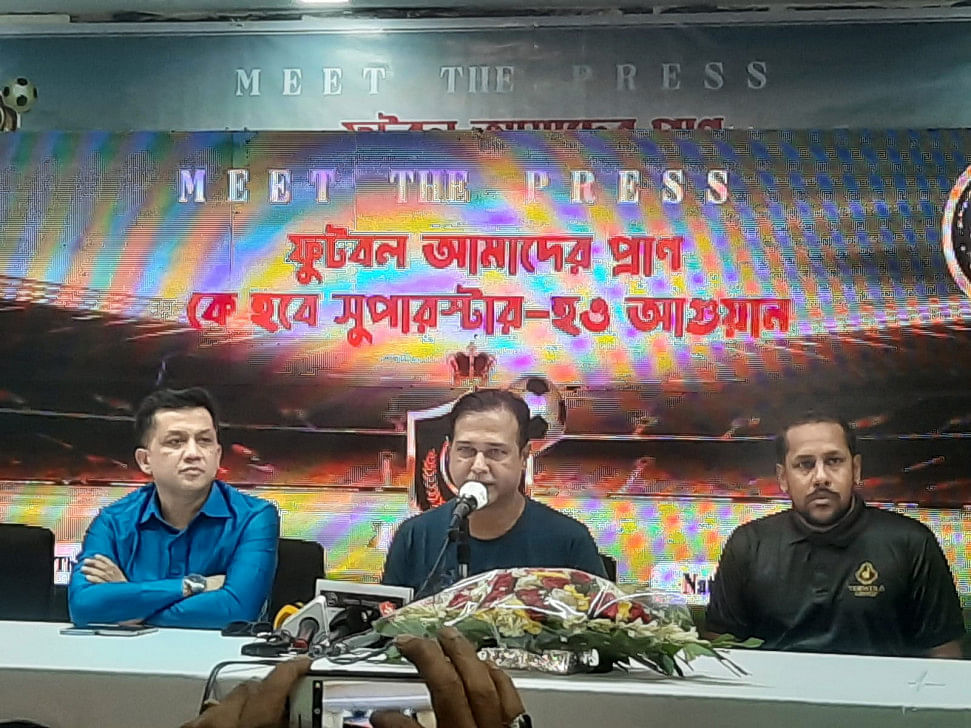 On Thursday, a new kind of football talent scouting programme called E-Talent Hunt Football was launched by Hello Superstars in partnership with TH Global Football Camp, which is situated in Malaysia. The programme featured approximately 24 young footballers who are just starting out. Real Madrid Foundation Clinic will give each of Bangladesh and India the chance to host 12 football players from their respective nations. These players will get the chance to practise there.
Aspiring football players are required to enlist through the Hello Superstars applications and pay Tk 100 per person in order to participate. Former national players like Zahid Hasan Emily, Mamunul Islam, and Hasan Al Mamun, along with others, will choose the footballers after viewing the video clips of each individual football player that has been submitted to the Hello Superstars apps.
At a press conference held at the National Press Club on Thursday, renowned singer and Hello Superstars Apps' head of country Asif Akbar said, "Hello Superstars app has been a unique one through which we have already started an E-Music talent hunt which is expected to come to an end in mid-November and we are launch E-Talent hunt football, so that the talented footballers from Bangladesh and India can play at the world-class level."

After going through eight stages in which the individual players will send their video clips of dribbling, passing, free-kick, controlling, running, and a variety of other things, Asif also informed that 12 players from the U-13 age group and as many players as possible from the U-15 age group will get the opportunity to train at the Real Madrid Foundation clinic.
On Friday in Cumilla, the event organisers will also be organising a friendly football match between former footballers from Bangladesh and India. The game will take place in an effort to get the footballers in the right spirit.
Members of the royal families of Malaysia, Tunku Harunnarasheed Putra and Noor Suzanna Abdullah, who have been connected with TH Global Football Camp, were also there. Emily and Kaiser Hamid, both formerly of the Bangladesh national football team, as well as Mehtab Hossain, formerly of the Indian national football team, were also in attendance.
"Beyond Bangladesh Football Federation, there are hardly any grooming activities for players and the system I have seen here seems to be a good one in terms of having a long-term plan to groom the players with an opportunity to also train at Real Madrid," according to Emily. "We will select players for each position with former forwards, midfielders and defenders choosing the budding players in their respective positions."
The selection procedure will be finished in May of the following year, and the players that were chosen to compete will go to Spain in June of 2024.