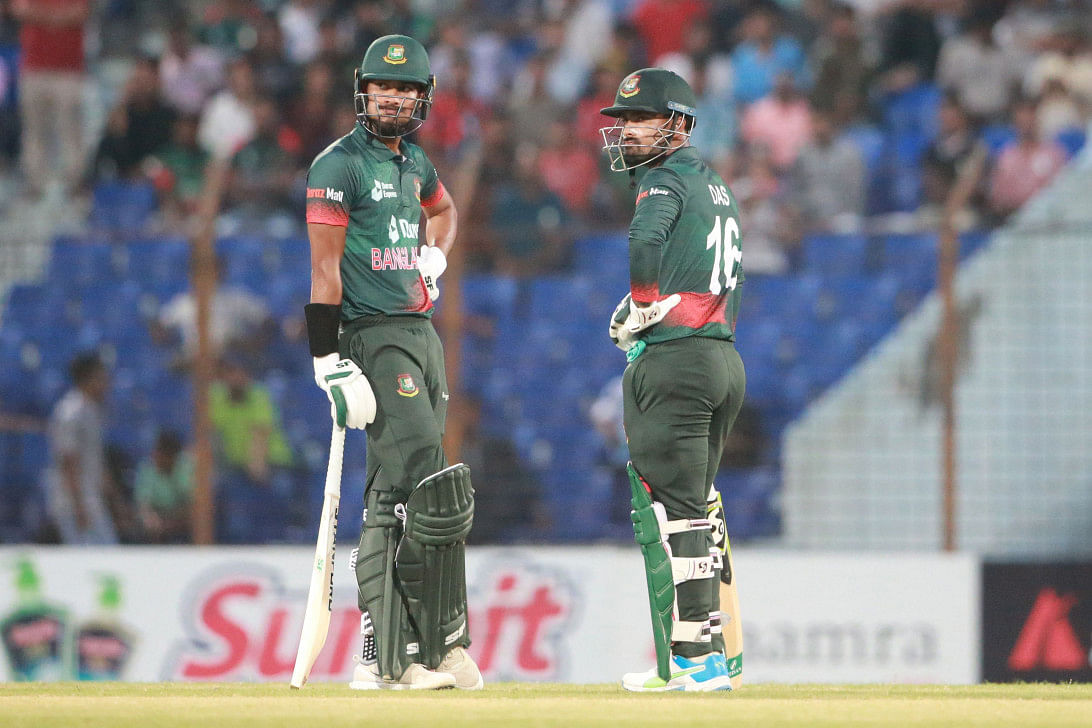 Tamim Iqbal can't play in the upcoming Asia Cup because of a back issue that won't go away. This means that the Bangladesh managers have to find a replacement for the experienced bowler in the key starting position.
In Tamim's absence, Liton Das is likely to take on most of the responsibilities at the starting position. It will be interesting to see who his partner will be at the regional event, which is coming up in less than a month.
Tamim and Liton had mostly played together as the starting pair in the last year or so. Even though the left-hander had a lot of experience, the Tigers' opening stand was still a weak spot, even without him. Even though Tamim and Liton had a few good games in the last 18 ODIs, neither of them played consistently well.
While Tamim was out, the team management did try different starting pairs. In different games, Liton opened with players like Naim Sheikh, Anamul Haque, Rony Talukdar, and even Najmul Hossain Shanto.
When Tamim suddenly quit after the first ODI against Afghanistan last month, Naim got the chance to take his place because he had done so well in the Dhaka Premier League. The left-hander, on the other hand, did not do well in either match, so the judges were left in a bind as they tried to choose the Asia Cup team.
Imrul Kayes, the starter for the national team, says that it will be important for the coaches to back whoever gets a chance in the coming days.
"Look, Tamim didn't become the way he is overnight. Even if I talk about Liton, he had plenty of chances to do well before he finally did. But if I talk about the other people, did they have as many chances as Liton? Imrul told The Daily Star, "I think it's very important that the selectors back everyone, like they did with Liton and Shanto."
"Someone like Naim may have failed with the bat in the last series, but he came off a great run in the Dhaka Premier League. So, he should be given more chances."
There were talks about putting a new person in the first spot. Tanzid Hasan Tamim, Mahmudul Hasan Joy, or Zakir Hasan could be added to the big event as a surprise.
Habibul Bashar Sumon, a former captain and selection, told The Daily Star, "It's clear that losing Tamim is a loss. We were looking for a backup opener before Tamim joined, but now we need to find a real opening as well. We do, however, have a few different ideas. Let's see how things go."
Imrul says, "It is very important for the selectors to also train the young players by keeping them in the squad. This will give them experience that will help them when they get a chance."
"Why not? If I talk about Tanzid Tamim or if I have other choices, why not? But you should also know what kind of mind Tanzid will have. It won't be the same for Liton, though, because he will have to take the lead part. If that happens, Liton might have to change how he hits, and we need to know that," he said.
Imrul said that a good starting pair needs to understand each other very well, and that there are different parts to play in different settings.
"These days, we notice that people talk a lot about the strike-rate. In world cricket, I'd like to tell you that hitters only get one chance, while bowlers have more choices. No player can always hit over 90% of the time, and sometimes it depends on how the game is going. "If Liton has a strike rate of over ninety, it's natural that the batter on the other end won't be able to keep up with him," said Imrul.
"If I'm talking about Rohit Sharma and Shikhar Dhawan in world cricket, there aren't many games where both bowlers score at the same rate. So, it's important to help each other out, and I think that's why Tamim Iqbal put himself under pressure and tried to change his game.