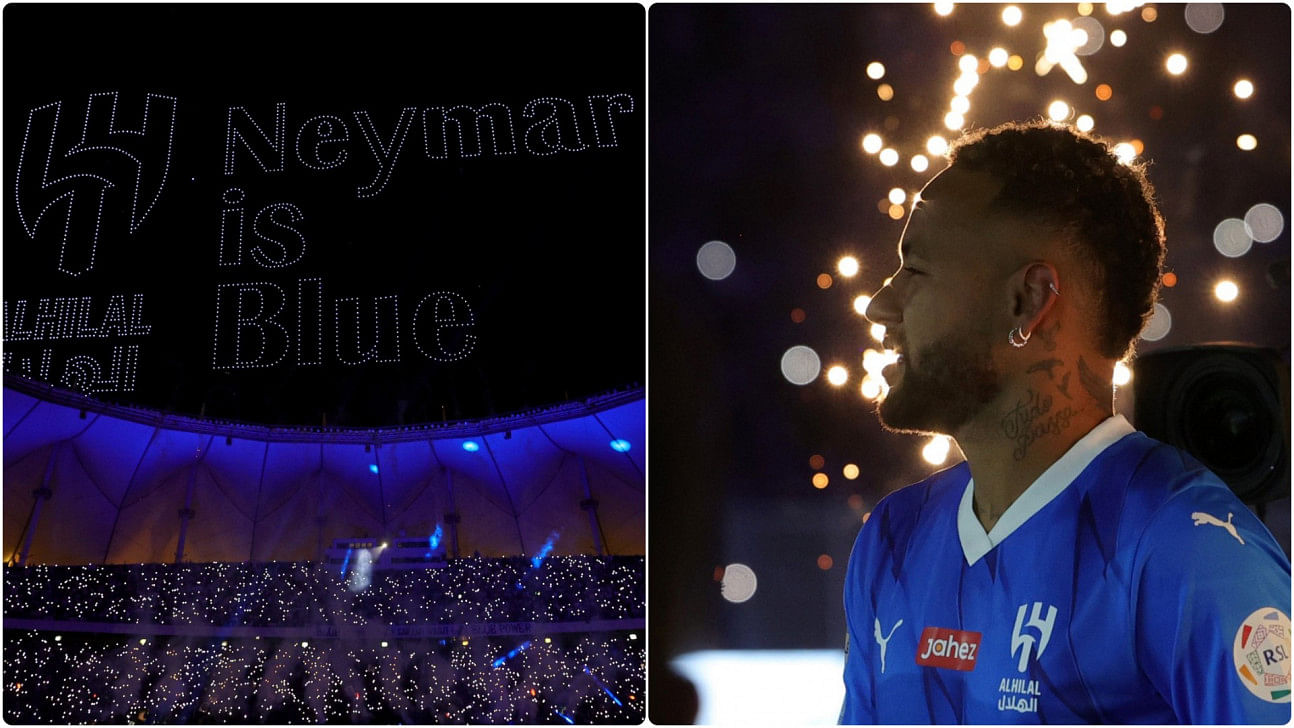 Neymar, a famous player from Brazil, joined the high-spending Saudi Pro League on Saturday. Thousands of fans met him with cheers when he arrived at Al-Hilal.
When the flashy forward showed up in Al-Hilal's blue kit at Riyadh's 68,000-seat King Fahd International Stadium, flame throwers and fireworks lit up the sky.
The 31-year-old waved and smiled at the crowd as a drone show above the venue spelled out "Neymar is blue." In 2017, when he joined Paris Saint-Germain, he became the most expensive football player in the world.

After Malcolm and Yassine Bounou, two other new players, were shown off, the stadium lights came on and the Muslim call to prayer was played over the loudspeakers.
Neymar has been getting a lot of attention because he is the latest big name to sign a big deal with oil-rich Saudi Arabia. Other big names who are getting close to the end of their lives have also done this.
Neymar moved from Barcelona to Qatar-owned Paris Saint-Germain six years ago for a world-record fee of 222 million euros ($242 million). Despite a number of injuries, he has scored 118 goals in 173 games.
A person close to the talks says that he will make 100 million euros per season in Saudi Arabia, while PSG will get 100 million euros from the deal.
Neymar will not play for Al Hilal against Al-Fayha later on Saturday. Instead, he will be at Al-Raed on Thursday to make his start.
Transfers that make you gasp
Cristiano Ronaldo set the plans for the Saudi Pro League in motion when he signed a deal with Al-Nassr in January that was said to be worth 400 million euros for two and a half years.
When the Saudi league, which no one had heard of before, signed some of the biggest names in the sport, it opened the doors for a shocking summer transfer window.
Karim Benzema, a star player for Real Madrid, was Al-Ittihad's big deal in June. After him, Riyadh Mahrez, Sadio Mane, N'Golo Kante, Roberto Firmino, and Jordan Henderson also joined.
Al-Hilal is the second most expensive club in the world right now, behind only Chelsea. According to the website Transfermarkt.com, four Saudi teams — Al-Hilal, Al-Nassr, Al-Ahli, and Al-Ittihad — have spent almost 560 million euros on players.
The Public Investment Fund, a national wealth vehicle, owns the four clubs. The Public Investment Fund has been buying up assets as part of a bold plan to broaden the economy of the biggest oil producer in the world.
Two of the best players in the world turned down Saudi Arabia's offers: Lionel Messi, who chose to play for Inter Miami, and Kylian Mbappe, who allegedly refused to meet with Al-Hilal officials.
Off the field, Liverpool star Steven Gerrard joined Al-Ettifaq as a teacher, former Chelsea technical director Michael Emenalo became the Saudi league's head of football, and Roma manager Jose Mourinho joined the board of Saudi's Mahd Sports Academy.
Other teams have noticed the spending spree, and Liverpool manager Jurgen Klopp is worried that the Saudi transfer window shuts on September 20, which is three weeks later than Europe.
Al-Hilal is managed by Jorge Jesus, who is from Portugal and is in his second stint at the club. Ruben Neves, Sergej Milinkovic-Savic, Kalidou Koulibaly, Malcom, and Bounou are all internationals who have recently joined the team from Europe.
Al-Hilal is the most famous team in Saudi Arabia. They are called "The Boss" because they have won the Asian Champions League a record four times.