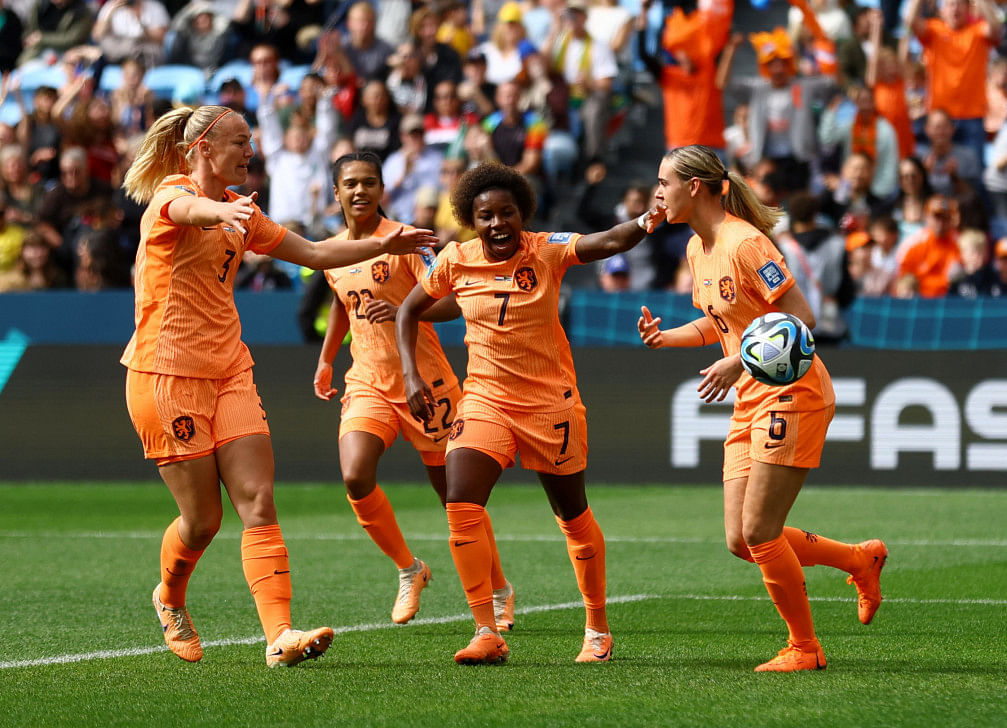 The Netherlands beat South Africa 2-0 at Sydney Football Stadium on Sunday to move on to the quarterfinals of the Women's World Cup. Jill Roord scored her fourth goal of the tournament, and it was enough for the Dutch to move on.
Roord gave her team an early lead with a header, and Lineth Beerensteyn scored the second goal after the goalkeeper made a mistake in the second half. This set up Friday's match between the Dutch and Spain in Wellington.
The 54th-ranked African winners never gave up when they got to the knockout stage of the World Cup for the first time. Their lone scorer, Thembi Kgatlana, was always a threat on the break.

But Daphne van Domselaar, the Dutch goalie, was up to anything Banyana Banyana threw at her, and the 2019 winners moved on to the last eight for the second straight event.
"I'm very happy with a good win against a tough opponent," said Andries Jonker, the Netherlands' coach. "But the part of me that wants great football is unhappy with the first half, when we gave the ball away too often."
The Americans were supposed to play at noon, which is prime time in the U.S., but they were sent to Melbourne to play Sweden later on Sunday after the Netherlands beat Vietnam 7-0 to win Group E.
The Dutch got off to a good start. In the ninth minute, Danielle van de Donk headed the ball toward the goal from a corner, and Lebohang Ramalepe got in the way of goalie Kaylin Swart, making it easy for Roord to score.
The scorer for Banyana Banyana, Thembi Kgatlana, had a good first touch on a through ball, which gave her room to take a shot that Van Domselaar had to stop.
Kgatlana was always a warning to the Dutch not to get too comfortable.
She took three shots in the last 10 minutes before break that made Van Domselaar work hard. She also had to be at her best to stop a piledriver from Kholosa Biyana in the final seconds.
In the tenth minute of the second half, winger Lieke Martens had a goal called back because she was offside. However, in the 68th minute, the Dutch scored again to make it 2-0.
Beerensteyn was given the ball and shot it across Swart. Swart looked like she had everything under control, but she dropped the ball and watched it go into the goal.
South Africa again tried to score after giving up a goal, but Van Domselaar was up to the challenge. Five minutes later, Linda Motlhalo's low shot went around the post because Van Domselaar got down low.
Banyana Banyana had one last chance to score in extra time, almost certainly through Kgatlana, but Van Domselaar made it impossible for them to do so.
South Africa's coach, Desiree Ellis, said, "Yesterday we talked about how we needed to score more goals, and we had chances to do so, especially in the first half."
"I'm just proud of this team. I'm sad, too, but I'm really proud of them."