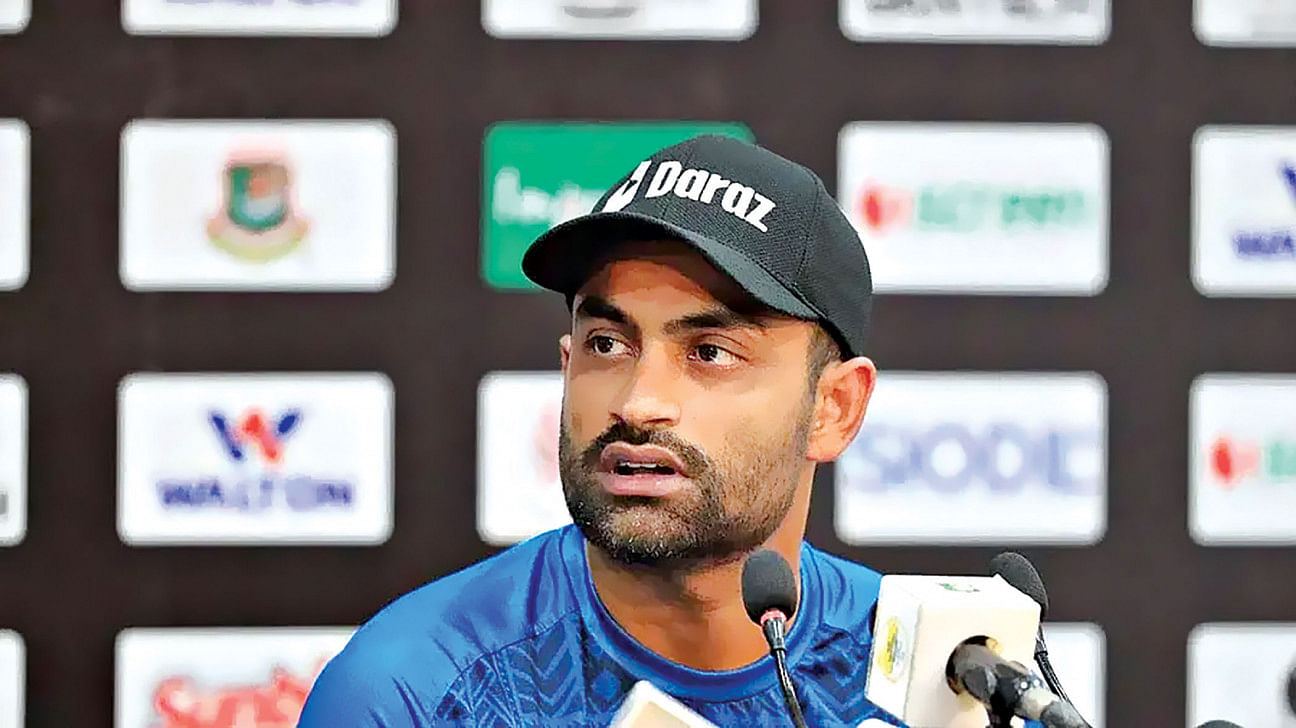 Tamim Iqbal, the opening batsman for Bangladesh, said the day after being informed that he would not be participating in the World Cup due to fitness concerns that a rough match was the primary factor in his late elimination from the team.
The left-hander made these statements in a video message that was posted on his Facebook page. He also stated that the media spread a lot of misinformation to cover up the truth. He said that he never turned down the opportunity to participate in the third one-day match against New Zealand on Tuesday and that he never mentioned being available for five World Cup games in any of his comments, contrary to what was published.
Things got rolling following a meeting that took place on Monday at midnight between coach Chandika Hathurusingha and captain Shakib Al Hasan at the apartment of board president Nazmul Hassan. During this meeting, Shakib allegedly said that he would not lead the team if unfit players were picked. This meeting was the impetus for the current situation.
The Daily Star attempted to get in touch with the Bangladesh Cricket Board, but no one there was willing to comment on the situation.
After the national team left for India at about 4:00 p.m. local time, Tamim released a taped statement that was more than 12 minutes long, in which he claimed that the most recent medical report had no indication that he was unable to play in the World Cup.
According to Tamim, the medical report went so far as to explain how Tamim handled his injuries leading up to the opening game of the World Cup, which was played on October 7 against Afghanistan.
The most important part of the issue was a telephone call with a high-ranking board member, during which the left-handed batter was requested to bat down the order and sit out the first World Cup game. This talk was the root of the most of the issues.
The most successful Bangladesh opener ever stated the following while baring his soul: "In the last two or three days, what has happened and what was written is completely different from what actually happened."
When asked about the circumstances that had transpired since his comeback to the national team for the series against New Zealand, he said, "You all know I declared my retirement (on July 6 of this year), and there was a reason for it. I came back after being asked to do so by the prime minister.
Tamim, who suffers from a recurrent back problem, said that he has put in a lot of effort over the last two months to be in better shape.
"Those who were involved in the process, physios and trainers, will all agree that there was no session or exercise that they wanted me to do which I did not comply with," he added. "There was no session or exercise that they wanted me to do which I did not comply with."
According to him, the series in New Zealand was an important test for him to see how much his fitness had improved.
Tamim was unable to capitalise on the opportunity presented in the first game owing to weather, but he did it with ease in the second encounter.
"Mentally, I was in a great place after that match," I said. According to the batter, who was 34 years old at the time, "I was looking forward to playing again and I was looking forward to the World Cup."
He said that the discomfort had not subsided after any of the games, and he had sent this information to both the physiotherapist and the selectors.
"I want to make something quite clear: I have never, at any point in time, said that I would not be able to participate in more than five matches during the World Cup. I have no idea who or how this misinformation was spread around the media.
"I explained to the selectors that my physique would look something like this," There will always be suffering. "So, when you select the team, keep that in mind," he said, adding that he conveyed it in good faith to prevent another issue such as the one that occurred during the Afghanistan series, when it was disseminated in the media that if someone is not fit, he should not play. He added that he communicated it in good faith to avoid another controversy such as that which occurred during the Afghanistan series.
"At the time, I was taken aback by the fact that I played in that game (the first ODI against Afghanistan), despite having disagreements with both the coach and the physio,"
He claimed to have seen his most recent medical report, and he indicated he would debate anybody who disagreed with him on the subject.
According to the source, Tamim might have finished his 10-week recovery earlier if he had been taken out of the third One-Day International match against New Zealand and allowed to participate in the second warm-up game in India on October 2.
In no part of the report was it stated that I would be unable to participate in more than five games at a time.
"I don't believe that my injuries had a significant part in keeping me from competing in the World Cup. "I'm in pain, but I'm not injured," he said several times.
Tamim's response when he was instructed to bat lower in the order or sit out games was as follows: "I told him that we have another 12–13 days and that I would be in good condition by then." Why don't I want to participate?
Tamim said that he had the impression that someone was purposefully trying to discourage him by placing barriers in his way because of occurrences like this.
"What I told him was that if you have such a plan, then you shouldn't send me to the World Cup," she stated. Tamim said, "I don't want to be a part of this nasty thing," and went on to explain that if those phrases had been given in an other manner, his attitude may have been different.
"I'm not sure how fair it is," he added, adding that although one or two incidents may be the result of a misunderstanding, when seven incidents have occurred to one batsman in the previous three or four months, it is clear that the incidents were carried out on purpose.
"Exactly how I perceived it."