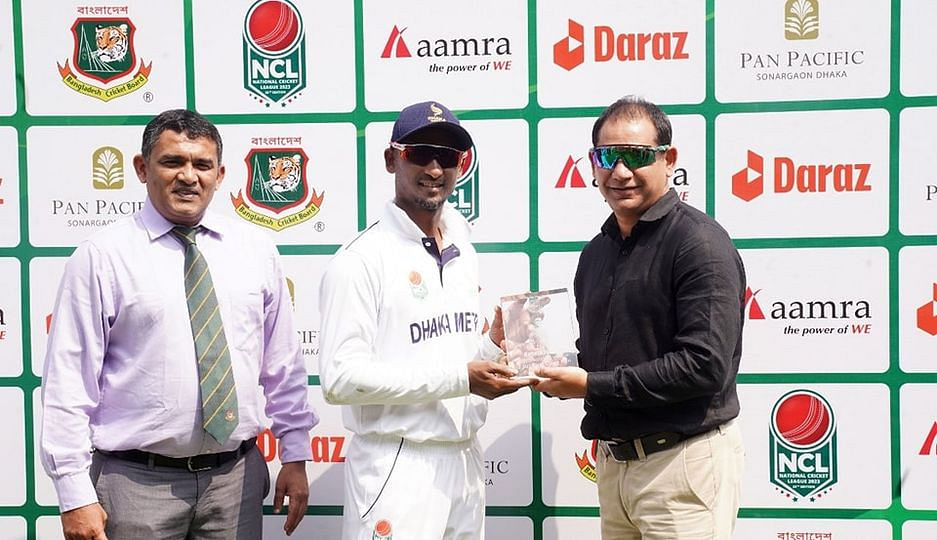 During the first round of games of the current 25th edition of the National Cricket League (NCL), Naeem Islam became only the second cricketer from the country to score 10,000 runs in Bangladesh's first-class cricket. Before Dhaka Metro's second round encounter against NCL defending champions Rangpur Division at Mirpur Wednesday, the Bangladesh Cricket Board (BCB) presented Naeem with a crest.
Naeem has now surpassed Tushar Imran, who scored over 11,972 runs in first-class cricket for Banlgadesh. On October 14, during Dhaka Metro's second innings against Sylhet Division, 36-year-old Naeem scored an undefeated 44 runs.
Naeem has scored 10,039 runs in first-class cricket. At an average of 42.35, he has struck 31 tonnes. Naeem has played in eight Tests for the Tigers, amassing a total of 416 runs. his finest performance came against the West Indies at Mirpur in 2012, when he scored 108 runs.
Yesterday, Naeem was presented with the emblem by the match's selector, Habibul Bashar, and the referee, Md Ehsanul Hoque.
Bashar thinks players like Naeem can teach the next generation of Bangladeshi players a lot.
Ten thousand runs is a huge milestone in baseball, and he's been playing for a long time. He has hit the ball quite well over the past three to four years. The presence of such players guarantees high quality in first-class cricket. New players can take a lot of cues from his batting, though. Not only will our future players be inspired by his batting, but they will also be able to learn how to play the longer form of first-class cricket, as Bashar explained to The Daily Star.