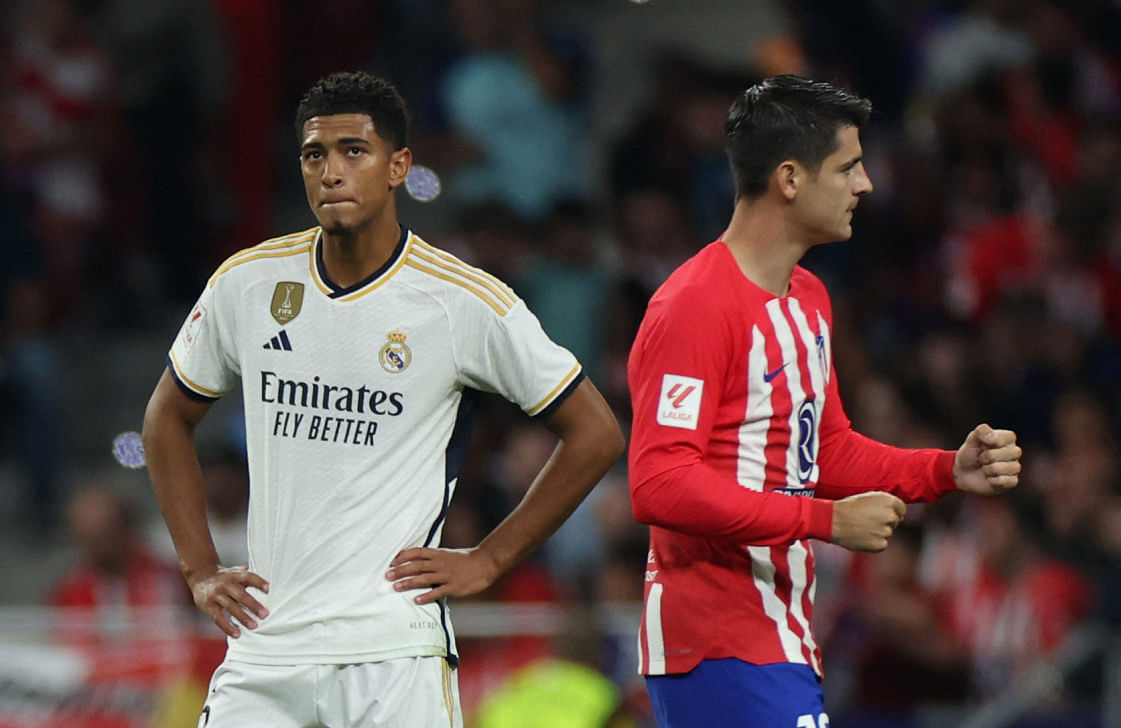 Atletico Madrid delivered a statement performance as they overpowered their city rivals Real Madrid in a 3-1 derby triumph in LaLiga on Sunday. Alvaro Morata scored a pair of goals to assist Atletico Madrid achieve the performance.
Atletico Madrid's Morata scored the game's first goal in the fourth minute in front of a sold-out crowd at the Metropolitano stadium with a powerful header from a cross by Samuel Lino. Antoine Griezmann added to Atletico's advantage with another header in the 18th minute, this time from a cross by Saul Niguez.
Toni Kroos scored for Real from the outside of the penalty area in the 35th minute, but Morata scored Atletico's third goal only one minute into the second half off of another cross by Saul. Real's Toni Kroos scored in the 35th minute.

Atletico Madrid is now in fifth position in the LaLiga standings with 10 points, while Real Madrid, who came into the weekend as the league's leaders, are now in third place with 15 points, one point behind Barcelona and Girona. Atletico still has one game in hand over Real Madrid.
Atletico Madrid, coached by Diego Simeone, controlled the proceedings for the most of the game. During the closing minutes of the contest, Atletico's players spent the time moving the ball laterally to one other as their exuberant supporters screamed "Ole, ole, ole" in a thundering display of support.
After Morata had scored the game's first goal, his teammate Jose Maria Gimenez squandered a wonderful chance in the tenth minute by missing a close-range header off of a corner kick that was delivered by Griezmann. Griezmann then went on to score the game's second goal by heading it in with his head eight minutes later.
Real Madrid's first opportunity to score came in the 30th minute, when Eduardo Camavinga, a midfielder, took a shot from a distance that was deflected for a corner kick.
A Federico Valverde first-touch drive from the corner was blocked by goalie Jan Oblak, who then initiated a rapid counterattack that almost resulted in Atletico's third goal, with goalkeeper Kepa Arrizabalaga making a superb one-handed stop on a Saul strike.
Then, Real's Kroos tied the game at one with his goal, but Camavinga had a goal disallowed just before halftime due to an offside call in the buildup.
After Morata scored his second goal in the opening minutes of the second half, it was difficult for Real to generate any more scoring opportunities.
Morata said in an interview with DAZN that he is "very happy for all these people that came here today and delivered this amazing support."
"As I said the other day, the part that will be most significant is going to be played by the supporters. This has always been the case. It's been an absolutely fantastic vibe here."