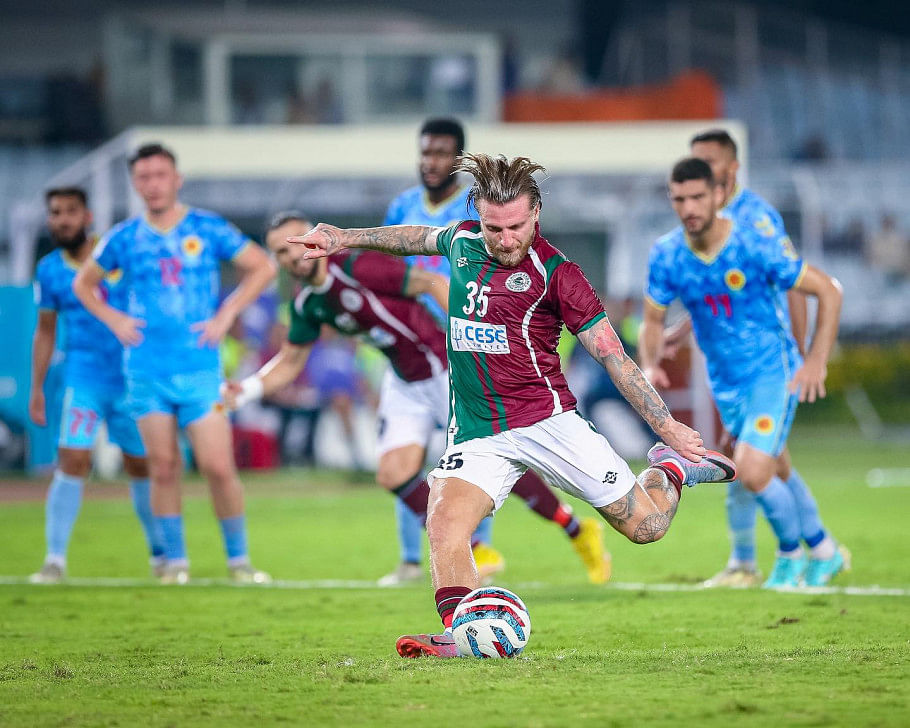 After losing 3-1 against Mohun Bagan Super Giants on Tuesday at Kolkata's Salt Lake Stadium, Abahani once more was unable to advance to the AFC Cup group round.
After grabbing an early lead against the Kolkata giants and becoming the first Bangladeshi team to advance to the inter-zonal semifinals in 2019, the six-time Bangladesh Premier League champions gave up three goals.
In the game against Club Eagles of the Maldives last week, Abahani coach Mario Lemos made four substitutions, inserting Shqahidul Alam Sohel, Shushanto Tripura, Asaduzzaman Bablu, and Youssef Mohammed.

The Sky Blues took the lead in the 17th minute when Cornelius Stewart poked in a rebound after Mohun Bagan goalkeeper Vishal Kaith mishandled Emeka Ogbugh's attempt.
However, the Mariners applied intense pressure to the visitors, gaining a penalty kick in the 35th minute that Australia's Jason Cummings converted to tie the game.
Milad Soleimani of Abahani turned in a Hugo Boumous cross into his own goal on the 58th minute, and Armando Sadiku made it 3-1 two minutes later by directing in Liston Colaco's low cross into the goalmouth. The pressure on the home team only increased after the half.
Lemos replaced Shushanto Tripura with Faysal Ahmed Fahim, Muzaffarov with Mohammad Sohel Rana, and David Ifegw with Rahim Ali later on, but none of those substitutions were able to alter the fate of the Dhanmondi giants.
The Kolkata-based team, which advanced to this round by defeating Nepal's Machhindra FC 3-1, had defeated Abahani by the same score in the playoffs the previous campaign before thumping BPL winners Bashundhara Kings 4-0 in the group stage and winning the South Asian zone.