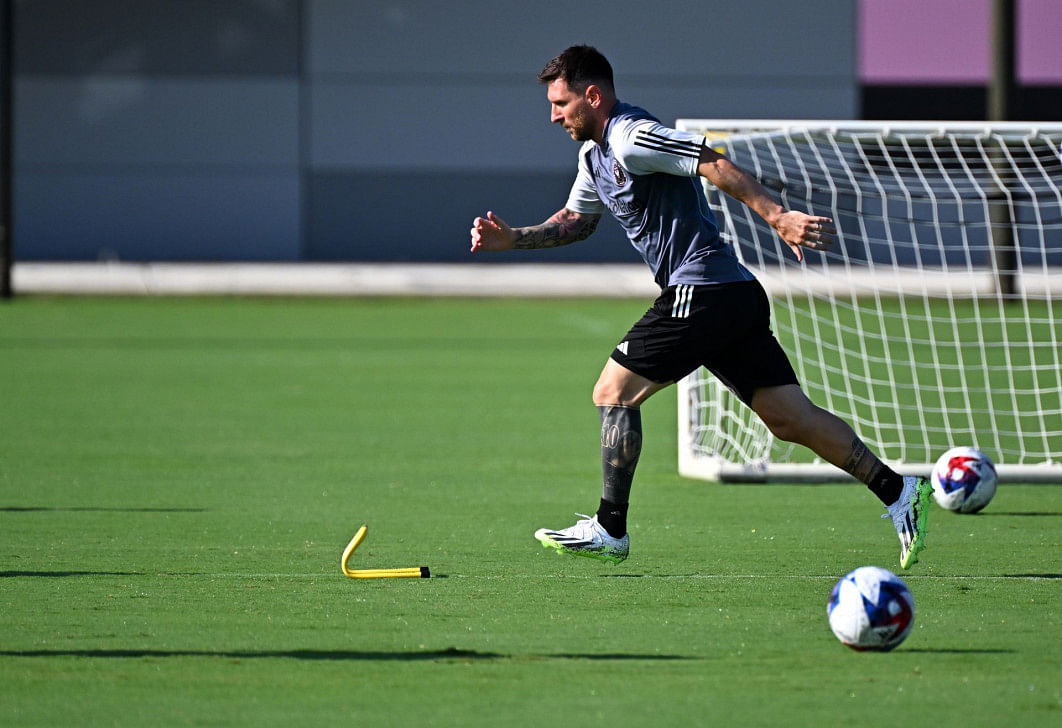 On Tuesday, Lionel Messi took part in his first full training session with the Inter Miami team, marking the beginning of his time with the Major League Soccer club. Messi was joined by his new teammates at Inter Miami.
At 9 a.m. local time, when temperatures were already higher than 86 degrees Fahrenheit (30 degrees Celsius), the Argentine player who won the World Cup took the training field belonging to the club.
Over two hundred representatives from the media were present for the session, and they watched Lionel Messi as he spoke with the Venezuelan international Josef Martinez, who is most likely going to be his attack partner for Miami.
Prior to Messi's arrival, attendance at Miami's training sessions from members of the media had hardly broken into the double digits.
Messi was presented to the club's fans at the stadium on Sunday during a celebratory ceremony, and his first game is expected to take place on Friday. David Beckham, who is also a co-owner of Miami FC, was present at the occasion.
In the first game of the new Leagues Cup, which is a tournament-style competition comprising all top-flight teams from both the Major League Soccer and Mexico's Liga MX, Miami, who are currently ranked dead last in the MLS, will play against the Mexican side Cruz Azul.
Messi's coach, fellow Argentine Gerardo 'Tata' Martino, has begged for patience while the 36-year-old builds up his fitness. It is not yet certain whether Messi will start that game or make a cameo appearance from the substitute's bench.
Messi has not competed in a game since his team, Paris Saint-Germain, played their last game in the French league on June 4. At this point, Messi would ordinarily be beginning the pre-season phase of the season.
In contrast to the vast majority of Europe, Major League Soccer's regular season goes from late February through the end of October. After that, there are playoffs, and the MLS Cup, the league's championship game, is played on December 9.
Even though they have the poorest record in the league and are now in last place in the Eastern Conference, Miami are not mathematically eliminated from the running for a spot in the postseason. However, it would take a significant contribution from the seven-time winner of the Ballon d'Or for them to turn their season around.