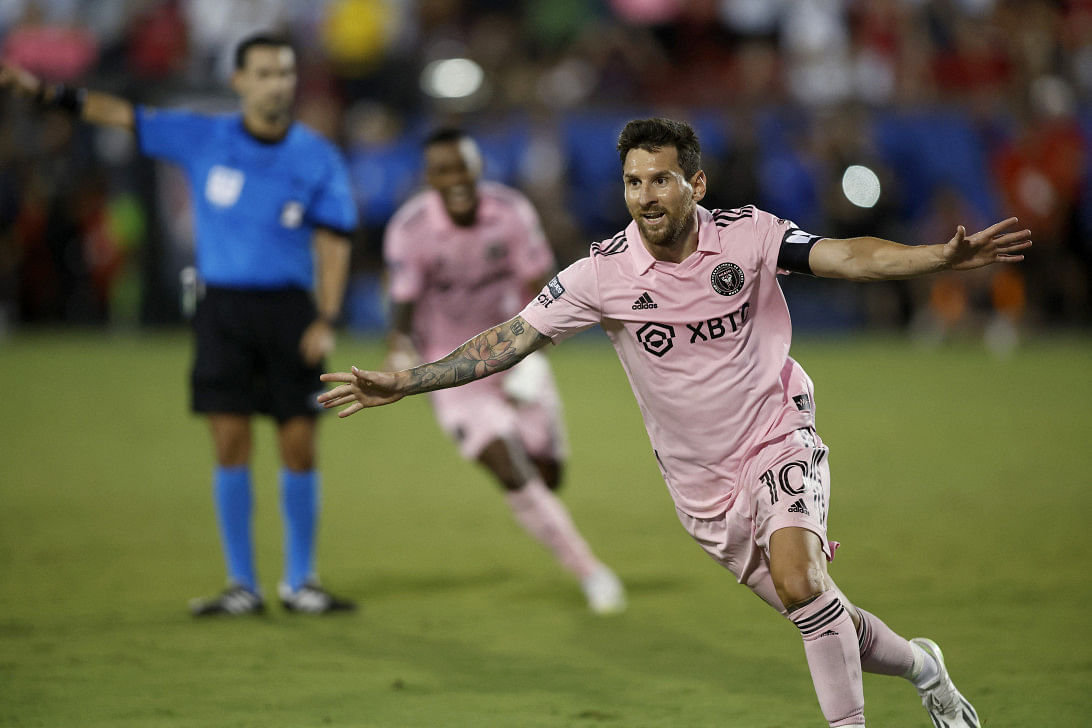 Lionel Messi scored twice, including a great late goal that tied the game, and Inter Miami beat FC Dallas on penalties to move on to the Leagues Cup quarterfinals.
After Miami was behind 4-2 with 10 minutes to go, Messi scored his seventh goal in his fourth game for Miami with a classic curling free kick in the 85th minute. This sent the game to a shootout.
In the Leagues Cup, which is an event for teams from MLS and Liga MX, there is no extra time. Instead, games that end in a tie go straight to penalties.

Messi put Miami ahead in the sixth minute by finishing with a side foot after Jordi Alba sent the ball back to him.
It was first called out for being offside, but the judge changed his mind when he saw that Josef Martinez had not blocked the goalkeeper's view.
In the 37th minute, Argentine Facundo Quignon tied the game for Dallas. He scored after a great pass from fullback Marco Farfan, who was running across the field.
At the end of the first half, Bernard Kamungo made a great finish to give the home team the lead. He beat two players before putting away the chance.
In the 63rd minute, another Argentine player for Dallas, Alan Velasco, made it 3-1 with a free kick from the left side that went through a crowded box and into the far corner.
Benjamin Cremaschi, a teenager who came off the bench for Miami, put in a low ball from Alba just a minute after coming on. This cut the lead in half.
Robert Taylor scored an own goal when he tried to block a pass from Paul Arriola. This gave Dallas a two-goal lead again, making the score 4–2.
Then Messi sent a free kick into the box, and Farfan, who was alone, somehow headed it into his own net to keep Miami in the game.
Five minutes before the end, Messi took a free kick from 20 yards away and curled it perfectly into the top corner, sending the game to penalties.
In the shootout, Messi scored the first penalty, Paxton Pomykal missed for Dallas, and Cremaschi scored the last goal to get Miami into the last eight.