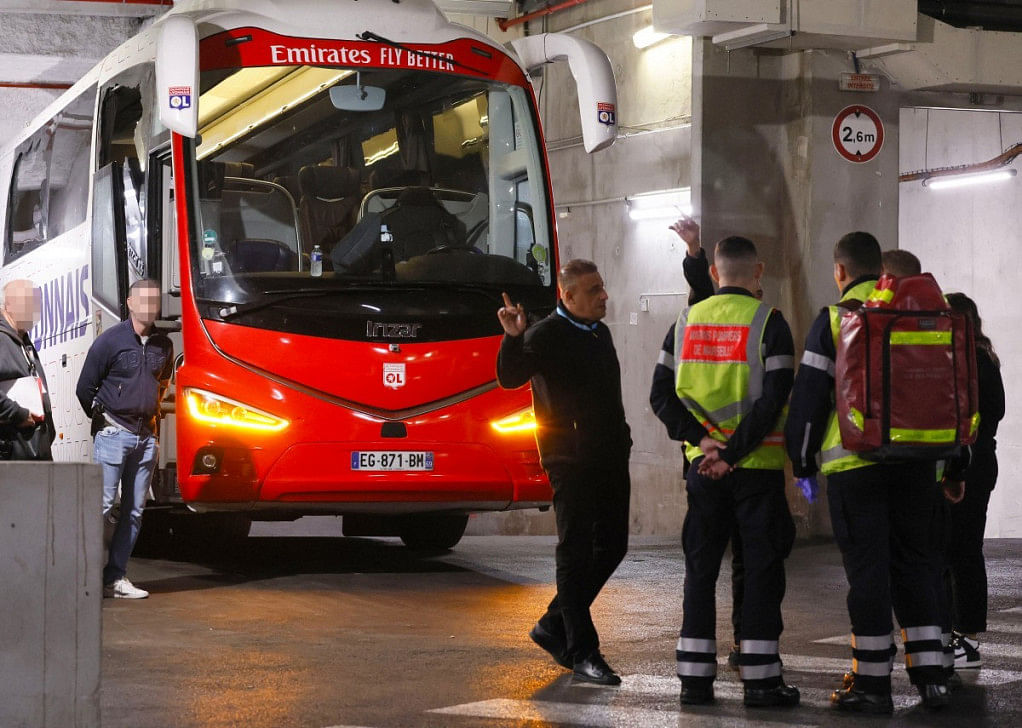 The Ligue 1 match between Marseille and Lyon had to be postponed after the away team's bus was attacked with stones on Sunday as it neared the Stade Velodrome. As a result of the attack, Lyon coach Fabio Grosso and his assistant both received injuries.
In the wake of the tragedy, a crisis team had been established to make a decision regarding the contest that was scheduled to take place between the two fierce rivals.
"These are completely unacceptable circumstances," stated Pablo Longoria, president of the Marseille club.

The first person that comes to mind is Fabio Grosso, a person whose opinion I value and who I have known for a very long time. I went to see him as soon as I got to the stadium, and I checked up on him to see how he was doing.
Stones were thrown at Lyon's bus at about 17:45 local time (GMT), resulting in the breaking of four windows and an injury to Grosso on his face, just above his left eye.
According to a source within the club, the Italian player has also reportedly been having episodes of feeling dizzy since that time.
Francois Letexier, the referee for the match, stated at a press conference that they had taken into consideration Lyon's request that the play be postponed.
"Based on Lyon's wishes and the protocol, the decision was taken not to start the match," he added, noting that the allegations "have been forwarded to the relevant authorities who will decide what action to take" .
The film from Prime Video showed Grosso with a bloody face, and then later showed him with a bandage on his head as he came out of the medical area at the stadium.
A picture that was going around on X (which used to be called Twitter) showed what appeared to be Grosso laying on a stretcher with a laceration just above his left eye.
"These pictures are awful in every way. Amelie Oudea-Castera, the French minister for sports, told AFP that "Seeing the stoned bus like that, the bloody face of Fabio Grosso… These are unacceptable acts which go against the very values of football and sport." "These are acts that go against the very values of football and sport."
"I hope that the investigation will be carried out quickly, that the perpetrators are found and they are severely punished."
A local police source told AFP that stones were thrown at a bus carrying supporters of Lyon, and the bus's windows were broken as a result of the incident.
It appears that a bus with multiple damaged windows is shown in a video that was uploaded on X and shared by a Lyon supporter.
The seven-time Ligue 1 champions have gotten off to a terrible start to the new season and are currently winless and positioned at the bottom of the standings.