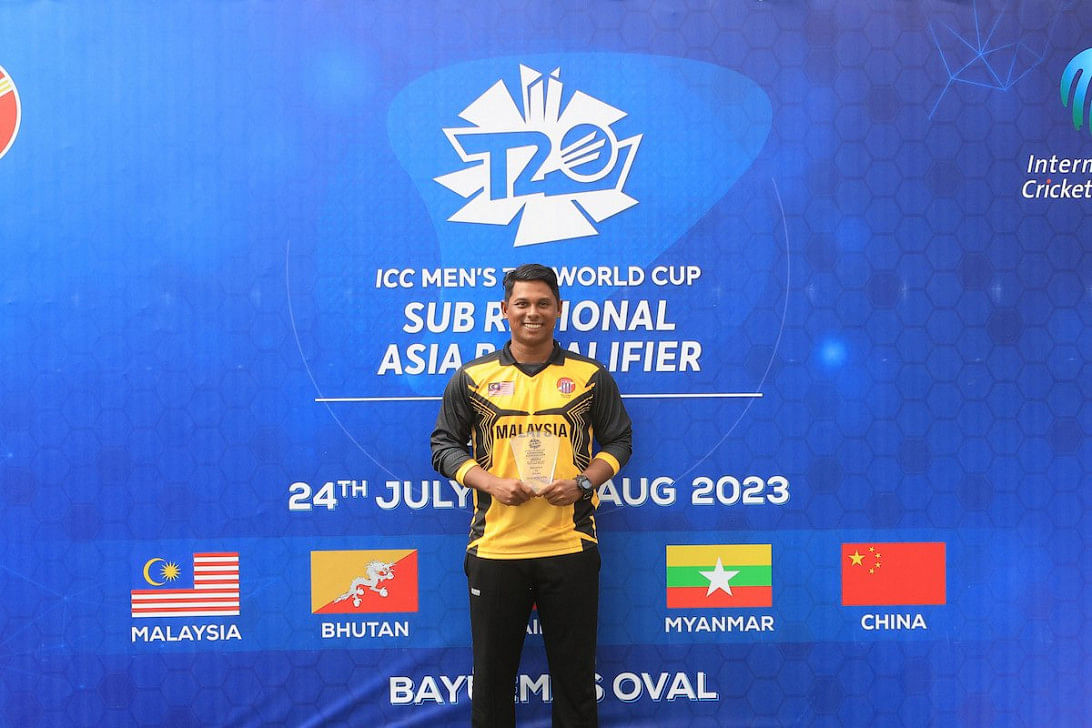 At the Bayuemas Oval in Kuala Lumpur, the Malaysian seamer Syazrul Ezat Idrus became the first bowler to collect a seven-wicket haul in a men's Twenty20 International match. This achievement took place during the 2024 World Cup Qualifier event between Malaysia and China.
The 32-year-old bowler had an incredible statistic of seven for eight in his four overs, which is an accomplishment that was made even more impressive by the fact that all seven of his victims were bowled.
On Wednesday, the Asia Regional Qualifier B competition included a match between Malaysia and China. Thanks to his heroics, China was dismissed for a score of 23 in the 12th over of their innings, and Malaysia cruised to an eight-wicket win with 15.1 overs still to spare.
After the game, Idrus was interviewed by members of the Malaysian press and was reported as stating, "I am grateful for being given the trust by captain Ahmad Faiz Noor to bowl against China."
"It is a great honor to be able to shatter the world record."
After producing figures of six for five against Sierra Leone in 2021, Nigeria's Peter Aho held the previous record for best bowling performance.
The six wickets that Deepak Chahar took for India in their Twenty20 match against Bangladesh in 2019 are still the greatest numbers ever recorded in a men's Twenty20 match between two test-playing countries in cricket.
Twelve different bowlers have achieved a six-wicket haul in a men's Twenty20 International. Among them are Chahar and his colleague Yuzvendra Chahal, the spinner Ashton Agar of Australia, and Ajantha Mendis of Sri Lanka.
The champion of the competition that is taking place in Malaysia will earn a spot in the Asia regional final that will be held in Nepal in the month of November.
The top two finishers in that competition will advance to the 20-over showcase that will be jointly hosted by the United States and West Indies.