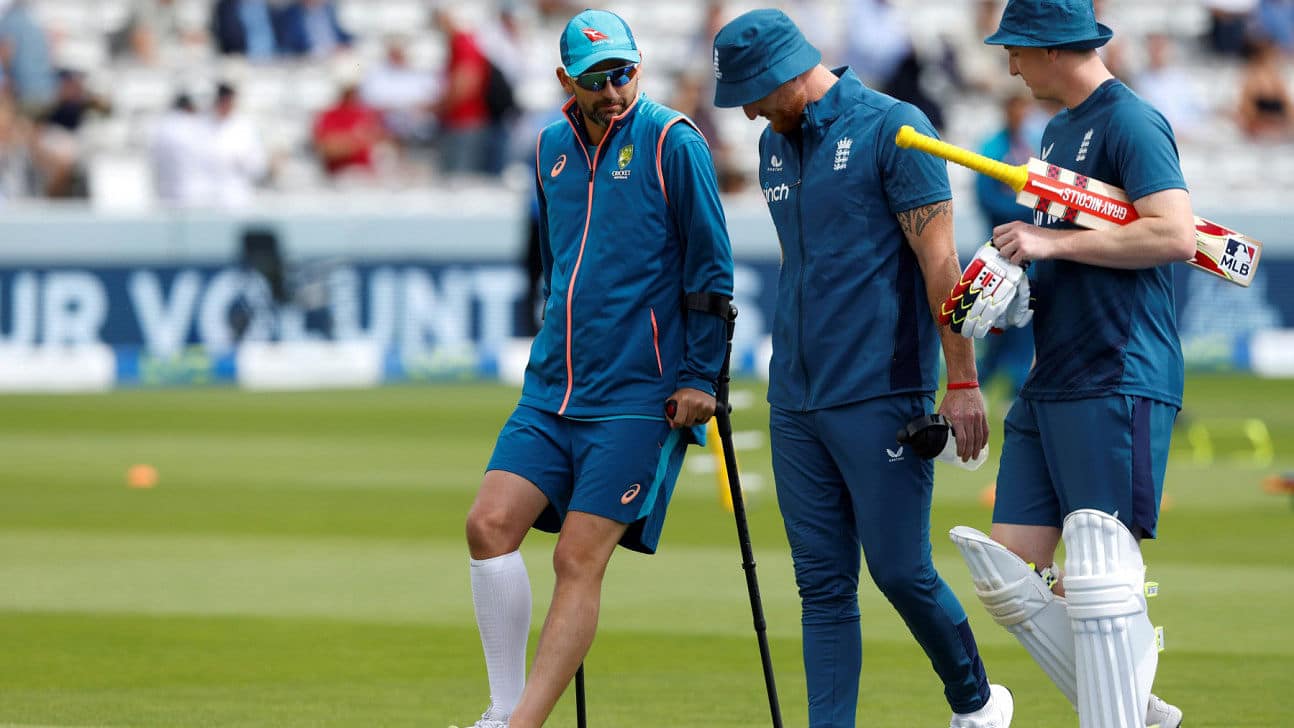 As Nathan Lyon made his way to Lord's Cricket Ground on Friday on crutches, it seemed like his chances of playing any further role in the Ashes were rapidly diminishing.
During the second day of the second Test match at the 'Home of Cricket' on Thursday, the Australian off-spinner pulled up with a calf issue after running in from the boundary while fielding. As a result, he was forced to leave the match with a limp.
After what seemed to be wiping away tears, the 35-year-old ultimately shuffled around the boundary line into the changing room as a member of the staff grabbed on to prevent Lyon from losing his balance.
On Friday morning, Lyon met up with the rest of his squad at Lord's to take part in the 100th test match in a row that he has played in.
However, the fact that he was hobbling about on crutches and sporting a compression sock indicated that it would be some time before he could return to his previous level of fitness.
Given the short turnaround time before the third test at Headingley, it is quite improbable that Lyon will participate in any additional action at Lord's, and it would be extremely surprising if he did so in Leeds given the short turnaround time.
When queried about the bowler's injury after play on Thursday was called off, teammate Steve Smith expressed worry over Lyon's condition. Cricket Australia has not yet provided a new update on Lyon's health.
"Obviously it didn't look good," he remarked. "What I mean is that it does not seem to be optimal for the remainder of the game. I have no idea what his true condition is, but if he is of no use to us, then it is certainly a significant setback for us.
"I'm keeping my fingers crossed that he's okay, but it didn't look too promising."
Smith, Travis Head, and Marnus Labuschagne are all part-time spin bowlers for Australia, and any one of them might be called upon to fill in for Lyon if he is unable to play at Lord's.
And if it turns out that Lyon won't be able to play in the third test, backup spinner Todd Murphy may get the call to play at Headingley.
Australia, the current owners of the Ashes, jumped out to a 1-0 lead in the five-match campaign after claiming a two-wicket victory at Edgbaston. Their goal is to win a Test series away from England for the first time in 21 years.