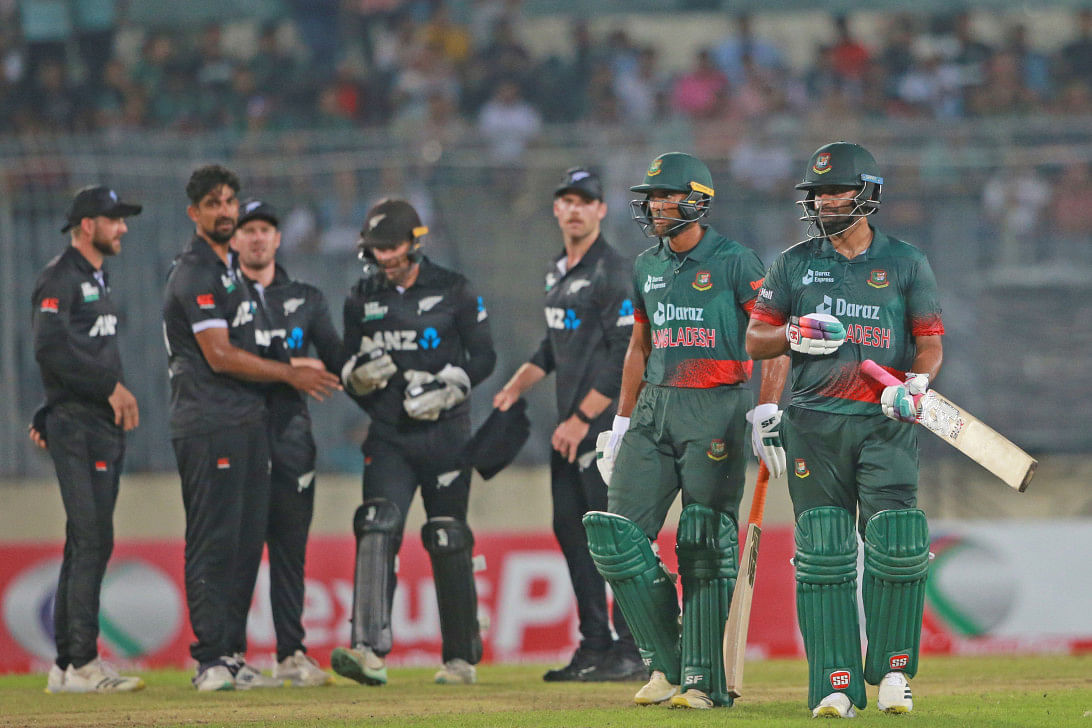 "What exactly is going wrong with our top order?" Tamim Iqbal seemed to be a little confused when he was asked this question yesterday in Mirpur at the post-match news conference.
The southpaw paused for a few moments before responding with a chuckle and said, "The issue is that we keep losing wickets." Now, how do I respond to the question you asked?
Yesterday, in the second of the three-match series that is currently being played, Bangladesh was humiliated by New Zealand by 86 runs. This was the first one-day international match that the Tigers had lost at home against the Kiwis since October of 2008. Even a cursory examination of the match would show that the Tigers' batting performance was terrible once again since they were bowled out for 168 runs in 41.1 overs while trying to reach a score of 255 before they were all out.
Was Tamim successful in providing a response to the issue that was posed to him earlier? Unfortunately, it seems that even the experienced campaigner, much like the management of the Bangladesh squad, was unable to identify the problem that led to such a poor batting effort by the side in recent times. This has been a common sight of the side in recent years.
Before the World Cup begins, this is one of the many things that we need to investigate thoroughly. Any team that loses 4-5 wickets at the beginning of a game is not going to win very many of those games, regardless of the team that they are playing on or the circumstances that they are playing in. "You are speaking the truth," Tamim said.
However, Tamim cited one particular explanation for such batting failure and indicated why they were not able to chase down the "gettable target." Tamim returned to the national fold after resigning his ODI leadership in August after a retirement scandal that occurred in July.
"When you face the new ball, wickets will fall," the commentator said. However, losing two wickets in a row is an issue for the team. If we can reduce this to a manageable level, then we will all profit. There were, however, stretches in which our batsmen were able to form partnerships. For example, [Tanzid Hasan] Tamim and I formed a little partnership in a rather short amount of time soon after Liton [Das] left the organization.
"Given the nature of the wicket, it was possible to reach this run [target]. However, I feel it necessary to point out that they (New Zealand) should not have gone over the 250 barrier. Although the wicket we played on wasn't terrible, we could have limited them to scores between 210 and 215, but we chose not to. If you watched the first game, you'll see that the field conditions were such that a lot of action was taking place. However, such did not occur throughout the course of this game. The means by which we escaped are out in the open for anyone to see. Tamim said, "There is not a single delivery that was really exceptional and that we got out because of that."
Tamim, who most likely had hoped for a return at a more agreeable time, was probably caught off guard by all of these challenging questions, and it's possible that the way they were asked was too harsh. Tamim looked strong while batting for the first time since he was at the center of all the turmoil and commotion in the Bangladesh cricketing community almost two months ago. He scored 44 runs off 58 balls. The 34-year-old man, on the other hand, did not avoid admitting that he was, in fact, anxious about the situation.
"If I'm being really honest, I was quite anxious. To say that it was nothing more than another game would be a deception on my part. Whatever had transpired in the preceding several months, by the time I stepped up to the plate, I had the necessary nerve. After the first round was through, I was able to collect my thoughts. So that was a positive thing. When asked how he felt about making his return to the side, Tamim responded by saying that it was wonderful to be hitting the balls again.
Another one of Bangladesh's stalwarts, Mahmudullah Riyad, used his willow in the national colors during the match after making his comeback to the team after a hiatus of five months. Riyad came within one run of scoring his 28th fifty in one-day internationals, and according to Tamim, the 37-year-old seemed to be in good shape and in his element while playing the game.