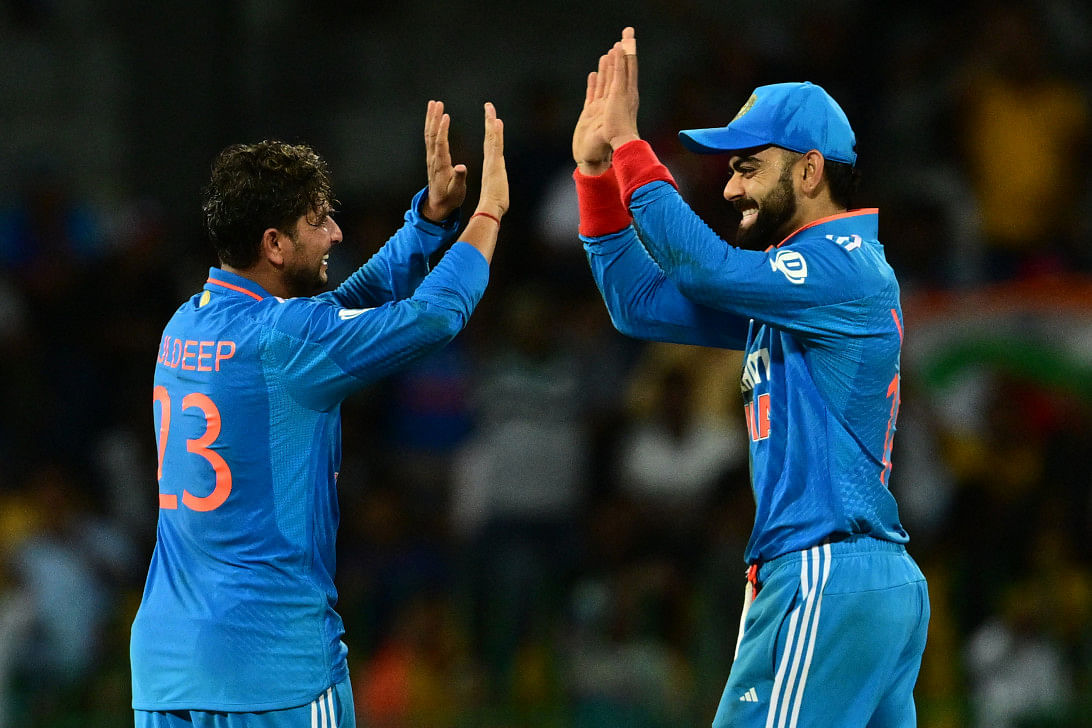 Virat Kohli and the newly reinstated KL India defeated Pakistan by 228 runs in a rain-delayed Super Four matchup on Monday's reserve day of the Asia Cup. Rahul led the way for India with two hundreds, both of which were undefeated.
Kohli (122) and Rahul (111) combined for 233 runs as India scored 356-2 in the 50-over match that took place in Colombo. India successfully defended this total after bowling Pakistan out for 128 runs earlier in the match.
Injured bowlers Haris Rauf and Naseem Shah did not bat for Pakistan, which resulted in the team's final score of 128-8 after 32 overs. Kuldeep Yadav, who spins for India, has stats of 5-25 in his return.
After weather forced the cancellation of play early on Sunday and stretched the match into the extra day that had been set aside by the event, India resumed play on 147-2. The game is a forerunner to the ODI World Cup.
Rain once more delayed the start of the match, although no overs were lost as a result. After that, Kohli and Rahul rallied the Indian crowd in what was otherwise a mostly empty stadium.
Rahul, who had been sidelined due to an injury, hoisted his bat in triumph after reaching one hundred and was congratulated by Kohli, who quickly reached one hundred himself after breaking 13,000 runs in one-day internationals.
On Sunday, India got off to a fantastic start thanks to a 121-run stand that was led by their captain Rohit Sharma and fellow opener Shubman Gill, both of whom scored half century.
Both Kohli and Rahul began the day carefully based on their scores from the previous day, which stood at eight and 17, respectively, until they attacked the Pakistani bowling attack with 100 runs in 102 balls.
The news that Pakistan's fast bowler Rauf had developed a strain and would not be able to continue playing was a devastating blow to the team. After some time, another fellow fast named Naseem also walked away with considerable pain in his hand.
During his 106-ball knock, Rahul hit a total of 12 fours, two sixes, and one five, including a six hit by driving Shadab Khan over the midwicket fielder.
In the final ball of the innings, against a bowling assault that lacked sting, Kohli hit a six down the ground. Pakistan's already difficult situation was made worse by sloppy fielding.
On Sunday, pace spearhead Shaheen Shah Afridi and Shadab each took one wicket for their respective teams.
After the early rain on Monday, the ground crew put in an incredible amount of effort to make the field ready.
After losing two wickets early on, including their captain Babar Azam, who was bowled for 10, Pakistan were never in a position to win the chase. Hardik Pandya's in-swinger was particularly excellent.
Rain once again disrupted the game, but this did not stop the Indian team's drive; after the game was restarted, the bowlers continued their assault, and Kuldeep used his left-arm wrist spin to dismiss Mohammad Rizwan.
Kuldeep took three more wickets to get into the Pakistani tail and then went on to clinch his second five-wicket haul in an ODI. The wickets continued to fall quickly.
A previous group game between the two sides in Pallekele was washed out, which resulted in the extra day being added as a last-minute addition to the Super Four clash. This was the only game other than the final to get the advantage of playing on an extra day.
When India faces Sri Lanka in the following Super Four match on Tuesday at the same site, they will be playing cricket for the third day in a row.