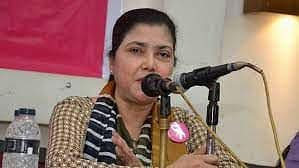 Mahfuza Akhter Kiran was questioned by the Anti-Corruption Commission (ACC) today. She is a board member of the Bangladesh Football Federation and the Asian Football Confederation. In May, Begum Anwara Sporting Club accused her of stealing funding money.
The Bangladesh Women's Football League also said that Kiran took money from the BFF and sent it to Canada and Malaysia. She was also accused of stealing money from foreign gifts for the players. The letter also said that Kiran herself had asked the club for a fee of Tk 2 lakh, which caused the club to be kicked out of the league. It also said that she gave the football players Tk 500 instead of Tk 5000 during the pandemic.
Kiran said she is ready to give all papers to the ACC and that she is not guilty of any of the accusations made against her.

"I went to ACC to help it and gave them all the information and data I have. Kiran told reporters at her BFF office, "The properties I own are listed on my income tax return through 2021." "Similar accusations had been made against me before, but ACC had cleared me of those."
"I don't have anything to do with BFF's money. There is a group that makes decisions about what to buy, but I'm not on that group. I told ACC in writing that since I became a member in 2016, I have nothing to do with the BFF's funds. I even gave the AC inspected reports from BFF from 2016 to 2022," Kiran said.