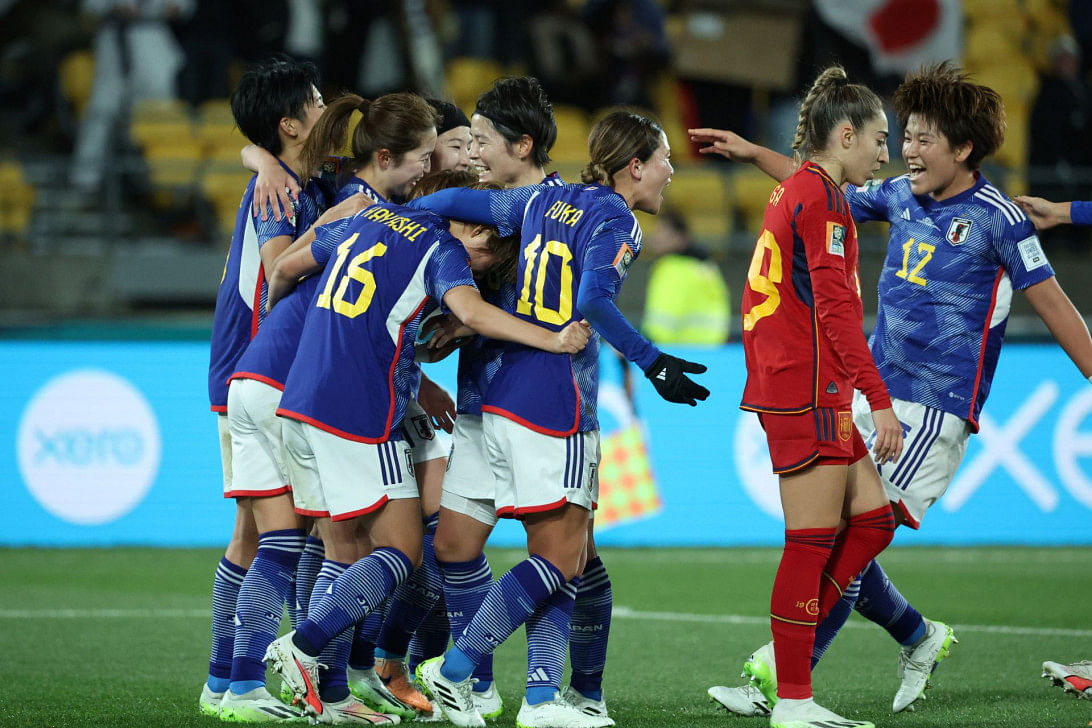 On Monday, Japan upset Spain 4-0 in the Women's World Cup to set up a matchup with Norway in the knockout round. Hinata Miyazawa scored twice and set up another goal in the victory for Japan.
In order to send a message to one of the teams competing for the World Cup crown, the Japanese demonstrated how to execute efficient counterattacks and took a 3-0 lead into the halftime break.
Japan, who won the tournament in 2011, finished first in their group and will play another team that has previously won it, Norway. Spain, meanwhile, will play Switzerland in the round of 16.

Miyazawa now has four goals for the tournament after netting a brace, while Riko Ueki and Mina Tanaka scored the other two goals for a Japan team that has been phenomenal.
In front of a crowd of 20,957 people in Wellington, Spain controlled possession of the ball despite having a large number of European club players on its roster.
However, they were unable to generate a single clear opportunity since Japan withstood the pressure and broke with devastating effect.
It was a tactical gem on display from Japan coach Futoshi Ikeda, who built up a crowded midfield, denying Barcelona players Alexia Putellas and Aitana Bonmati room and time.
In contrast, Japan's three first-half shots resulted in three goals as their swift front line took advantage of a disorganized Spanish defense that was without its captain, Ivana Andres, due to an injury. Japan won the first half 3-0.
It was Japan's first victory in five tries against Spain, and it was a convincing one. As a result, Japan is now among the favorites to win the competition.
They have scored 11 goals, which is more than any other team, and they are one of just four teams who have not yet let up a goal.
Miyazawa is also the competition's top scorer, despite the fact that she was taken out of the game at halfway and hence was unable to add to her tally of four goals.
Sixth-ranked Spain were believed to be the favorites to win the competition since both teams had previously qualified for the tournament by easily beating their group opponents, Zambia and Costa Rica.
The Europeans were able to maintain possession of the ball for extended periods of time, but when their opponents broke with pace, they did not have many responses for them. They needed just a draw to win the pool.
Miyazawa broke the scoreless tie in the 12th minute after outrunning the opposing defenders to get to Jun Endo's arcing ball from the center of the field and then finishing low beyond Misa Rodriguez.
In the 29th minute, Miyazawa took on the role of the provider by moving the ball forward before finding Ueki. Ueki's shot took a huge deflection off of Irene Paredes and found its way into the top corner of the net.
Five minutes before halftime, another lightning fast counter provided Miyazawa space, and the striker hammered a powerful shot past Rodriguez.
The incredible goal scored by substitute Tanaka in the 82nd minute occurred after he had made a blistering solo run from the sideline that completely unraveled the defense.
Ikeda now has quality players at his disposal after making five substitutions to the team that defeated Costa Rica. These changes included choosing attackers Miyazawa and Ueki over Tanaka and Aoba Fujino, who had been in better form recently.