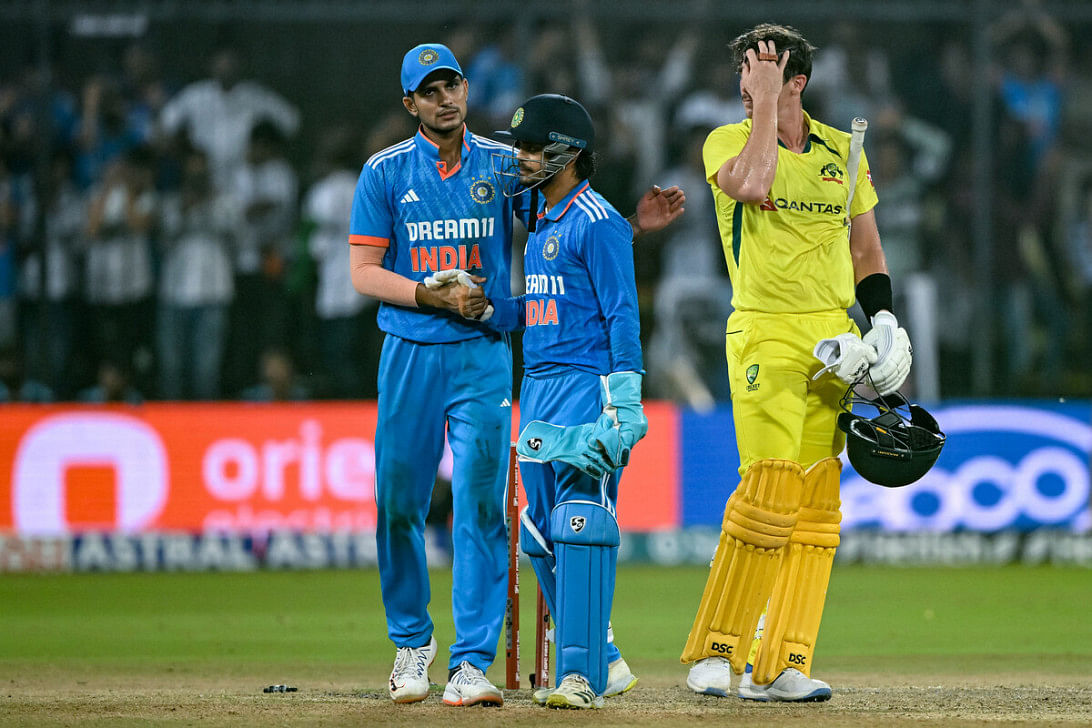 India defeated Australia in a rain-delayed one-day international match on Sunday, winning the series 2-0. Shreyas Iyer and Shubman Gill both scored an attacking century to help India win by 99 runs and take the match.
After being given the opportunity to bat in Indore, Iyer (105), and Gill (104), put up a powerful second-wicket partnership of 200 to create the foundations for India's 399-5 total.
The stand-in captain KL Rahul scored 52 runs, while T20 star Suryakumar Yadav scored an unbroken 72 runs to add to the enormous total. The bowlers then united to give India an insurmountable advantage in the three-match series.
These matches serve as preparation for the World Cup, which will begin in India on October 5.
Both the team's captain, Rohit Sharma, and their star batsman, Virat Kohli, will be available for selection in the final One-Day International match, which will take place on Wednesday in Rajkot. The team will have to make some difficult decisions in order to choose who will start the match.
"It (selection) is the headache of the coach and Rohit…whoever gets picked has a job to do," said stand-in captain Rahul.
After scoring a lot of runs, it might be difficult to sit out the rest of the game, but everyone has been there before.
Australia was bowled out for 217 in 28.2 overs while chasing a DLS amended goal of 317 in 33 overs. Play in the chase was stopped by rain, causing the target to be revised.
Ravichandran Ashwin and Ravindra Jadeja, both of whom spin the ball, each grabbed three wickets.
a run of defeats for the Australians
Even though Australia has lost their last five One-Day International matches in a row, captain Steve Smith is still holding out hope for a speedy turnaround.
"Both in South Africa and here, we have lost a significant number of (matches) in a row. "There are a few things that need to be sorted out," stated Smith.
"We have a few days left now, and both of our teams are working towards the World Cup," the coach said. We've got one more game to go, and I really hope that we can pull it out."
Iyer, 28, put to rest any questions about his fitness by smashing his third one-day century before being caught. This allowed the Indian batsmen to lay the stage for victory after getting off to a strong start.
During his innings of 90 balls, Iyer scored 11 fours and three sixes, earning him the title of man of the match.
After scoring 74 runs off 63 balls in the first game at Mohali, Gill, who is 24 years old, raced to his sixth one-day international century and fifth century of the year with a single off Sean Abbott.
Gill's innings came to an end when wicketkeeper Alex Carey caught him attempting to hit a shot off Cameron Green. During his 97-ball innings, he hit six fours, and he also smacked four sixes.
Ishan Kishan was out for 31 when he was caught stealing before Rahul and Yadav propped up the batting with some smooth strokes.
Green was successful in taking two wickets but also allowing 103 runs to be scored off of his 10 overs.
During their reply, Australia lost two wickets for a total of nine runs and were at 56-2 when rain stopped play for more than an hour. When play resumed, the visitors were given a new goal to reach.
David Warner and Marnus Labuschagne made an effort to rebuild in their stand of 80, but as they left, the wheels fell off the pursuit.
Ashwin was successful in sending back the left-handed Warner and Josh Inglis after breaking the partnership and then striking twice in the same over.
Before Abbott led a surprise push with his 36-ball 54, Green tried to strike back, but he was run out. Abbott then led the attack.
Number eight Abbott and number nine Josh Hazlewood, who scored 23, put up a ninth-wicket partnership of 77 runs.