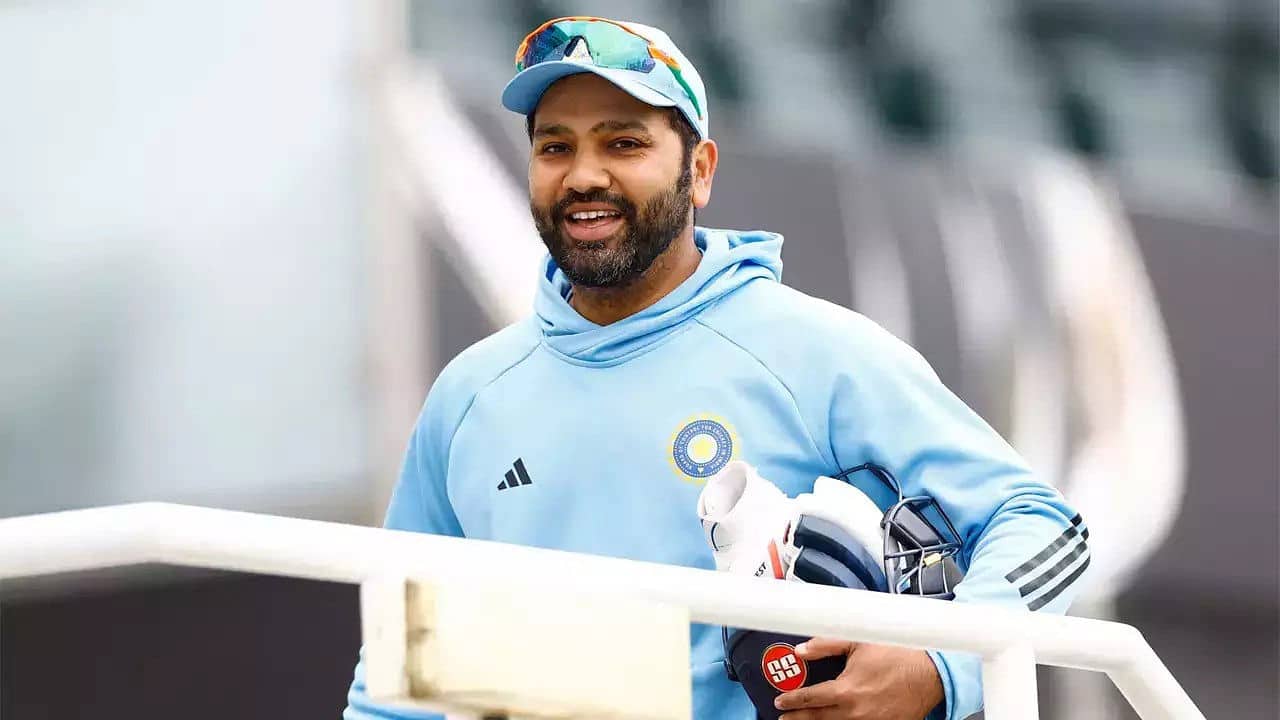 Rohit Sharma, the captain of India, has been thinking about the World Cup and is excited about the home season that starts in October.
India hasn't made it past the semi-finals in the last two ICC Men's Cricket World Cups, but the captain thinks his team can do what his countrymen did in 2011.
Rohit was at the Barbados stop of the ICC Men's Cricket World Cup 2023 Trophy Tour and posed with the prize that will be up for grabs on November 19. He said that India's preparations need to be measured and patient.
Rohit said, "We're back home this year, so let's hope we can turn things around."
"There is still a long way to go, and we know that you can't win the World Cup in one or two days. You have to play well and consistently for the whole month or month and a half.
"From our point of view, we are doing everything we can to get ready for the World Cup."
Rohit's bat will be important for many people during the event.
Not only did he score the most runs at the 2019 event (648 runs at an average of 81), but he also hit five centuries. He knows that for India to do well, he needs to do something close to what he did four years ago, even with all the attention and pressure that comes with a home campaign.
"I was in a good head space (in 2019), I was feeling really good about my cricket, and I had prepared really well for the World Cup," Rohit said. "When you're going into a tournament like that, all you want to do is start well, mentally and physically fresh, and then everything falls into place."
"I got off to a great start in that event. In the first game, I got a hundred, and then it was all about keeping that going.
"It's true that what you've done in the past gives you a lot of confidence, but it was very important to start over. I was in a good frame of mind at the time and was looking forward to making that happen again."
Rohit thought about some of his first World Cup memories to get ready for the future one. He started with Ajay Jadeja's catch of Allan Border in 1992.
The catch by Rohit, who ran and dove to get rid of the dangerous left-hander, shows India's move into modern limited-overs cricket, which led to Sachin Tendulkar's work in the early 2000s.
"I'll always remember Ajay Jadeja's catch. Everyone is still thinking about that, so it stuck in my mind. "Our fielding went to the next level because of it," Rohit said.
"I remember everything about every World Cup. The first thing that comes to mind about 1999 is also that Herschelle Gibbs catch, which I think cost them the World Cup.
"Then, in 2003, India played very well until the finals. Sachin Tendulkar was a great batter.
When India won in 2011, the now-skipper had to watch from home, which made the win a little sad.
The 36-year-old says he thought about not watching the campaign at all after being upset about not making the team, but he changed his mind when he realized how important a win at a global event would be for his country and teammates.
"2011 was the most memorable for all of us. I watched every single game from home," he said.
"I felt two different things. First of all, I wasn't there, so I was a little upset and chose not to watch the World Cup.
"But again, the second thing I remember is how well India played. The big semi-final was against Pakistan in the quarter-finals and beyond. I know how much pressure is on the players when they play all these games, so I can only picture what each player went through during that time.
"And in the semi-final [quarter final] against Australia, Yuvi (Yuvraj Singh) and Suresh (Suresh) Raina did a great job at the end."
Rohit knows that the whole country of India will be rooting for his team. He knows this because he can see a twinkle in his eye when he looks at the Cricket World Cup trophy.
Rohit said, "I know for sure that everywhere we go, there will be a huge crowd of people cheering for us."
"It's the World Cup, so everyone is excited about this and the fact that it's going back to India 12 years after it was there last. People are very happy, and we can hear the excitement back at home. I'm excited to play in all of these places.
"I've never been this close to this prize before. I wasn't on the team when we won in 2011, but it's beautiful and holds so many memories.
"Fingers crossed, I hope we can do it."