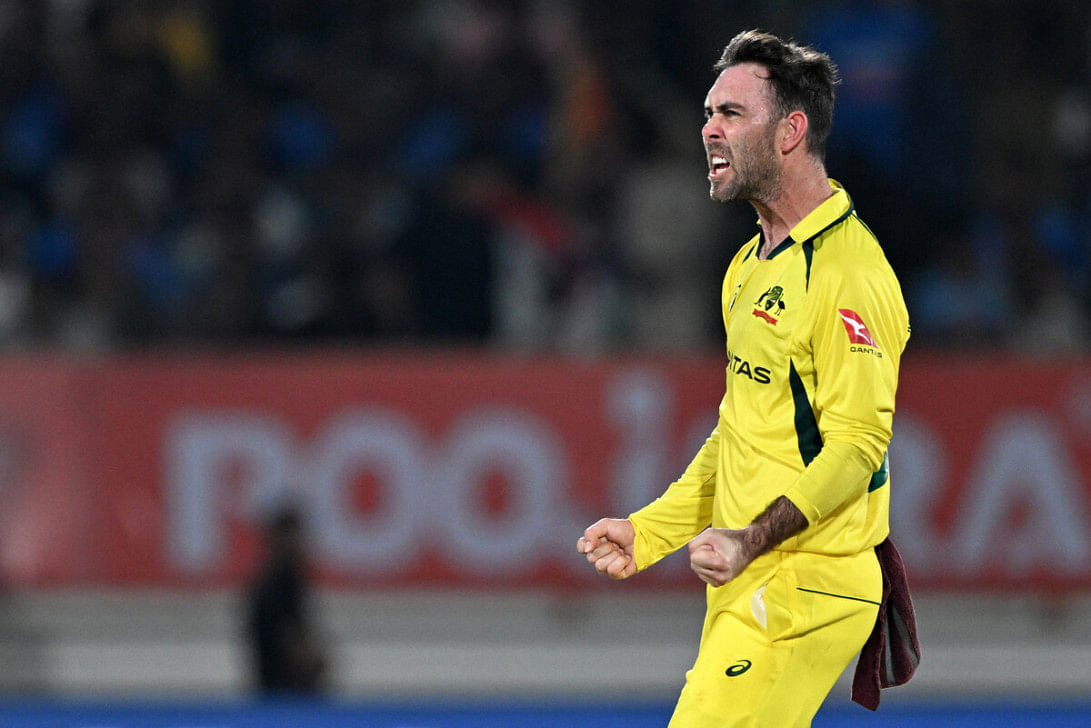 Australia's five-match losing drought came to a stop on Wednesday as they defeated India in the third one-day international by a score of 66 runs to secure a consolation victory. Glenn Maxwell delivered career-best figures of 4-40 in the win.
Mitchell Marsh's score of 96 propelled Australia to a score of 352-7, which their bowlers successfully defended in Rajkot by limiting India to only 286 runs.
Australia finished on a strong note heading into the World Cup, which begins on October 5 in India. The hosts won the three-match series by a score of 2-1.
Maxwell, who along with Mitchell Starc returned to the squad after recovering from injuries, only scored five runs with the bat, but he made a significant contribution with his outstanding off-spin. Mitchell Starc also made his comeback.
"I feel like I've come into this World Cup nice and fresh, and I'm excited to hit the ground running," Maxwell said after being selected man of the match and winning the award. "It's great that we were able to win tonight."
The all-rounder continued by saying, "It's nice to chip in. If Mitch Marsh had been there on the pitch, we would have chopped and changed (on the bowling)." Bowling was had to be increased since he was not present. That is the function that all-round players will play in this World Cup."
After India got off to a strong start, Maxwell took the first three wickets, including the captain Rohit Sharma for 81 runs and the star batsman Virat Kohli for 56 runs.
Rohit reached his fifty off of 31 balls and seemed to have the chase under control, but Maxwell took the wicket of the skipper with a sensational caught and bowled in his second over of the innings.
After that, he dismissed Kohli shortly after the former captain had reached his 66th fifty in an ODI, and despite Shreyas Iyer's valiant 48, the Indian batting collapsed after 49.4 overs.
Australia's losing skid, which had begun in South Africa earlier this month, came to an end when pace bowler Josh Hazlewood got two wickets for his team.
– Batsmen set up win after Marsh tore into the Indian bowlers in attacking partnerships that included a second-wicket stand of 137 with Steve Smith, who hit 74. – Top-order fires – Batsmen set up victory after Marsh tore into the Indian bowlers in attacking partnerships that included a second-wicket stand of 137.
Marsh, David Warner (56), Steve Smith, and Marnus Labuschagne (72) were the top four batters who shone out, and they all contributed to a massive total that was on its way to surpassing 400 when India got on the board.
Jasprit Bumrah, the leading fast bowler for India, got three wickets, while Kuldeep Yadav, a left-arm wrist spinner, took two.
Ishan Kishan was unable to participate because of an illness that was going through the Indian camp, which meant that India could only choose 13 players for their starting XI.
The guys, according to Rohit, are in good shape and ready to play.
"When we talk about the 15, we are very clear what we want," said Rohit. "When we talk about the 15, we are very clear what we want."
We are not befuddled in the least; we are well aware of our collective destination. Since it's a team sport, everyone has to do their bit in order for us to come out on top, and that's how championships are won.
Marsh took on Bumrah with three boundaries and a six in the paceman's first two overs, and the left-handed Warner quickly joined in the attack to continue the assault on the bowler.
Warner smashed Prasidh Krishna for three fours and a six in the seventh over, and then he rushed to his fifty in only 32 balls in the next over by hitting another ball over the fence.
Marsh completed his half-century after facing 45 balls, however he was unable to reach his century because he carelessly smacked Kuldeep straight to cover. His score of 84 from 84 balls comprised 13 fours and three sixes.
Before Labuschagne gained control and was eventually dismissed by Bumrah's slower ball in the last over, Smith, Alex Carey, and Maxwell all fell at regular intervals, which slowed the visitors down.
The two sides will now compete in their respective World Cup warm-ups before meeting for the first time in the 50-over competition on October 8 in Chennai.