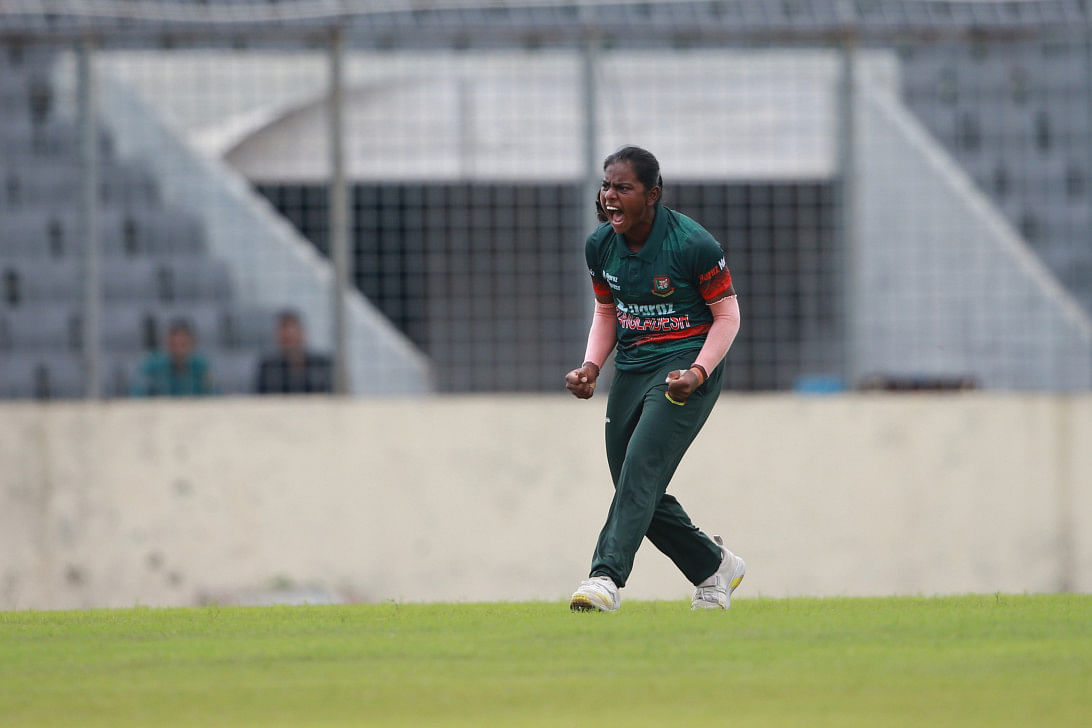 Marufa Akter has been the talk of the Bangladesh women's cricket squad since her arrival on the scene. Recently, the young player hailing from Nilphamari played a significant role in the Tigresses' first-ever victory in a One-Day International (ODI), which they achieved by taking four wickets in the first game in a three-game series against India. The 18-year-old speedster then kept her cool to defend three runs in the fourth over of the final one-day international, which resulted in Bangladesh tying the game and drawing the series 1-1. During an exclusive interview with Mazhar Uddin of The Daily Star, Marufa opened up about her bowling, her life, and her future aspirations, amongst many other issues. The following are extracts from the conversation, which can be seen below:
The Daily Star (DS): [translated] Have you given yourself any kind of a goal to work towards before the match versus India?
Marufa Akter (MA): If I'm being completely honest, it has always been a goal of mine to play at the Sher-e-Bangla National stadium in Mirpur. Prior to the beginning of the series, I promised myself that if I ever had the chance to do so, I would perform to the best of my abilities. Due to the fact that it was a bat-and-ball game, I was unable to identify any of the opposing players or even see their faces. I made an effort to keep my line and length, and everything turned out nicely.
DS: Did any of your ancestors make it out to witness the games at that venue?
MA: Yes, my brother made the trip all the way from Nilphamari to be here to see the game. He sat in the gallery the whole time and watched the bouts.
DS: How did you feel about performing in front of a member of your family?
MA: I can't even begin to describe how it made me feel; looking back, it was certainly one of the most amazing experiences of my life. When you play a game and you get to see your brother watching you play from the stands, especially after both of you have traveled quite a distance, it is something that gives me a lot of joy.
DS: What kind of response have people in your hometown given? Do you know of any other young women who share your interest in playing cricket?
MA: If I'm being really honest, there aren't too many females in my community who are my age or younger who are interested in playing cricket since the most of them have already been married.
Continue reading
Marufa aced the SSC examination with flying colors.
DS: However, after seeing you play like this, the curiosity must have increased, right?
MA: It's possible, but to tell you the truth, I have no idea.
DS: Tell me about your recent bowling match.
MA: When I first began, everything seemed perfectly normal. It's possible that it wasn't in the greatest form possible, but as time went on, I began to concentrate on improving other areas of my bowling game. My instructors were a huge assistance, and as a result, I've been able to steadily raise both my line and my length while maintaining a faster speed. I, too, had the desire to succeed, and I made it a point to pay attention to what my instructors told me to do.
DS: In Bangladesh's first One-Day International (ODI) triumph over India, you were responsible for taking four wickets. Please describe the game to us.
MA: I have always had the desire to do something for my nation, and I was excited to make a positive contribution to the accomplishments of my team. My team's captain, Nigar Sultana Joty apu, supported me by constantly praising me as the greatest bowler in the squad, which served as a source of motivation for me. In addition to that, she advised me to simply keep my line and length the same since she didn't believe the opponent would be able to play me effectively. I, too, had the same reaction. It worked out because I bowled in accordance with the line and the length.
DS: When you had three runs to defend in the tenth and last over of the third one-day international, what was going through your mind?
MA: Joty apu appeared to me once again and advised me to continue to have faith in myself. I had the feeling that I shouldn't be concerned when they scored two runs off of the first two balls since the hitters should be the ones who are scared, not me.
DS: Which bowlers do you look up to and why?
MA: Hardik Pandya is someone I look up to. Mustafizur Rahman bhai is the leader in Bangladesh, and I follow him. There are those who believe that I am the female version of Mustafizur (smiles).
Continue reading
"Marufa bought tennis balls with the money she saved from her tiffin."
DS: In what position do you want to find yourself in the future?
MA: My goal is to play in competitions outside of Australia, such as the IPL, Big Bash, or CPL. I really hope that I can do well for Bangladesh and that I can give it my all.
DS: At such a young age, you have already established yourself as a major celebrity in the sport of cricket in Bangladesh. What encouragement would you provide to young women who have an interest in playing cricket?
MA: Obstacles will arise from one's own family and from society. If you have the want to become anything, you have to put in a lot of effort to realize that goal since the desire must originate from inside you. In spite of the many challenges I've encountered throughout my life, I've been able to succeed despite those obstacles. When I first began playing, people would make fun of me since I was the only lady in my region who played cricket at the time. People now come up to visit me whenever I travel back to my hometown, which is a nice change of pace. Now, people tell my mom that they could have never dreamed that her daughter would make it to the top of the mountain.
DS: Who on the national team is your best buddy, if you have one?
MA: The majority of my team members are older than I am. The youngest of them all is known by the name Shorna [Akter] apu. Therefore, the two of us had a great time spending time together.