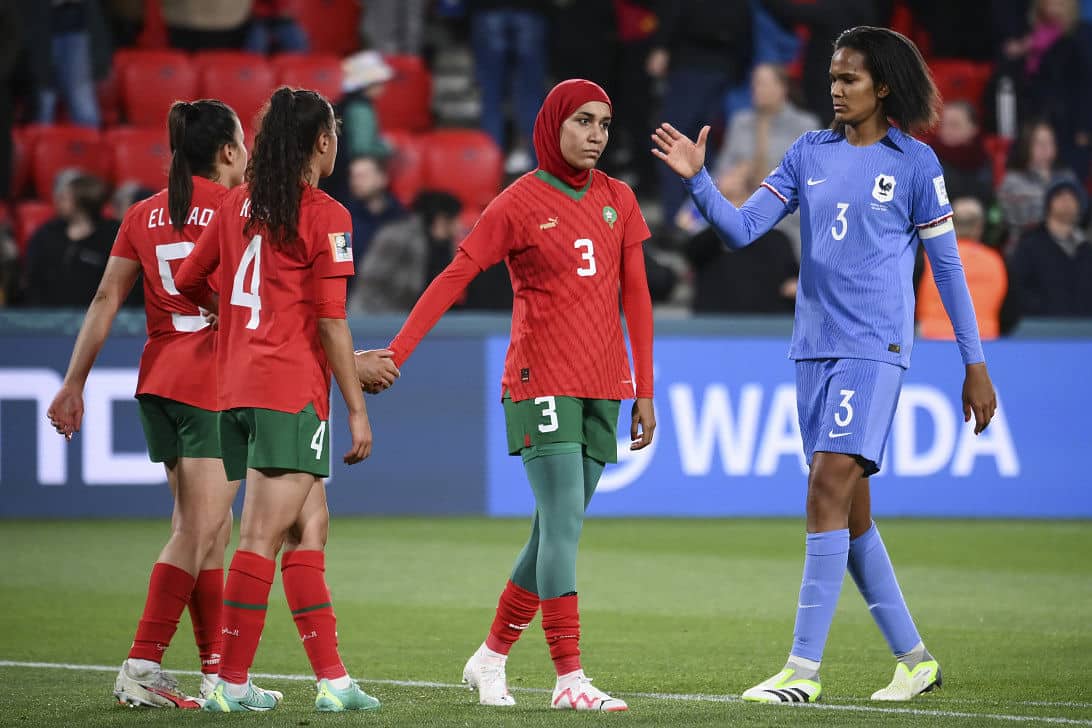 France beat Morocco by a score of 4-0 on Tuesday at the Women's World Cup. Eugenie Le Sommer scored twice in the win, which set up a quarterfinal match between France and co-hosts Australia.
Morocco beat the odds to get into the last 16 by beating Germany in their first tournament game, but Herve Renard's French team beat them without a fight in Adelaide.
At the 15-minute mark, Kadidiatou Diani scored the first goal. Just after the halfway point of the first half, Kenza Dali and Le Sommer scored again, making it 3-0.

Veteran striker Le Sommer, who is France's all-time leader in goals scored, scored again with 20 minutes left in front of 13,557 people as Les Bleus moved easily into the last eight.
They will now play Australia in Brisbane on Saturday. The winner of that game will play either England or Colombia in the semi-finals.
"We accomplished our goal. "You always want a little bit more, but it's fine," Renard told M6.
As guests, France lost in the quarterfinals to the United States, who went on to win the whole thing.
If they beat Australia, it will be their best World Cup showing since 2011, when they made it to the final four.
"Our performance is the same as it was four years ago, but our goal was to do better than in 2011, so we know what we still need to do."
When asked if his team could beat the Matildas in front of an angry crowd, he said, "We can do it, but it won't be easy, even though it won't be easy for either team."
France is desperate to win its first big women's international prize, but Morocco didn't feel any pressure going into this game because they had already won the World Cup.
Even though Morocco lost, their coach, Reynald Pedros, said he was proud of his team because they beat the chances to get to this point.
"I'm not upset because it was our first time in the last 16 of the World Cup, and we all know that it gets harder the further you go," said the former French international defender.
"I'm very happy with how far we've come, and I wish France luck and hope they win the world championship."
Gulf at school
After the 1-0 win over Colombia that put them in the next round, Pedros kept the same starting lineup.
Renard made five changes to the team that France used to beat Panama 6-3. Sakina Karchaoui was brought back to play left back.
Karchaoui, whose parents are from Morocco, set up the first goal with a great run down the left side, a quick exchange of passes with Selma Bacha, and a cross that Diani headed in.
It was Diani's fourth goal at the event, after scoring a hat-trick in the final group game against Panama.
In the 20th minute, Dali scored the second goal when Diani passed the ball back to him and he hit it off the far post with his first shot.
Three minutes later, it was 3-0 after a defense mistake. Nesryne El Chad tried to clear the ball, but all he did was play it off Diani, which gave Le Sommer a chance to score.
At that point, Morocco might have been worried that they were going to lose even more badly than they did in their first game, when Germany beat them 6-0.
After that, though, France took their foot off the gas and only scored one more goal.
In the 70th minute, replacement Vicki Becho crossed the ball from the right side, and Le Sommer headed it in at the back post. This was her 92nd goal for her country.