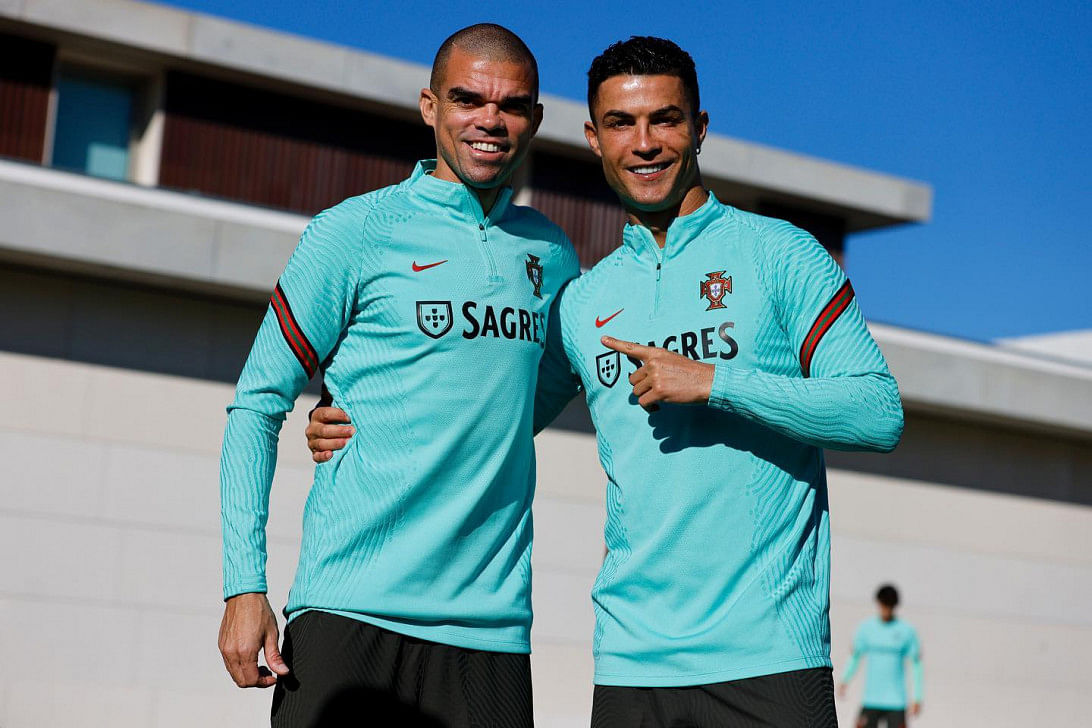 Portugal's team was named on Friday for next week's Euro 2024 qualifiers against Liechtenstein and Iceland. Defender Pepe and playmaker Matheus Nunes are back in the team.
Cristiano Ronaldo is also on the Portuguese team that beat Slovakia 3-2 in October to qualify for the finals.
Pepe is back after being out with an illness for a while. Coach Roberto Martinez can now use the last two games as practise for the event in Germany next summer.

Martinez told a press gathering, "The goal for him and for us is to be fit for these games."
Martinez said that the 40-year-old, who played his first game for his country in 2007, "is an exemplary professional" with "a great deal of experience."
Bruma, a striker for Sporting Braga, is back in the 26-person group.
"We've been keeping an eye on him since January." Bob Martinez said, "He made a lot of progress last season."
"He's a player we've been following since January."
Portugal is in first place in Group J with eight points.
On November 16, the Portuguese team will go to Vaduz to play Liechtenstein. On November 19, they will come back to Lisbon to play Iceland at the Alvalade stadium.
The Portugal team
Porto's Diogo Costa, Wolverhampton Wanderers' Jose Sa, and AS Roma's Rui Patricio are the goalkeepers.
Diogo Dalot (Manchester United, England), Nelson Semedo (Wolverhampton Wanderers, England), Joao Cancelo (Barcelone, Spain), Ruben Dias (Manchester City, England), Antonio Silva (Benfica), Goncalo Inacio (Sporting), Pepe (Porto), and Toti Gomes (Wolverhampton Wanderers, England) are the defenders.
Midfielders: Bruno Fernandes (Manchester United/ENG), Otavio Monteiro (Al Nasr/KSA), Vitinha (Paris Saint-Germain/FRA), Matheus Nunes (Manchester City/ENG), and Bernardo Silva (Manchester City/ENG). Joao Palhinha (Fulham/ENG), Ruben Neves (Al-Hilal/KSA), and Joao Neves (Benfica).
Forwards: Rafael Leao (AC Milan, IT), Joao Felix (Barcelone, ESP), Cristiano Ronaldo (Al Nassr, KSA), Gonzalo Ramos (Paris Saint-Germain, France), and Diogo Jota (Liverpool, ENG).