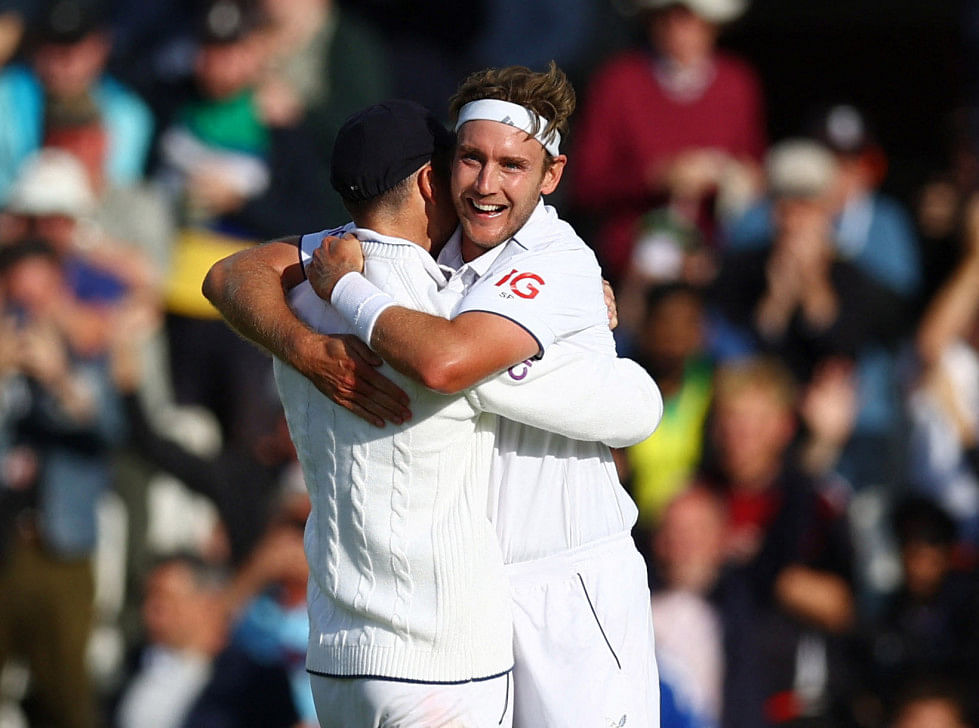 Despite England's thrilling 49-run win over Australia in the fifth and final Ashes Test match, which took place on Monday at The Oval, the series is now tied at 2-2 after five exciting matches. Stuart Broad took the last two Australian wickets to seal England's victory.
Broad, who was playing in his last Test, was responsible for the dismissal of Australia for 334, which prevented them from claiming their first Ashes victory in England since 2001. Both Todd Murphy and Alex Carey were caught by wicketkeeper Jonny Bairstow.
Australia, who had already kept the urn after winning the first two Tests, advanced to 238-3 while chasing 384 to win until a two-hour rain delay interrupted progress. England got the final seven wickets in little over two hours to secure a historic victory. Australia won the first two Tests and had already retained the urn.
Before the 37-year-old Broad finished the job in a flawless swansong two days after declaring his retirement, Chris Woakes was the standout of the England bowlers with scores of 4-50 and Moeen Ali took 3-76. Broad had announced his retirement two days earlier.
David Warner made 60 runs, Usman Khawaja scored 72, Steve Smith made 54 runs, and Travis Head scored 43 runs for Australia.
"It was absolutely wonderful," Broad said in an interview with Sky Sports. "Chris Woakes and Moeen Ali, in my opinion, did an absolutely unbelievable job of setting the tone."
"Woakesy picked up a couple of wickets, particularly Steve Smith, who has been an outstanding player to compete against over the course of all these years."
"When we finally got a few, that's when we began to believe for real. The audience was incredible to see. We just capitalized on how loud it was by joining in with the crowd. It is a really remarkable accomplishment to contribute to the team with two wickets.
"When you make that decision, you wonder what your last ball will be, so to take a wicket to win an Ashes Test match is pretty cool," said one player. "It's pretty cool."
The following is the scoreboard after the end of play on day five of the fifth test:
England win by 49 runs
 England  1st innings
 Zak Crawley     c Steve Smith b Pat Cummins              22
 Ben Duckett     c Alex Carey b Mitchell Marsh            41
 Moeen Ali       b Todd Murphy                            34
 Joe Root        b Josh Hazlewood                          5
 Harry Brook     c Steve Smith b Mitchell Starc           85
 Ben Stokes      b Mitchell Starc                          3
 Jonny Bairstow  b Josh Hazlewood                          4
 Chris Woakes    c Travis Head b Mitchell Starc           36
 Mark Wood       b Todd Murphy                            28
 Stuart Broad    c Travis Head b Mitchell Starc            7
 James Anderson  Not Out                                   0
 Extras          9b 7lb 2nb 0pen 0w                       18
 Total           (54.4 overs)                    283 all out
Fall of Wickets : 1-62 Duckett, 2-66 Crawley, 3-73 Root, 4-184 Ali, 5-193 Stokes, 6-208 Bairstow, 7-212 Brook, 8-261 Wood, 9-270 Broad, 10-283 Woakes
 Bowling           Ov  Md  Rn  Wk  Econ  Ex
 Mitchell Starc  14.4   1  82   4  5.59
 Josh Hazlewood    13   0  54   2  4.15
 Pat Cummins       13   2  66   1  5.08
 Mitchell Marsh     8   0  43   1  5.38  2nb
 Todd Murphy        6   0  22   2  3.67
 ……………………………………………………….
 Australia  1st innings
 Usman Khawaja       lbw Stuart Broad                          47
 David Warner        c Zak Crawley b Chris Woakes              24
 Marnus Labuschagne  c Joe Root b Mark Wood                     9
 Steve Smith         c Jonny Bairstow b Chris Woakes           71
 Travis Head         c Jonny Bairstow b Stuart Broad            4
 Mitchell Marsh      b James Anderson                          16
 Alex Carey          c Ben Stokes b Joe Root                   10
 Mitchell Starc      c Ben Duckett b Mark Wood                  7
 Pat Cummins         c Ben Stokes b Joe Root                   36
 Todd Murphy         lbw Chris Woakes                          34
 Josh Hazlewood      Not Out                                    6
 Extras              17b 12lb 1nb 0pen 1w                      31
 Total               (103.1 overs)                    295 all out
Fall of Wickets : 1-49 Warner, 2-91 Labuschagne, 3-115 Khawaja, 4-127 Head, 5-151 Marsh, 6-170 Carey, 7-185 Starc, 8-239 Smith, 9-288 Murphy, 10-295 Cummins
 Bowling          Ov  Md  Rn  Wk  Econ  Ex
 Stuart Broad     20   5  49   2  2.45
 James Anderson   26   9  67   1  2.58  1nb
 Mark Wood        22   4  62   2  2.82  1w
 Chris Woakes     25   8  61   3  2.44
 Joe Root        7.1   1  20   2  2.79
 Harry Brook       3   1   7   0  2.33
 ……………………………………………………..
 England  2nd innings
 Zak Crawley     c Steve Smith b Pat Cummins                 73
 Ben Duckett     c Alex Carey b Mitchell Starc               42
 Ben Stokes      c Pat Cummins b Todd Murphy                 42
 Joe Root        b Todd Murphy                               91
 Harry Brook     c Alex Carey b Josh Hazlewood                7
 Jonny Bairstow  c Alex Carey b Mitchell Starc               78
 Moeen Ali       c Josh Hazlewood b Mitchell Starc           29
 Chris Woakes    c Usman Khawaja b Mitchell Starc             1
 Mark Wood       c Mitchell Marsh b Todd Murphy               9
 Stuart Broad    Not Out                                      8
 James Anderson  lbw Todd Murphy                              8
 Extras          0b 4lb 3nb 0pen 0w                           7
 Total           (81.5 overs)                       395 all out
Fall of Wickets : 1-79 Duckett, 2-140 Crawley, 3-213 Stokes, 4-222 Brook, 5-332 Root, 6-360 Bairstow, 7-364 Woakes, 8-375 Ali, 9-379 Wood, 10-395 Anderson
 Bowling           Ov  Md   Rn  Wk  Econ  Ex
 Mitchell Starc    20   2  100   4  5.00
 Josh Hazlewood    15   0   67   1  4.47  1nb
 Pat Cummins       16   0   79   1  4.94  1nb
 Mitchell Marsh     8   0   35   0  4.38  1nb
 Todd Murphy     22.5   0  110   4  4.82
 ……………………………………………………….
 Australia  2nd innings
 David Warner        c Jonny Bairstow b Chris Woakes           60
 Usman Khawaja       lbw Chris Woakes                          72
 Marnus Labuschagne  c Zak Crawley b Mark Wood                 13
 Steve Smith         c Zak Crawley b Chris Woakes              54
 Travis Head         c Joe Root b Moeen Ali                    43
 Mitchell Marsh      c Jonny Bairstow b Moeen Ali               6
 Alex Carey          c Jonny Bairstow b Stuart Broad           28
 Mitchell Starc      c Zak Crawley b Chris Woakes               0
 Pat Cummins         c Ben Stokes b Moeen Ali                   9
 Todd Murphy         c Jonny Bairstow b Stuart Broad           18
 Josh Hazlewood      Not Out                                    4
 Extras              10b 10lb 2nb 0pen 5w                      27
 Total               (94.4 overs)                     334 all out
Fall of Wickets : 1-140 Warner, 2-141 Khawaja, 3-169 Labuschagne, 4-264 Head, 5-274 Smith, 6-274 Marsh, 7-275 Starc, 8-294 Cummins, 9-329 Murphy, 10-334 Carey
 Bowling           Ov  Md  Rn  Wk  Econ  Ex
 Stuart Broad    20.4   4  62   2  3.00
 James Anderson    14   4  53   0  3.79  1nb
 Chris Woakes      19   4  50   4  2.63  1nb
 Moeen Ali         23   2  76   3  3.30
 Joe Root           9   0  39   0  4.33
 Mark Wood          9   0  34   1  3.78  1w
 …………………………………
 Umpire         Joel Wilson
 Umpire         Handunnettige Dharmasena
 Video          Nitin Menon
 Match Referee  Ranjan Madugalle