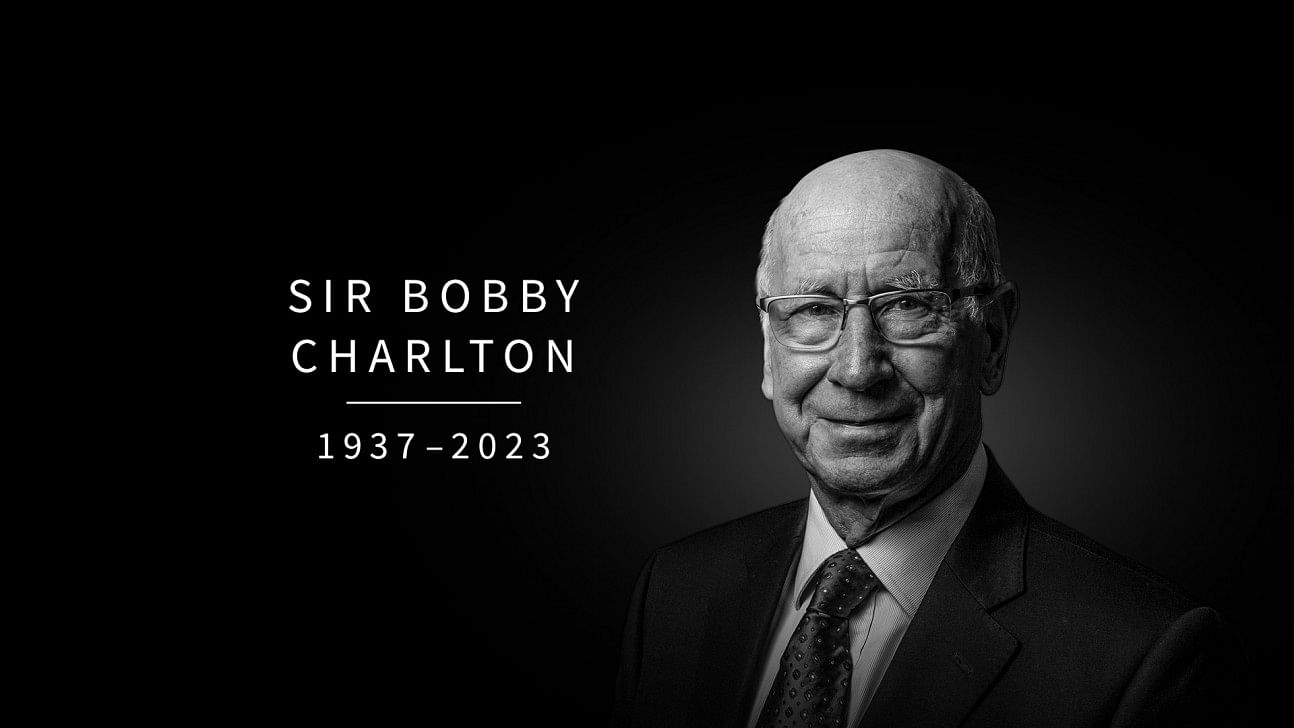 Manchester United legend and England World Cup winner Bobby Charlton passed away on Saturday at the age of 86. Charlton was a beloved figure at both Manchester United and England.
Manchester United released a statement confirming his passing.
Charlton, who played for Manchester United for 20 years and was famous for his strong shooting and unique haircut, won three league titles, one European Cup, and one FA Cup. He also played a crucial role for England in their 1966 World Cup victory.

Charlton, who was humble and respectful throughout his career, made 758 appearances for United and scored 249 goals. Both records stood for quite some time before being broken by Ryan Giggs in 2008 and Wayne Rooney in 2009.
"Manchester United are in mourning following the passing of Sir Bobby Charlton, one of the greatest and most beloved players in the history of our club," a statement from the club said.
Charlton, who was born on October 11, 1937 in Ashington, Northumberland, joined United as a youngster in 1953 and became a pivotal member of the teams that won the FA Youth Cup in 1954, 1955, and 1956.
In 1956, just before he turned 19, he made his debut with the first team and scored twice in a 4-2 win over Charlton Athletic. As the season progressed, he became an integral part of the squad that eventually won the league for the fifth time in Old Trafford's history.
However, it was a game the following year that truly changed Charlton's trajectory. In a European Cup quarterfinal match against Red Star Belgrade in February 1958, Charlton scored twice in a 3-3 draw.
United's plane crashed at the wintry Munich airport on the way home, killing 23 people, including eight of their own squad members.
Although Charlton escaped with just minor wounds, the tragedy that wiped off the team, known as the Busby Babes because of their youth, caused him to grow up fast, and he rapidly became a pivotal member of the group rebuilt by coach Matt Busby.
"Having survived the trauma of the Munich Air Disaster when aged just 20, he played as if every game was for his fallen colleagues, recovering from his injuries to reach the pinnacle for both club and country," according to the United site.
"LOCKED INTO MY HEART"
Ten years later, United accomplished that very feat, beating Benfica 4-1 in overtime at Wembley to become the first English team to win the European Cup.
United's forward line of Charlton (England), Law (Scotland), and Best (Ireland) was one of the most potent ever constructed to harass an opposing defender, and it still is.
Before leaving for Preston North End for two years as player-manager, Charlton stayed with United until 1973. Before resigning and taking on roles as director and caretaker manager at Wigan Athletic in 1982–1983, he had brief stints with Waterford in the Irish League and in Australia.
Before then, however, he had already cemented his place in history by contributing to England's World Cup victory in 1966.
Charlton, who partnered his brother Jack in central defence, started all six of England's games and scored three times, the most important of which came in the semi-final when his brace helped England to a 2-1 victory over Eusebio's Portugal.
This victory rounded off an already remarkable year for him, during which he also won the awards for Footballer of the Year from the Football Writers' Association and European Footballer of the Year.
The 4-2 victory over West Germany in the final "locked into my heart and my consciousness so strongly that I knew, as it was happening, that it would never dim," he wrote.
Charlton made 106 appearances for England at a time when internationals were far less common; his record of 49 goals remained for 45 years before being surpassed by Rooney, one of his successors at Manchester United.
Charlton's old-fashioned gentlemanliness was sometimes at odds with the younger and flashier players coming in a game that was changing swiftly as money flowed in, and he was prematurely balding and with a comb-over that made him readily recognised around the world.
His serious demeanour, enthusiasm for football, and devotion to Manchester United were constants.
Charlton was honoured with a stand at Old Trafford named after him in 2016. He had been a director of United since 1984 and a fixture at the stadium for decades. After receiving an OBE and a CBE for his services to the sport, he was knighted in 1994.
In 2020, his wife Norma revealed her husband's Alzheimer diagnosis.