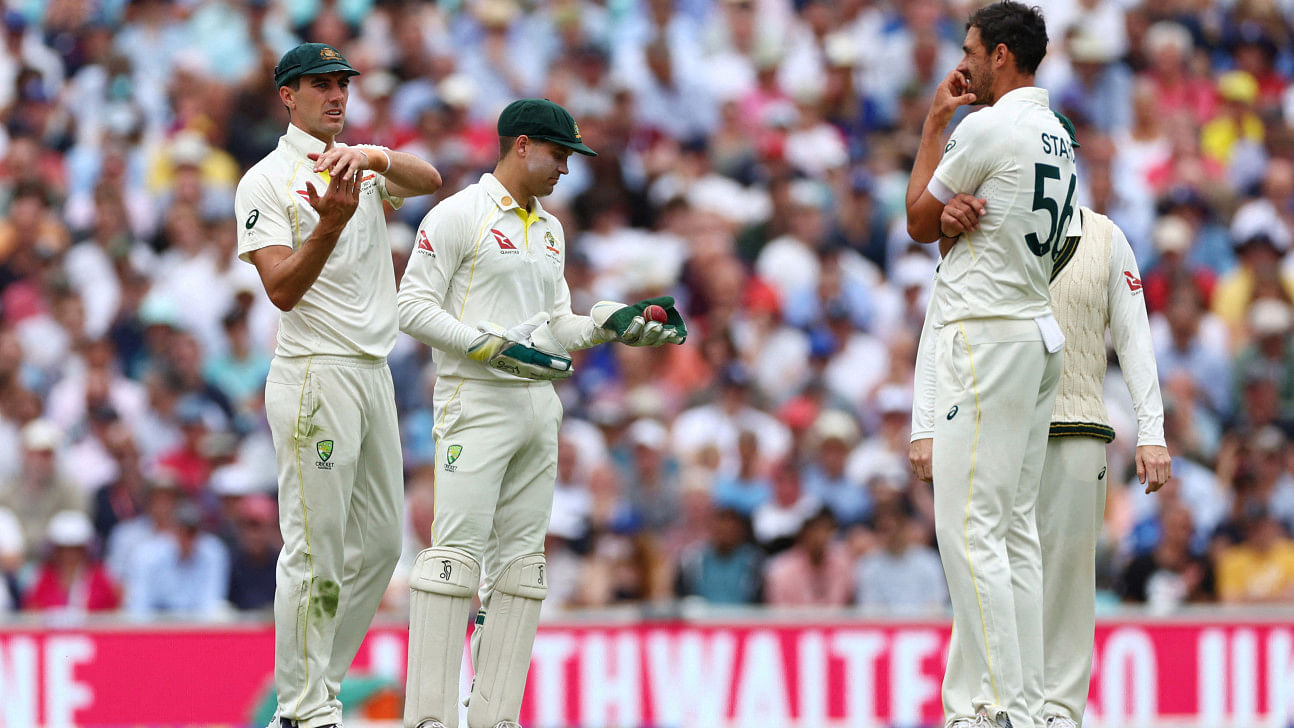 Pat Cummins, the captain of Australia, was forced to lament "key moments we didn't get right" as his hope of guiding his team to an Ashes series victory in England was dashed on Monday. The match was played in England.
On the last day of the fifth and final test match being played at The Oval, Australia had a chance to pull off an unexpected triumph. With their score at 264-3, they were chasing a massive goal of 384.
If the game had ended in a tie, it would have been enough to win the series.
They lost their last seven wickets for a total of 70 runs, which led to England's victory by 49 runs and a 2-2 tie in the series — the same outcome as the 2019 Ashes.
Cummins, speaking about the whole series, stated, "There's a couple of key partnerships batting-wise that it felt like if we just put on another 50 runs or so, it could have turned the tide in our favor." Cummins was referring to the batting combinations that had the potential to tilt the game in their favor.
Despite the fact that they maintained possession of the urn after Monday's loss, Australia is still looking for their first Ashes series victory in England since 2001. The series now stands at 2-2.
The visitors were confronted with a challenging schedule consisting of six Tests in eight weeks, the first of which being the thrashing that India received at The Oval in the final of the World Test Championship the previous month.
"We just missed what we were hoping to come over here to achieve," said Cummins. "We were just a little bit short."
However, the trip was seen to be a success due to the team's ability to retain the Ashes and win the World Test Championship.
The injury to off-spinner Nathan Lyon's calf in the second test match at Lord's, which ended Lyon's tour, was another thing the 30-year-old fast bowler lamented.
Cummins stated, "It's pretty clear just how important Nath is in all conditions," and the statement is pretty plain. "We probably felt that at times at Manchester (where England had the better of a rain-marred drawn fourth Test), not having a spinner out there," the commentator said.
Cummins said that he was fully aware that despite Australia's recent success in other arenas, his team will be evaluated based on their performance in the Ashes.
"Whether we like it or not, Ashes have a tendency to define eras or legacies," he remarked. "It's just the way it is."
If such is the case with this particular matter, then it is something that we have every reason to be quite proud of. Over the course of the previous two series, we were able to keep the Ashes.
"That doesn't happen very often… the group has had some amazing achievements over the past few years, so if it is a legacy, that is one I am happy to have," he said. "If it is a legacy, that is one I am happy to have."