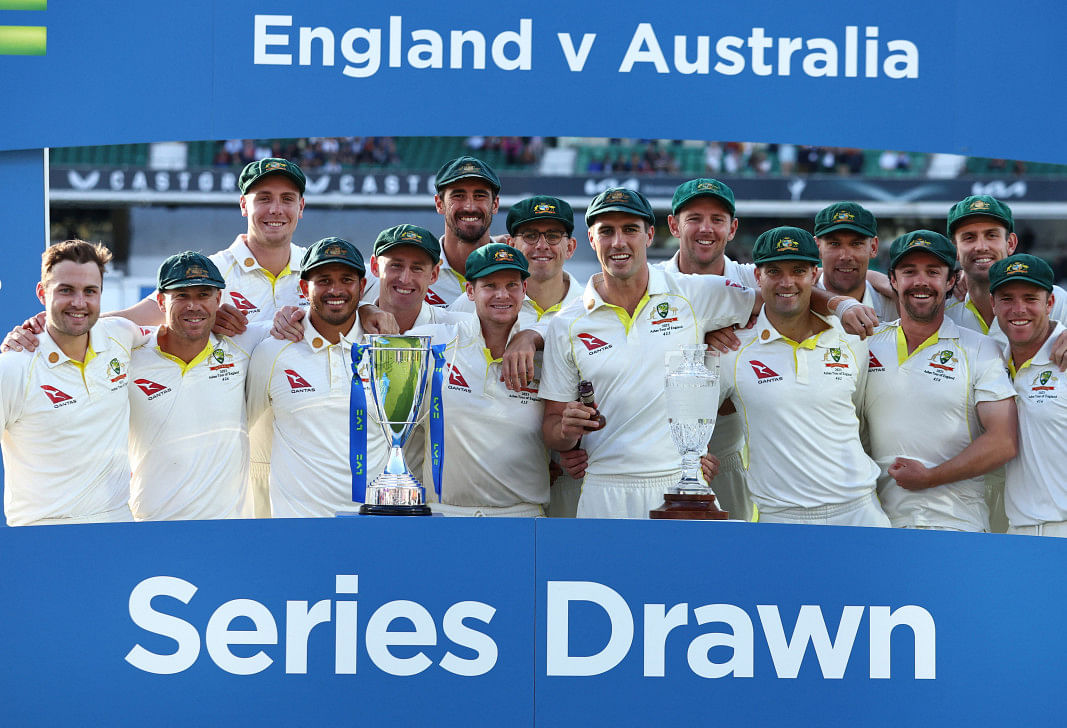 The world champions' chances of winning their first series in England since 2001 were dashed as Australia's batting imploded in spectacular fashion at The Oval on Monday. However, Pat Cummins' team is still in possession of the Ashes following one of the most captivating and dramatic series ever played between test cricket's greatest rivals.
Australia, who started the day on 135-0 and needed 249 more runs to achieve the second highest successful run chase in their history, reached 264-3 on another rain-interrupted day before collapsing to 334 all out as the sun finally shined on a euphoric audience. Australia started the day on 135-0 and needed 249 more runs to complete the second highest successful run chase in their history.
However, after winning the first two tests, they ended up drawing the series 2-2, which was assisted by the fact that the fourth match was drawn due to rain. All of this occurred after they crammed six tests into 55 days, beginning with a 209-run triumph against India in the World Test Championship final.
Cummins said that his squad did not even consider the possibility of playing for a draw in the last test that was played against England.
He informed the reporters, "It was never brought up at any point in the conversation." "Right from the beginning, we made it clear that our goal was to take home the Ashes. It turned out that it was not meant to be, but what a fantastic series!
"I believe that we have a lot of reason to be incredibly pleased of the fact that we are still in possession of the Ashes, since England is a very powerful team when playing in their home conditions. We are quite pleased with how steadfast we have been throughout this process.
Following their victory over India, the Australians were up against a revitalized England side. England had won 11 of their previous 13 tests under the new leadership of captain Ben Stokes and coach Brendon McCullum, who pushed his squad to adopt a bold attacking style and play without fear of failure. The Australians were able to pull off their victory over India, but they were then challenged by an England team that had won 11 of their previous 13 tests.
Although England did play their strokes, it was the Australians who were able to keep their composure better and win the first test match at Edgbaston by two wickets. They also won the second test match at Lord's by 43 runs.
However, England staged a comeback to win the third test match, which took place at Headingley, and they would have tied the series at Old Trafford if the last two days of play hadn't been rained out.
Quick with the left arm Mitchell Starc, who did not play in the first test of the Ashes series but still led all bowlers in the series with 23 wickets, was selected as Australia's man-of-the-series winner.
"It's been an incredible five tests, exciting ebbs and flows throughout," remarked Starc at the conclusion of the series.
It was decided at the very final session, which took place on day 25. The last eight weeks have been very hectic for both sides, but the level of cricket played has been outstanding throughout. Both sides committed to their game plans, and as a result, we are tied at two wins each after four quarters.