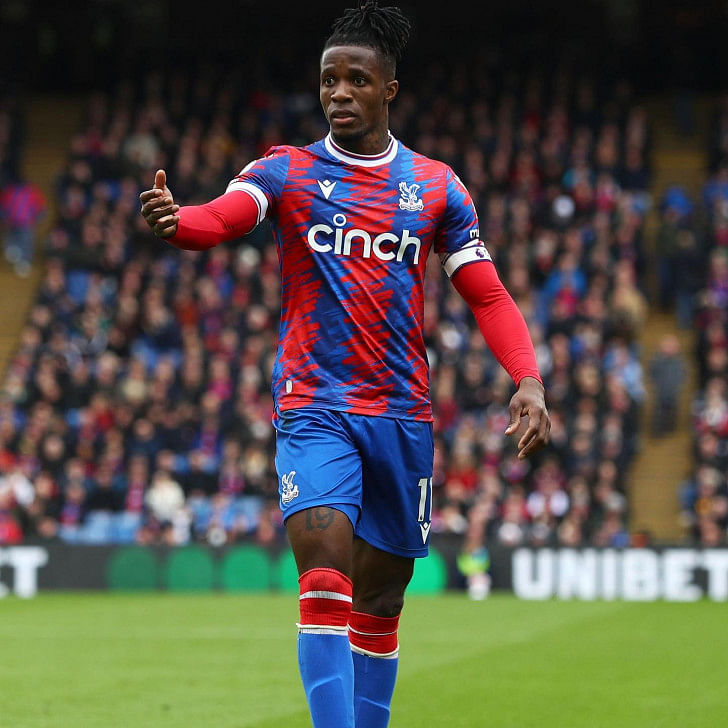 Crystal Palace chairman Steve Parish referred to Ivory Coast international Wilfried Zaha as the club's "talisman and greatest player" before Zaha's move to Galatasaray of the Turkish Super League.
Parish made the comments after Zaha completed his transfer to Galatasaray.
The striker, who is 30 years old and joined Galatasaray for free after rejecting a new contract offer from Crystal Palace, will get a signing-on fee of 2.35 million euros ($2.6 million) and an annual salary of 4.35 million euros, according to the Turkish club.
Follow The Daily Star's Google News channel to stay up to date on all the most recent news.
According to reports, Zaha was made an offer of £200,000 ($256,000) a week by the London club that he joined when he was 12 years old.
He has played 458 appearances for Palace and scored 90 goals for the club. During an unsuccessful two-year stint with Manchester United, he was loaned out to Palace twice on two separate occasions.
Zaha was referred to as "our talisman" and "our greatest player" by Parish, who also said that the player "remains a true inspiration for all of our young players in the academy."
He went on to say that "Without Wilfried, we would not be the club that we are today."
The manager of Palace, Roy Hodgson, who had capped Zaha twice when he was the head coach of England and before the player switched allegiance to the nation of his birth, said that Zaha would be a significant loss for the club.
"I was really sad to hear that Wilf has decided to leave and start a new chapter in his footballing life," said Hodgson. "I wish him the best of luck in his future endeavors."
"The club is losing an iconic figure, and while we are disappointed that it was not possible to convince Wilfried to stay for a longer period of time, all we can do is wish him and his family the very best of luck moving forward."
In 2013, Manchester United paid £10 million to acquire Zaha from Crystal Palace after being impressed by his play during his first stint with the club.
However, he was never able to establish himself at Old Trafford, only appearing in two games for the club. In addition to his two loan stints with Palace, he also played for Cardiff while on loan.
He re-joined Palace on a permanent basis in 2015, but in spite of being given a salary that is nearly twice as much as the one he would get at Galatasaray, he came to the conclusion that it was time to sever his links with the club.
Zaha expressed his gratitude to Steve Parish, the rest of his squad, his coaches, and the whole Palace crowd in a letter that he sent before the news of his departure was made public. "I want to thank Steve Parish, all of my team-mates, coaches, and the entire Palace fanbase for always believing in me and encouraging me to get to where I am today,"
Since the moment you took me in as one of your own, I have counted it a privilege to perform in front of you and to consider you members of my family. I want to express my sincere gratitude to you from the bottom of my heart.