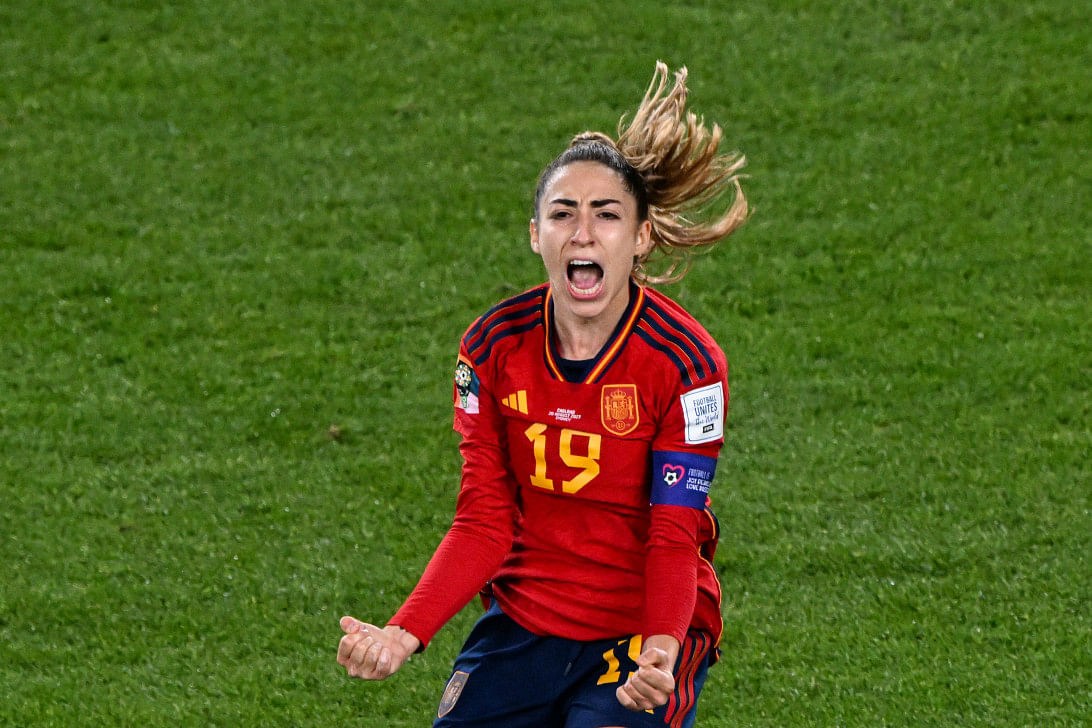 When Spain defeated England 1-0 to win the Women's World Cup for the first time on Sunday in Sydney, Olga Carmona praised her "unstoppable" team.
La Roja took the lead through a goal from Carmona after 29 minutes, and they maintained it to win.
We knew it would be difficult because England has a fantastic team, but I believe it was our game, said Carmona to Spanish national station La 1.

The fact is, I am at a loss for words. We had the feeling we were going to achieve it, and this is unstoppable.
Carmona revealed a note that said "Merchi" on an undershirt as she celebrated her accomplishment.
It was a memorial for a friend whose mother had passed away, the 23-year-old claimed.
Carmona continued, "I want to say that this victory is for one of my best friend's mother, who recently passed away. I celebrated the goal with that shirt."
Jorge Vilda, the coach of Spain, expressed his utmost pride in his squad.
Vilda received harsh criticism both before and during the competition because of his difficult interactions with some players who left the national team in displeasure with the coach and the Spanish football federation.
Aitana Bonmati, Ona Batlle, and Mariona Caldentey—three of the 15 protesting athletes—returned for the competition. They all started in the championship game.
Vilda stated, "It is hard to put into words, enormous joy, I am so proud of this team.
"Everyone seeing us right now has made them happy, and I am really delighted for them. We are the world's champions.
The coach predicted that there would be prolonged celebrations.
Now that we are rejoicing, I can only image how Spain is doing because we are not sure when our celebration will finish.
I am at a loss for words. It is astonishing at this time. We played a fantastic competition, which makes me very happy. We struggled, but we also enjoyed it. We are deserving.
By winning player of the tournament, Bonmati put the finishing touches on a fantastic World Cup for both Spain and herself.
She gave the award as a tribute to the female pioneers in Spanish football.
She told Australian network Channel Seven, "I want to honor all the women who have been pushing and battling throughout all the years, because we have better conditions.
This is coming from and for them.
In addition, Bonmati applauded her teammates' resilience in the face of the hampered plans.
At the start of the tournament's preparation, she claimed, "everyone knew their goal."
"Everyone wants to win. Everyone must be psychologically tough to prevail. For many years, we have been preparing for this. We possess it. We possess the prize.